Progressive Slots Also Called Jackpot Slots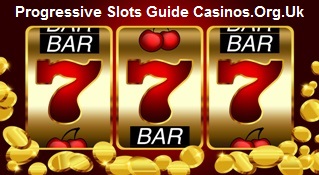 When you hear about the million €/£/$ wins on the slots, it is usually because a lucky winner has managed to beat the odds and strike it lucky on one of the many progressive jackpot machines paying out 7 figure cash prizes.
Progressive slots developed out of Vegas. As the slot became ever increasingly popular, it meant business was good for the casinos and slot operators. So, with all this extra cash, what better way than to devise a marketing gimmick that attracts money to money.
That gimmick was money and we all loved it. It meant bigger jackpots that progressively increased with huge potential winnings. Once the progressive slot was out there, it wasn't long before people were becoming overnight millionaires at a press of a button.
Progressive Jackpots soon caught on in the online casinos and soon there would be major networks full of progressive jackpot slots offering the chance to become a millionaire to almost anyone connected to the web.
Nowadays, progressive jackpot slots are played across the web, in Vegas Airports and in live casinos all over the world. They can also be found in the rare bookmakers in areas where they can obtain a license. See the Live Updated Online Slots Jackpots Amounts Here
Play Progressive Slots For Real Money:
Casino
Bonus
Whats great here?
Visit

100% Up to £200 New Players Only
- Top Online Casino, Live & Mobile 2023!
- UK Legal & Licensed, 18+begambleaware.org

- Up to £200 Welcome Deposit Bonus
- VIP Loyalty Program
- Online, Mobile & Live Dealer Casino UK Legal & Licensed, 18+Begambleaware.org

Up to 150 Free Spins & £400 in Deposit Bonus New Customers Only
- Top 3 Online Casino 2021
- UK Licensed, 18+Begambleaware.org
What are Progressive Jackpot Slots?
This is a good question because despite the answer being quite simple, if you don't explain it accurately, you will more often than not be asked a follow up question that goes something like this:
"So what is the difference with a non-progressive jackpot machine? – because non-progressives have jackpots too right?"
It's no good saying 'A progressive jackpot is a lot bigger'. Although it is true, this not enough to distinguish the real difference.
Non-progressive slot machines do have jackpots as do progressive jackpot slots. In fact, both slots can have exactly the same theme, number of reels, paylines and features. However, the one distinct difference that separates a progressive jackpot from a non-progressive jackpot is the rising and limitless progressive jackpot.
On a normal non-progressive slot, the jackpot is a fixed amount – so you can bet X amount and win X amount for the jackpot.
On a progressive jackpot there are 4 major differences:
They usually have a very high minimum pay out and no maximum jackpot amount
Progressive jackpots are is always increasing in value
The more players that play the slot, the quicker the value of the jackpot will increase
Value increases because the operator donates a percentage of players bets to the progressive jackpot – high numbers of players increases the jackpot very quickly
How do I play and Bet on Progressive Jackpot Slot?
Progressive jackpots come in different styles from classic 1 pay line slots to multi payline slot versions.
1 Pay Line Progressive Slots
One line slot are very easy to play. You will usually have several cash levels you can bet from a minimum per spin to a maximum per spin. Occasionally, you may come against a 1 pay-line slot that will allow you to bet multiple coins to raise the amount you want to wager per spin.
TUNZAMUNNI 1 Payline Progressive Slot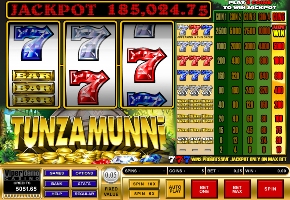 This is probably one of the most popular 3 reel 1 pay line progressive slot out there right now. You can bet a minimum of 1 coin per spin and a maximum of 5 coins per spin.
All the slot symbols are made up of Lucky 7s and Bars in a variation of colours making this the perfect progressive slot and classic combo.
Multipayline Progressive Slots
To bet on a multipayline progressive slot, you need to understand the value of coins.
Every coin has a cash value
You can bet 1 coin per line or you can bet multiple coins per line
You have to bet an equal number of coins per line
i.e. a 9 payline machine will have a minimum bet of 9 coins. If you want to add 1 coin, you have to add 1 coin to every line, so the next level up is 18 coins
Each line has a maximum coin limit
Online Progressive Jackpot Slots Versus Live
Obviously when it comes to the reach that online progressive slots have, there is no way a live progressive slot could keep up.
To completely confirm this, you have to think how many players are simultaneously connected to the same software machine. As the slot online are virtual, steaming boundless connections worldwide from a single slot is not a problem.
Furthermore, a live progressive slot could never get the same kind of audience depth and reach as an online casino has with its slots. Virtual slots are not tied down by location and they are accessible via mobiles, tablets, laptops and more right at the player's finger tips.
How do you win a Progressive Jackpot?
There are so many different progressive jackpot slots out there, it is tough to nail one particular way of winning the massive jackpot.
Here are a few things to look out for though:
Check the minimum number of lines and coins needed to qualify for the progressive jackpot in the first place
Check to see if there is more than 1 progressive jackpot on the slot (or you could think you have won, but then realise it is not as much as you thought)…
Read the pay outs tab to see which feature offers the progressive jackpot
Mega Moolah's Randomly Activated Progressive Jackpot Wheel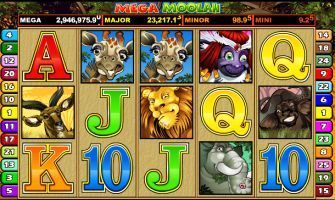 One of the most well-known progressive jackpot slots is Microgaming's Mega Moolah. It has been widely popular and played both on mobile devices as well as desktops.
Mega Moolah is renowned for paying out multimillion €/£/$ jackpots. The slot has 4 progressive jackpots and they are all played for in the same bonus game, which is activated total at random.
Mega – Lion
Major – Elephant
Minor – Giraffe
Mini – Zebra
Basically, you can win millions just because the slot chooses you, at random, to spin the wheel of fortune. If the arrow lands on the Mega jackpot this is the Lion's share of the jackpot's money – effectively, you would become a millionaire!
Cryptologic's Rags to Riches Wheel
Many games such as Cryptologic's 1 pay-line Rags to Riches come with progressive jackpots whereby the winner fate is decided by the spin of a wheel.
To get onto the progressive jackpot wheel you need 3 Rags To Riches logos. You will then be given the chance to spin the wheel with a small chance of getting the progressive jackpot.
Also, with this progressive jackpot – it will only be available if you bet more than 3 coins a spin.
Rags to Riches II Treasure Map
This is basically a bonus round from the normal game enhanced into a progressive jackpot win should the player complete the bonus round with a 100% record.
However, this is not easy. Getting there is achieved via scatters and this is where it all begins. You have to then navigate through several levels playing a series of 1-49 higher or lower and guessing games.
Then things get tricky. You will be presented with a Treasure Map that has 16 grids. You have one chance to find the treasure, which is millions in cash if you get it right.
PlayTech DC Comics Progressive Jackpot Slots Deal
Recently there have been a few slot companies that have struck up particular deals with well-know brand names and created online slots from these brands. Probably the 2 most famous are the Microgaming/Playboy Slot and Live Dealer Suit games as well as the PlayTech DC Comic deals that brought DC Comic characters to the slots.
Obviously by far the best deal in the slot market was the Playtech/DC Comic deal. Since that deal Playtech has made a number of slots and 3 notable progressive slots.
Incredible Hulk 2
Iron Man
Fantastic 4
Secondary Symbol Jackpot on Progressive Slots
Always look out for the symbols jackpot amount on progressive jackpots. In fact this is one the beauties of playing progressive slots.
You are basically playing a non-progressive slot, but with the bolt on chance of winning a huge progressive jackpot connected a progressive jackpot network. (See section below for more info).
As an added bonus, you have all the same features as a non-progressive slot and a symbol jackpot that pays handsomely as it would with a non-progressive slot machine.
What is a Progressive Jackpot Network?
A progressive jackpot network is a collection of online casinos that host the same progressive jackpot slot. With so many casinos contributing to the progressive jackpot slots, these networks are able to stir up jackpots that have risen, and continue to rise into their millions.
The central point will be the gaming operator that provides the online casinos with their casino gaming platform. Microgaming supplies over 400 online casinos with its software, so you can imagine how big their Progressive Jackpot network is worth.
All the casinos that are operated by Microgaming's software platform will have Microgaming progressive jackpot slots. For instance, King Cashalot. This is front end that the players play. The backend streams back to Microgaming's central server.
Now… you can imagine 400 online casinos offering the same King Cashalot slot in their gaming section. All of them linking back to a central server.
400 casinos could have thousands of members in each playing the same King Cashalot slot at the same time despite being members of a different casino. This is because Microgaming has centralised these games inside its perfectly designed progressive jackpot network.
As we mentioned before, progressive slots continuously increase because the operator contributes a percentage of every bet made to the progressive jackpot. With the network connecting all the slots up from all the casinos connected and putting them all in one place means millions of players worldwide are contributing to the same progressive jackpot.
The Most Popular Online Progressive Jackpot Slot
Arguably it is Microgaming's The Dark Knight Rises Batman themed cinematic 243 Ways to Win mega progressive jackpot slot.
It just literally has everything. A selection of different bonuses. Free spins with cinematic reels that show live movie clips straight from The Dark Knight Rises blockbuster hit itself. Plus, the reels extend from 3 deep to 4 deep during free spins; while, the brand new 1024 ways to win feature kicks in throughout the free spins session.
Add to this; symbols that jump out in 3D animated and movie action clips, a bonus wheel feature, Batman and Joker feature, stacked wilds and scatter symbols all thrown over a 243 Ways to Win non-payline structure with a progressive jackpot thrown on top.
As you have just read, just because it is a progressive jackpot slot doesn't mean it has less features!
Progressive Slots in a Nutshell
The thing that stick out the most is that progressive jackpot slots are basically a non-progressive slot with a progressive jackpot bolted on.
Most of the time, the secondary jackpot on a progressive jackpot machine is just as high as the standard symbol combination jackpot on a non-progressive slot. Plus, progressive jackpots can and do have the same features such as wilds, scatters, bonus rounds found on non-progressive slots.
There is one snag to this theory. Progressive jackpot slots do require you to bet a fair amount above the minimum bet in order for your spins to qualify for a chance at the progressive jackpot. Although, Rags to Riches isn't too bad as the minimum is just 3 coins to qualify; however, this is a 1 pay-line machine with a 1€/£/$ minimum coin value, so it's still costing €/£/$3 a spin!
In short, if you can afford to spin the reels at the bet amount required so your spins are counted as progressive jackpot spins, then there is probably no need to play a non-progressive slot. You would only be getting less for your money versus risk – however, a progressive jackpot will make the risk all that much worthwhile with a million €/£/$ prize looming.
MORE SLOTS PAGES: