Live Dealer Casinos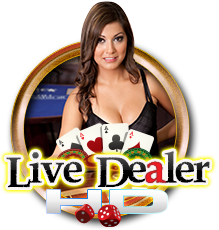 Live dealer casino gambling is reaching a stage where it is starting to make RNG tables irrelevant. Several new game providers are being launched and there's a lot of hype about this kind of online gambling.
This article will serve You as a complete guide for everything related to playing with live dealers and doing so for real money.
Please note that all live casino sites listed on this page and website are licensed by the UK Gambling Commission. We'll cover casinos, games, bonuses, betting limits and much more.
Best UK Live Casinos
Casino
Bonus
Whats great here?
Visit
How Does It Work?
The live dealer technology is simple. Companies setup studio space that matches a real casino environment, with tables and croupiers all over the place. Then they add HD cameras that capture both the dealers and gameplay. Of course, in reality it's a bit more complicated than we make it sound. They also need a card reading technology and user experience, so that the gameplay would be smooth, with no lags and there would almost never be any glitches. The first companies in this space started out around 2008 and now we have a few dozen of them.
How Can You Get Started?
You find a live dealer casino, such as Vegas Paradise or Cloud Casino and sign up for an account. The next step is to deposit funds, as live tables are only playable for real money due to the relatively high overhead. There isn't really a next step after, since You just join a game of Your choice and get going. If You are unsure which game, casino or software provider is the best fit for You, make sure to continue reading all information on this page. We're going into detail about every little aspect of this fast growing niche.
Roulette
Live dealer roulette is one of the most popular games at live casinos and often preferred by high stakes players. It's the most volatile game out of all that are offered with real human dealers, but also one that offers potential to turn a $100 deposit into several thousand in a couple of spins.
When compared to games like live blackjack or baccarat, roulette can be much more exciting and there's a whole lot more to anticipate, as the payout on a straight up bet is 35 to 1 and this can be even more when You add betting on all the potential splits.
There are a couple of special game variations that we can recommend giving a try to right away. With over 100 live dealer roulette tables to choose from these stand out by providing more than an ordinary playing experience.
Immersive Roulette is a product from Evolution Gaming that is differentiated by the HD stream quality and multiple cameras that capture the playing experience from multiple angles. We would consider this to be the best live roulette product on the market in terms of end user experience provided. Everything from croupier professionalism to stable, lag free playing environment makes this a top choice.
Golden Ball Roulette is a special game variation developed by Extreme Live Gaming, which was acquired by Novomatic Group. It's really a basic game with one key add-on, which is the Golden Ball Leaderboard.
This is based on player wagers and every 10 spins a winner is announced who then gets to tell the croupier exactly when the ball should be released onto the wheel. Not only that, but operators like Leo Vegas also offer prizes for the most active players, such as iPhone 7 and cash every month.
Double Ball Roulette is another product from Evolution Gaming, but also offered by casinos that are powered by Ezugi live software. The appeal of roulette with two balls lies under the fact that payouts of up to 1,300 to 1 are possible, should both balls land on the same number. We offer a great live roulette guide here.
Baccarat
Baccarat is a popular casino game with three variations namely Punto Banco, Chemin De Fer and Baccarat Banque. The one spread at live dealer casinos is known as Punto Banco or Player Banker. The objective here is to predict which side will get a higher point score by placing a wager on either the Player or the Banker. You can also bet on both sides having an equal point value for their hands dealt, but this is the sucker bet and has a house edge of 14% so simply avoid it.
Most major live casinos offer multiple variations of Baccarat, but we have two favourites and both of these are created by Evolution Gaming.
Baccarat Squeeze – game variation that You'll certainly have a love or hate relationship with. Instead of dealing and opening the cards right away the dealers open the deciding cards from multiple sides and look for signs of what could that card possibly be. This feature is extremely popular among high-rolling players who bet thousands or tens of thousands per hand on this game.
Baccarat Control Squeeze – controlled squeeze is similar to the regular game type, but You are in charge of when and cards are peaked at. Some people prefer being in charge, especially when betting big money, so if You are one of them this game variation will be for You.
BlackJack
Blackjack is an American casino game also referred to as the 21. Its usually played with an international 52-card deck with no jokers. Casinos mix several decks together so as to speed up the game and to complicate the process of counting cards. Each game variation and casino uses a different number of decks; however, they range from two to eight decks. The game is really easy to play and involves only a few decisions, such as whether to take more cards or stop at the point score Your hand already holds.
Blackjack is one of the most widespread games at live dealer casinos and all major software providers offer multiple tables for the game. When played with live dealers, the house edge ranges between 0.42% to 0.75% depending on the casino, game provider and whether You are playing optimal strategy or not.
Casino Hold'em
From major live casino providers we've seen Evolution Gaming and PlayTech to be the ones who offer Casino Hold'em tables with live dealers. The game is mainly popular in Eastern Europe, but also played in UK and Germany. It's likely appealing to those that have played Texas Hold'em, even though this variation is played against the house and has a built in house edge that You cannot avoid or beat.
Sic Bo
This is a dice game that is mainly played in Asia and we've only seen it offered by Playtech, specifically at William Hill Casino. The game is very simple and You're wagering on the outcome for a roll of three dice. Depending on where You play, the house edge in this game can be very large and can range between 5 and 30%.
Hi-Lo
Hi-Lo with live dealers is also offered by PlayTech and available at Leo Vegas Casino. This is an exciting game where You'll have to wager on whether the next card dealt is higher or lower than the previous one. The house edge on the game goes between 1% and 11% depending on the current card dealt face-up. As a rule of thumb, the higher payout odds most of the time also have a higher house edge.
Three Card Poker
Variation of casino poker that is especially popular in the United States. Three Card Poker follows the rules of Texas Hold'em, but You're using three cards instead of making the best 5 card combination. There are also some side-bets available, such as "Pair Plus" where You wager on getting a hand of a pair or better. From all live casino providers, Evolution Gaming is our favourite one with live dealer Three Card Poker game available.
Software Providers
If You did not realise, none of the casinos are providing their own live dealer games – it is all a provided by separate companies that focus on the software side of the iGaming business. Below we'll provide some basic information about the most popular ones in the UK market. It's worth adding that in total there are more than 30 of these.
Evolution Gaming
The pinnacle of live dealer games, Evolution Gaming was one of the first in this space and have constantly evolved their offering to be the number 1 today. Not only are they the biggest in terms of studio size and table count, but also in terms of revenues and operators that are cooperation with them. Their games stand out with an extraordinary playing experience that comes from a crystal clear HD stream.
Today the company has studious in Malta and Latvia and is publicly traded on the Nasdaq Nordic. Their game selection is also wider than just about any of their competitors with multiple variations of Roulette, Blackjack, Baccarat and being one of the few live casino provider offering Casino Hold'em and Three Card Poker.
They also tailor to different language markets and have native speaking dealers for Russia, Sweden, Norway, Finland, Italy, Germany, Netherlands and Spain. On top of that, big operators can have custom branded tables just for their clientele, which casinos like CloudCasino.com are already taking advantage of.
Evolution Gaming Live Casinos product worth highlighting is their Blackjack Party that lets an unlimited amount of players join and play the game at a single table. It's also accompanied with two dealers, normally a male and a female, and is the complete opposite of serious. The dealers are normally just messing around and having lots of fun, so this game can be a perfect recreational activity with friends over a few beers.
NetEnt
The company is rather new in the live dealer space, but in true NetEnt style they are already inventing some interesting products. We would consider Roulette to be their strongest one and many of the bigger casinos like Mr.Green can often be seen carrying uniquely designed products for this game. There have been days when they offer Koi Princess Roulette, inspired by the great slot machine of the same name while on holidays like Easter You'll see cute bunny croupiers at the tables.
The Netent live casinos also have a pretty wide range of Blackjack games available, but we'd consider their product to be quite mediocre here. They have common draw and regular tables, where You are limited to playing just a single box.
The stream quality, even though it's meant to be in HD, is just not what we are used to with Evolution Gaming. Though the Common Draw Blackjack is a nice addition and provides some scalability to the game.
Ezugi
Ezugi might be a lesser known name, as it is still a privately owned company and still operating on a quite small scale. We are very impressed with their game assortment that includes innovative titles like Double Ball Roulette, Live Lottery and Knockout Baccarat.
The only thing that is a little worrying about Ezugi live casinos is that they have a Curacao license and don't seem to be holding a permit from UKGC, thus any casinos they are cooperating with should not be allowed to distribute their games to UK players.
Leo Vegas does offer games from them, but it's still unclear whether they let their UK customer base play these. We'll update this once we have confirmation.
MicroGaming
MicroGaming Software Systems LTD released their first genuine online casino in 1994 called Gaming Club (still in operation today) and have since then been among the industry leaders in providing B2B casino content and platform solutions. They are very well known for their slot machine games, such as Immortal Romance and Mega Moolah. Though they also offer a live dealer solution with studious located in Canada.
MG is certainly not one of the leaders in this space though, in fact after 32Red left for Evolution Gaming, they don't have any high profile clients. It seems that Royal Vegas are still offering their content, but we are unsure for how long.
When compared with other companies, MicroGaming's live dealer solution is quite up to par and their game selection is very wide. You get Blackjack, Roulette, Baccarat, Casino Hold'em and Sic Bo.
PlayTech
PlayTech are absolutely huge in the B2B iGaming industry and have partnered up with many prominent bookmakers in the UK such as Bet365, William Hill, Ladbrokes and many others. Their live casino content is quite impressive and streamed from studios that are located in Riga, Latvia.
They are one of the very few providers offering live dealer Sic Bo that seems to be a pretty big hit in asian countries. There's also Hi/Lo with live dealers available at William Hill, which I have never seen being offered by any other live casino.
The video quality at their tables is quite great and the dealers are well trained latvian girls, so You are in for a treat!
Extreme Live Gaming
ELG is a relatively new corner in this space, having been established in 2013 and now acquired and managed by the gaming industry giant Novomatic. Even though their products lack the quality touch of Evolution Gaming, there is a certain appeal to what they are offering.
Their live Roulette product is perhaps most interesting of all, especially Golden Ball Roulette and the games that are influenced by popular slot machines from Novomatic – Book Of Ra and Lucky Lady's Charm to be specific.
While the latter two is nothing special and simply offer some basic side bet options, the Golden Ball variation rewards the player who has wagered the most in every dozen spins or so. The rewards are decided by an operator, so nothing is guaranteed, but Leo Vegas for example rewards the most active players on a monthly basis with cash prizes and gadgets like the new iPhone 7.
Speaking of overall quality of games from Extreme Live Gaming, we could rate them as above average. The video quality could certainly be improved, but is up to par with direct competitors like NetEnt and PlayTech, but lower than the one of Evolution Gaming.
They do offer some exclusive tables for their largest partners and also have a decent game assortment with multiple Blackjack, Roulette and Baccarat variations offered. Some of the top Extreme Live Gaming casino are, Vegas Paradise and JackpotParadise.com.
Betting Limits Compared
| | Vegas Paradise | Royal Panda | Leo Vegas | Mr.Green | Bet365 |
| --- | --- | --- | --- | --- | --- |
| Blackjack | 1.00-200 | 5.00-5,000 | 2.00-5,000 | 10-5k | 20-1,000 |
| Roulette | 100-2k | 500-10k | 1k-10k | 25-5k | 50-300 |
| Baccarat | 5.00-1k | 5.00-10k | 5.00-15,000 | 5.00-25k | 10-200 |
| Casino Hold'em | N/A | 0.5-5,000 | 0.50-5,000 | 0.5-7,500 | 5.00-100 |
| Three Card Poker | N/A | 1.00-5,000 | 1.00-5,000 | 0.5-10,000 | N/A |
| Sic Bo | N/A | N/A | N/A | N/A | 10-400 |
| Hi/Lo | N/A | N/A | N/A | N/A | 2.00-650 |
Playing On Mobile
Mobile devices were adopted for gambling a few years back and have since gone quite mainstream.
Roughly 50% of revenues generated by UK online casinos are now mobile and slowly, but steadily, players are starting to play live dealer games on tablets and mobiles.
From all software providers out there we would recommend Evolution Gaming for all mobile players.
Their game portfolio is fully compatible with Android, iPhone and iPad devices and optimized for mobile connections so You could also play it on 3G and 4G networks.
Leo Vegas are absolute experts when it comes to mobile gambling and easily the best UK mobile casino.
Their game variety is absurd, with 650+ slots and a few dozen live casino games available. They have just improved their welcome offering as well and have £1,600 over Your first five deposits available.
Useful Articles:
Other Resources
If you looking for a Spanish site about live casino try casinoenvivo.com