The Poker Room – London Casino Review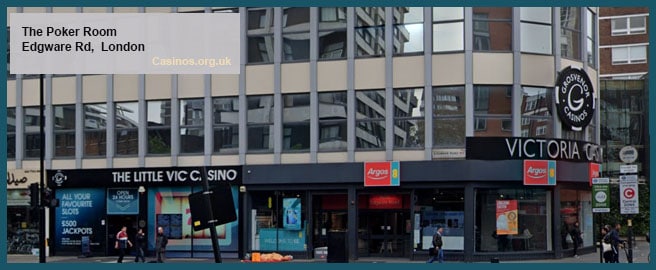 The Poker Room offers a unique London casino experience. At this casino, the majority of the games are poker tables, with only a small selection of slot machines available. Despite its name, The Poker Room is part of the Grosvenor Casino chain and is actually located above one of London's famous casinos the Grosvenor Victoria Casino – known as 'the Vic'.
This poker-orientated casino is open 24/7 and is a great place to experience many different poker variations, cash games, and even poker tournaments. There are over 30 poker tables located here and approximately 20 other electronic games including slot machines and a few electronic roulette posts. There is also a restaurant, bar, and live sports viewing available.
THE POKER ROOM – LONDON CASINO GAMES
Casino games at The Poker Room are mainly focused on poker. You will find 35 poker tables which make up the majority of the games at this casino. The other 20-odd games are mainly slot machines but there are also electronic roulette posts available.
If you're more interested in cash games and poker tournaments then The Poker Room is a perfect choice, with them hosting one of Europe's most famous poker tournaments – the GUKPT.
CASINO GAMING OPTIONS:
Poker – 35 Tables with different variations available.
Electronic Roulette Posts – 1 Table with 8 Posts
Slot Machines – 20 Machines

THE POKER ROOM – LONDON CASINO DRESS CODE
Despite being a different style of Grosvenor Casino, The Poker Room still has the same dress code as its counterparts. Smart casual attire is accepted at The Poker Room. Guests are requested not to wear any sportswear, tracksuits, headwear, and offensive clothing/tattoos.
FOOD & BEVERAGES
There are a restaurant and bar located inside The Poker Room as well as another restaurant and bar located downstairs in Grosvenor Victoria Casino. The Poker Room's restaurant provides a large dining area in a pleasant environment. Here you can find their menu with a large selection of food and wine. If you're looking for a drink you can head over to the bar located on the gaming floor. This is where you'll find the HD sports TV as well as their largest selection of alcoholic and non-alcoholic drinks. Grosvenor members can come and get free soft-drinks from the bar while also enjoying members-only discounts.
SPECIAL EVENTS
The Poker Room focuses on all things poker and their special events are pokers related for the most part. Cash games are available daily while poker tournaments are available according to their online schedule. Poker tournaments are by far the main event when it comes to casino games and they even host the final of one of Europe's most famous poker tournaments – the GUKPT.
Since they are apart of the Grosvenor Casino chain you will also be entitled to a few members-only promotions including free chips, discounts for food and drinks, and access to their unique Grosvenor One Wallet.
THE POKER ROOM – LONDON CASINO MEMBERSHIP INFO
Becoming a member at The Poker Room is the same procedure as any other Grosvenor Casino. It is not mandatory to become a member but membership is free and allows you to benefit from a host of offers, special events, and discounts. If you're interested, you can head down to The Poker Room or any Grosvenor Casino and register. Once your local registration has taken place you can complete the membership process online and immediately claim your first members-only reward – a £30 welcome bonus to be used on the Grosvenor Online Casino as well as free spins to use on the Cleopatra Online Slots game.
The Grosvenor One Wallet is a unique addition to The Poker Room's membership and allows you to handle all your funds on one easy-to-use wallet. Whether you want to top up your online funds from the casino directly or even use some of your online funds while playing on The Poker Room's local electronic games, this wallet will put all your casino funds in one place where you can easily access them at any time.
ACCOMMODATION & TRANSPORTATION
The Poker Room is located above the Grosvenor Victoria Casino in London. The casino is located in central London in-between The Regent's Park and Hyde Park, with many other tourist attractions located nearby. The quickest way to get to the casino is by getting on the A40 and then heading towards Hyde Park. The nearest bus stop to The Poker Room is located a short walk away from the casino alongside Sussex Gardens. There are also numerous London Underground stops near to the casino, including the Edgware Road Station and the Paddington Station – both of which are a 5-minute taxi drive away from the casino.
Accommodation is plentiful in this part of London. The closest hotel to the casino is the 4-star London Marriott Hotel Marble Arch. It is two streets away from the casino and is one of the fanciest options in the area. Other nearby options include the Haven 3-star Hotel, The Cameron 3-star Hotel, and the Griffon House 3-star Hotel – all of which are in the same price range.
LOCAL ATTRACTIONS
The Poker Room's central location makes it easy to travel between the nearby local attractions. Central London is where many of the most popular tourist attractions are located and you will find many popular sites less than 10-minutes' drive from the casino. The most notable tourist attractions near to the casino are Maddam Tussauds Wax Museum, Queen Mary's Rose Gardens, Hyde Park, Westminster Abbey, and one of London's most famous attractions – Big Ben.
Big Ben and Westminster Abbey are both slightly further away than the other attractions and are located close to the Thames River where you can also enjoy boat roads and other scenic locations like Battersea Park and The London Eye.
NEARBY CASINOS
The closest casino The Poker Room is by far Grosvenor Victoria Casino, which is one the first floor of the same building. Both of these casinos are part of the Grosvenor Casino chain and they are not the only Grosvenor Casinos in the area. If you're looking for other nearby Grosvenor Casinos you can choose between The Barracuda Grosvenor Casino, The Golden Horseshoe Grosvenor Casino, and Grosvenor Casino Russell Square. All of these Grosvenor Casinos offer table games, electronic games, dining options, and the same Grosvenor One membership.
Grosvenor Casinos aren't the only casinos in London and you can also visit some other popular casinos like Reel Island Casino, Sportsman Casino, Crockfords – Genting Casino, Maxims Club Casino, and Les Ambassadeurs Casino – all of which are less than 15-minutes' drive from The Poker Room.
GROSVENOR ONLINE CASINO GAMES
The Poker Room is part of the Grosvenor Casino Chain and therefore also has its own online casino. This online casino is filled with popular titles in slot machines, table games, and even live casino games with real UK dealers.
Most of the online casino games available are slot machines with games like Lucky Lady's Charm Deluxe, Lord of the Ocean, Dolphin's Pearl Deluxe, Reel King Mega, and many more.
There are also progressive jackpot online slots available. If you're a Grosvenor One member then you will also receive free money and bonus spins to use online upon activating your account.
There are also table games available with categories for roulette, poker, and blackjack available. These table games are all available in live casino options as well.
LIVE CASINO GAMES
The live casino games at Grosvenor Online Casino include roulette, blackjack, and poker, as well as a few unique titles like Live Monopoly and Live Deal or No Deal. All of these live casino games feature the same betting limits as you'd find in the real casino and are streamed live from private UK locations with real UK dealers. These games are the best way to have an authentic casino experience while playing on Grosvenor Online Casino.
Popular live casino games are:
Monopoly Live
Blaze Roulette
Victoria Roulette
Perfect Blackjack
Grosvenor Roulette
Grosvenor Speed Roulette
Lightning Roulette
CASINO RATING
The Poker Room, London - Rating
Summary
Grosvenor Casinos pull out all the stops with The Poker Room London. It is one of a few Grosvenor Casinos located in the city and a great place for casino goers mainly interested in poker. The dining options and their few electronic games makes for an all-round great casino experience.
Pros
Great place to play poker
Good tournaments and cash games
Friendly and helpful staff
Good atmosphere
BASIC INFORMATION
Casino Name: The Poker Room – London
Location: London, UK
Address: 150A Edgware Rd, London W2 2D, UK
Phone: +44 207 298 2411
Opening Hours: 24 / 7
Table Games: Yes
Slots: Yes
Dress Code: Smart Casual
The Poker Room Licensee: Grosvenor Casinos Limited Limited is licensed and regulated by the UK Gambling Commission (See licensee).
THE POKER ROOM IN LONDON ON A MAP