The Golden Horseshoe, Grosvenor – London Casino Review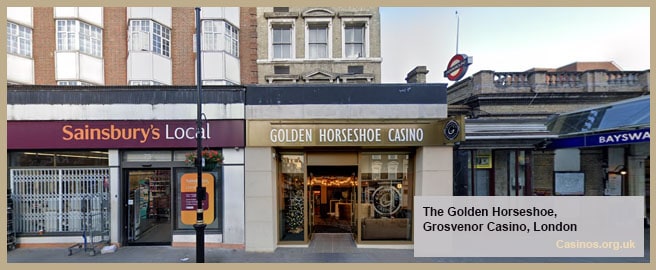 In Central London just outside Kensington Palace, you'll find The Golden Horshoe Grosvenor Casino. This casino used to be known as the Gala Golden Horshoe Casino before it fell under the Grosvenor name. Grosvenor Casinos own many branches throughout the UK and are one of the leading names in casino gaming. If you're looking for a quality, yet casual, gaming experience then this is one of a few options in The City of London area.
The casino is open 24/7 and they have table games, electronic games, a bar, and plenty of HD TVs to watch all the latest live sporting action. Their Grosvenor One membership is also available across all their local casinos and their online one.
THE GOLDEN HORSESHOE GROSVENOR – LONDON CASINO GAMES
The main gaming hall and separate poker room available at The Golden Horseshoe are two gaming areas where you'll find all their table games, electronic games, and unique poker events. The table games available are roulette, blackjack, baccarat, and poker; with electronic games such as electronic roulette, slot machines, and progressive jackpots available.
The Poker Room is available for daily cash poker games and weekly poker tournaments. These games offer the Texas Hold 'em and Omaha variations and are a great place to play some higher limit poker.
CASINO GAMING OPTIONS:
American Roulette
Blackjack
Three-card Poker
Baccarat
Electronic Roulette
Cash Poker Games
Poker Tournaments

THE GOLDEN HORSESHOE GROSVENOR – LONDON CASINO DRESS CODE
The Golden Horseshoe's dress code is in line with other Grosvenor Casinos throughout the UK. They don't expect guests to dress formally but you should stick to their smart casual dress code if you don't want to be disappointed at the door. They are generally quite acceptable about what people wear, but there are a few things that they do not tolerate, including sportswear, headwear, and open-toed sandals.
FOOD & BEVERAGES
The bar available on the main gaming floor is your only source of food and drink at The Golden Horseshoe. This bar serves everything from non-alcoholic drinks, to alcoholic drinks, to light meals, and they regularly have 2-4-1 and half-price specials on cocktails and beers. The light meals available here come at a 10% discount if you're a member.
SPECIAL EVENTS
Poker is the special event available at The Horseshoe. We're not talking about regular three-card poker, which they offer in the main gaming hall, but about their separate poker room and the cash games & tournaments that take place there. There is always a poker event taking place, with their daily cash games and weekend tournaments generating a lot of excitement. Not only do they offer tournaments for regular gamers to participate in, but you can also visit when they're hosting some of the UK's most famous poker tournaments – including the Grosvenor United Kingdom Poker Tournament (GUKPT).
You can also visit The Golden Horseshoe any time there is a sporting event on and you can watch it from the comfort of their TV lounge right next to the bar. The Golden Horseshoe also offers sports betting for those who want to make the games more interesting.
THE GOLDEN HORSESHOE GROSVENOR – LONDON CASINO MEMBERSHIP INFO
Grosvenor One membership is available throughout all Grosvenor Casinos, including The Golden Horshoe. This membership is free and very simple to obtain. All you have to do is visit The Golden Horseshoe and sign up at reception. First-time visitors are welcome to sign-up and considering the membership is free, it makes no sense not to. As soon as you've signed up locally you just need to go online and complete the registration process on their website. At this point you will be ready to receive your Grosvenor One card and all the perks you're entitled to. One of the most basic perks is their complimentary soft drinks and hot drinks available to members from their bar – even this alone makes registration worthwhile.
Apart from free drinks, you will also receive discounts for alcoholic beverages, free tickets to musical performances, free credits, and instant prizes. There is always something available for members at Grosvenor Casinos.
ACCOMMODATION & TRANSPORTATION
If you're using public transport, which is very efficient in London, then you won't have any problems arriving at The Golden Horseshoe because it is located right next to the Bayswater tube station. Just outside the tube station, you'll also find a bus stop with dropped kerb access for wheelchairs. Driving yourself might prove a bit of a difficulty as parking in this part of London is quite scarce. You will be able to find parking bays along adjacent streets, but you don't know how far you might have to walk.
Despite being outside the city centre, there is still plenty of accommodation option close to the casino. London has a wide range of accommodation options varying significantly in pricing and quality. Close to the casino you'll find many affordable, yet stylish, options like The Grand Royale 4-star Hotel, the Shaftesbury 4-star Hotel, and Thistle Kensington Gardens 4-star Hotel. If luxury accommodation is on your list, then travel into Mayfair and find the best hotels in the UK, including The Lanesborough, JW Marriott Grosvenor House, and The Berkeley – all of which are rated 5-stars.
LOCAL ATTRACTIONS
Although The Golden Horseshoe is slightly outside the centre of the City of London, it is still only a few minutes drive away from all the most popular UK attractions. Being so close to Kensington Gardens means your first visit should be to Kensington Palace and Hyde Park. Once you've finished there you can walk over to the suburb of Mayfair, famous for being the most expensive postal code in the UK. From Mayfair you can visit the Queen's residence at Buckingham Palace.
From here you will be close to many other attractions and can travel through Westminster, past Westminster Abbey, to Big Ben, the London Eye, Trafalgar Square, and The Tower of London – where you can see The Crown Jewels on display. Madame Tussauds Wax Museum is also a very popular attraction located further north just outside The Regent's Park.
NEARBY CASINOS
The City of London is one of the most popular gaming areas of the UK and offers a wide range of electronic gaming parlours, casinos, and exclusive table gaming parlours. The Golden Horseshoe is a fully-equipped casino, so if you're looking for a similar gaming experience you can visit one of the other Grosvenor casinos in the city or try out another casino experience at one of the Genting Casinos, Merkur Cashinos, or other casinos available throughout the city.
The closest casinos The Golden Horseshoe are Silvertime Casino, The Barracuda Grosvenor Casino, and The Gloucester Grosvenor Casino. The Grosvenor Casinos offer similar gaming experiences, while Silvertime casino is a smaller electronic gaming parlour.
If you're looking for a more upmarket casino experience visit the suburb of Mayfair and one of their exclusive members-only casinos. These aren't for your average gamer, but they offer a casino experience unlike any other. Les Ambassadeurs, Crown London Aspinalls, Crockfords Genting Casino, and The Colony Club Genting Casino are all located 5-minutes drive away from Hyde Park.
GROSVENOR ONLINE CASINO GAMES
There's no shortage of gaming choices when you visit a Grosvenor Casino. The Golden Horshoe offers the same online casino filled with some of the best online games in the country. Here you will find everything you need to transform a regular online gaming experience into a proper online casino. Table games, slots, progressive jackpots, and even live dealers are all available.
You can easily register on their online casino, whether you're a Grosvenor One member or not, and you will receive a 100% match welcome bonus of up to £20. However, if you are a Grosvenor One member you will already be registered and will have the advantage of the unique Grosvenor One e-Wallet, which can be used for both online and local casino gaming, as well as receiving an additional £30 welcome bonus – with no deposit required.
You'll find all the different gaming categories at the top of the screen with the 'home' tab providing a list of their most popular games spanning all categories. This list currently includes popular titles, such as:
Cleopatra
Well of Wishes
Pyramidion
Fishin' Frenzy
Dolphin's Pearl Deluxe
Mystic Wheel
Blackjack Perfect Pairs
LIVE CASINO GAME
Visit their live casino section for the latest in online casino gaming technology. Here you actually play with real people, despite being online. All their live casino games feature real-life UK croupiers who have experience working in both traditional and online casinos. These croupiers know exactly how to transform your online experience into an authentic one and you even have the option of joining in straight from one of Grosvenor's UK casinos – like the 'live from Victoria' Baccarat option.
Victoria Baccarat
Speed Baccarat
Deal or No Deal Live
London Roulette
Immersive Roulette
Grosvenor Blackjack Gold
CASINO RATING
The Golden Horseshoe, Grosvenor Casino, London - Rating
Summary
The Golden Horseshoe isn't 'golden' in name only. This casino offers a premium casino gaming experience but without any of the formalities required at some of the other exclusive London casinos. This casino has all the table and electronic games you'd require. Their free membership and other facilities are a great way to make your night even better.
Pros
Excellent drinks and food at restaurant
Great atmosphere
Great service
Modern and very comfortable
Cons
You have to be a member to enter it
Staff at the bar are not very friendly
BASIC INFORMATION
Casino Name: The Golden Horseshoe, Grosvenor Casino – London
Location: London, UK
Address: 79-81 Queensway, Bayswater, London W2 4QH, UK
Phone: +44 207 221 8788
Opening Hours: 24 / 7
Table Games: Yes
Slots: Yes
Dress Code: Smart Casual
The Golden Horseshoe, Grosvenor Casino – London Licensee:Grosvenor Casinos Limited Limited is licensed and regulated by the UK Gambling Commission (See licensee).
THE GOLDEN HORSESHOE GROSVENOR CASINO IN LONDON ON A MAP