Maxims Casino Club Review
Maxims Casino Club, located at 1A Palace Gate, is one of the most visited land based casinos in London. Patron's love for Maxims is borne out of its excellent gaming ambience and variety, and the winnings it offer to the best gamer at the end of the day. The casino is open every day, from 2pm-4am.
Maxims Casino Club
Games
There are a total of 26 tables roulette, blackjack, craps , where the players can try their casino gambling luck.
Currencies
Maxims accept all major currencies.
Dress Code
Sports wear not allowed. It should be smart or casual.
Membership
For membership, player must apply with sufficient identification proof (passport or id), 24 hrs in advance, before joining the facilities of the club. Minimum age limit is 18.
Basic Information
Casino Name
Maxims Casino Club
Table Games
Roulette, Poker, Craps, Baccarat, BlackJack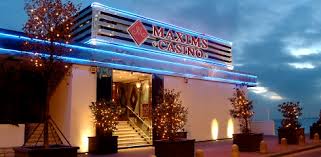 Try Some Casino Games at UK Licensed Online Casino!
Casino
Bonus
Whats great here?
Visit

- 10 FREE SPINS + £200
- Best Online Casino & Mobile 2017!
- UK Legal & Licensed