The Barracuda, Grosvenor Casino – London Review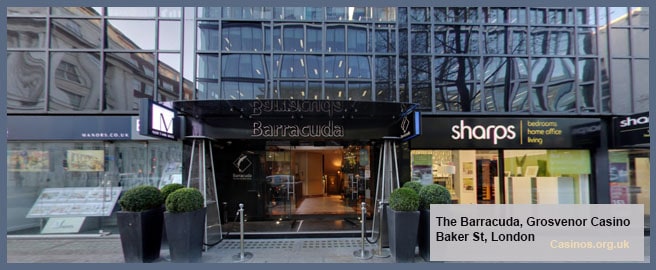 The Barracuda is one of a few unique Grosvenor Casinos that have their own names. The Barracuda is located in the suburb of Marylebone in central London – just outside Mayfair. This area of London is very popular among tourists and casino goers and there are plenty of casinos to choose from. The Barracuda is a modern venue that has recently been upgraded with the latest slot machines, gaming tables, and their very own restaurant and bar. There are a few other Grosvenor Casinos in this part of London, as well as other reputable casino chains.
THE BARRACUDA, GROSVENOR CASINO – LONDON GAMES
Table games and electronic games are plentiful at The Barracuda. There isn't a separate poker venue, but there are numerous three-card poker tables. Roulette, blackjack, and other casino favourites like baccarat, electronic roulette, and plenty of slot machines are all available. Don't forget to check out their progressive jackpot machines with prizes exceeding £10,000.
CASINO GAMING OPTIONS:
American Roulette – 11 Tables with minimum bets of £1 and maximum of £500
Blackjack – 5 Tables with minimum bets of £3 and maximum of £1,000
Three-Card Poker – 4 Tables with minimum bets of £5 and maximum of £1,000
Punto Banco Baccarat – 3 Tables with minimum bets of £5 and maximum of £5,000
Electronic Roulette Posts

THE BARRACUDA, GROSVENOR CASINO – LONDON DRESS CODE
Despite the upmarket location, The Barracuda casino strives to provide a more relaxed gaming experience than found in neighbouring Mayfair. At The Barracuda you won't be required to dress formally, but smart casual dress is required if you want to participate in the table gaming action. This means you should leave behind the sports clothes, tracksuits, and preferably your jeans. Come dressed for something a little smarter than your average casino so that you fit in with the rest of the crowd.
FOOD & BEVERAGES
The Barracuda prides itself in offering one of the best restaurant casinos in the UK after making it to the finals of the national competition. This restaurant can be visited for lunch and dinner and offer both a set menu and a la carte menu. The a la carte menu offers many different options including meat, poultry, fish, and side orders as well as options from different cuisines including Indian and Arabic.
They also have a separate bar located on the gaming floor with all your alcoholic and non-alcoholic drink needs. Their promotions page is always filled with the latest bar specials including lunchtime bar food and discounts on beers and cocktails on certain days. If you're a member you can also visit the casino and enjoy free soft drinks and hot drinks throughout the day.
SPECIAL EVENTS
Private events are hosted at the Barracuda in their White Room. This function room can be rented out. There is also live music once a month a sporting events viewable from their HD TVs. The Barracuda does not have a poker room or any poker tournaments, but the nearby The Victoria Grosvenor Casino is their main poker location in the area.
THE BARRACUDA, GROSVENOR CASINO – LONDON MEMBERSHIP INFO
The Barracuda offers the same Grosvenor One membership that is available in all Grosvenor Casinos throughout the UK. The Grosvenor One membership is one of the easiest to use because it can be used in both their local casinos and their online casino. All you need to do is register online and complete your registration at any one of the Grosvenor Casinos and you'll be ready to take advantage of all the members-only specials, discounts, and promotions. Remember, registration for the Grosvenor One membership is free and you'll only be required to show ID if you are under the age of 25.
Once you're registered you will receive your Grosvenor One loyalty card which can be used at all Grosvenor Casinos – local and online – to earn points that can be redeemed at the bar, restaurant, or for special prizes.
ACCOMMODATION & TRANSPORTATION
You won't struggle to find accommodation but parking might be another story. This area of London does not have many public parking lots other than the spots available behind the casino and along nearby streets. There is space for approximately 20 cars behind the casino. Public transport is, however, a great option if you're staying around London and is very reliable. The nearest bus stop is located outside the casino on Baker street.
There are plenty of hotels in the area ranging in price quite considerably. If you're interested in accommodation close to the casino then you can try the Fitzdarginge House next to the casino or the nearby Hyatt Regency London.
DoubleTree by Hilton Hotel
Radisson Blu Hotel
Amba Hotel Marble Arch
LOCAL ATTRACTIONS
You won't have to travel far from The Barracuda for some of the UK's most popular tourist attractions. Within a day you can visit the Queen at her residence, get a view of London from the London Eye, or take a stroll through Hyde Park. There are plenty of things to do in this part of London and you'll struggle to find the time to do it all.
If you've never been to Madame Tussauds Wax Museum that is definitely one for the bucket list, as well as the beautiful Westminster Abbey. Museums and art galleries are also scattered throughout the city and provide a nice distraction from the casinos.
NEARBY CASINOS
You'll have no shortage of nearby casinos when visiting The Barracuda Casino. This area of London has more casinos than any other area of Greater London. Not only are there plenty of casinos, but also the most sophisticated casinos can be found in Mayfair – less than 10-minutes drive away – and include the Crown London Aspinalls, Playboy Club London, and The Palm Beach Casino. These Mayfair casinos are exclusive and only allow members to enter. Most of these upper market casinos only offer table games and far higher betting limits that your average UK casino.
If you're looking for a gaming experience similar to The Barracuda then you can visit the nearby – another Grosvenor owned casino – the Sportsman Casino, Merkur Cashino, and The Hippodrome Casino London. All of which offer extensive gaming options including plenty of electronic and table games.
GROSVENOR ONLINE CASINO
Even though The Barracuda might seem like a separate casino, they are still part of the Grosvenor Casino chain and therefore have their very own online casino for their gamers to enjoy. The Grosvenor Online Casino is one of the best online gaming casinos owned by a local UK casino and they have all the games you'd expect – including roulette, blackjack, poker, baccarat, slot machines, progressive jackpots, and plenty of live casino games.
The website accepts a few different payment methods, including PayPal, Visa, MasterCard, Maestro, and PaySafe Card. Another added benefit of the Grosvenor Online Casino is their Grosvenor One membership. This membership is available both at The Barracuda local casino and their online casino. The Grosvenor One membership is linked across all Grosvenor Casinos with a single electronic wallet. This wallet can be used to deposit and withdraw money for their online casino directly from any local casino branch.
LIVE CASINO GAMES
Live casino games are fast becoming the most popular way of gaming online. These games are like regular online casino table games, except the major difference is the addition of a real dealer. These dealers are real people being streamed from various locations throughout the UK. They are experienced and know exactly how to make your online gaming experience feel exactly like a traditional one.
There are plenty of different live casino games to choose from, including:
Monopoly Live
Blaze Roulette
Grosvenor Speed Roulette
Lightning Roulette
Foxwoods Roulette
Immersive Roulette
CASINO RATING
The Barracuda, Grosvenor Casino London - Rating
Summary
Although there are many upper-class casino facilities in this area of London, The Barracuda offers the perfect combination of quality casino games and casual gaming. You'll find all the best casino games as well as a restaurant, bar, and live sporting action. This is definitely one of the best casinos to visit in the suburb of Marylebone.
Pros
Excellent service
Great atmosphere
Very friendly and helpful staff
Good food and drinks
Cons
Crowded place
Membership required
BASIC INFORMATION
Casino Name: The Barracuda, Grosvenor Casino – London
Location: London, UK
Address: 1 Baker St, Marylebone, London W1U 8ED, UK
Phone: +44 207 935 5013
Opening Hours: 24 / 7
Table Games: Yes
Slots: Yes
Dress Code: Smart Casual
The Barracuda, Grosvenor Casino Licensee: Grosvenor Casinos Limited Limited is licensed and regulated by the UK Gambling Commission (See licensee).
THE BARRACUDA, GROSVENOR CASINO IN LONDON ON A MAP