Grosvenor Casino – Russell Square Review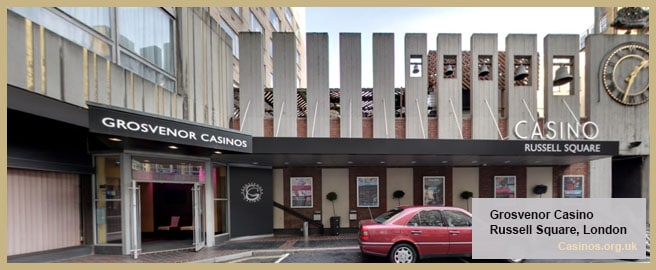 No UK casino chain would be complete without a London branch. Grosvenor Casino Russell Square is one of 10 casinos owned by the Grosvenor Casino chain in the Greater London area. This is one of their medium-sized casinos that feature over 30 table games along with many slot machines and progressive jackpots. Grosvenor Casino Russell Square also has its own restaurant and bar, each with an impressive menu.
Grosvenor Casino Russell Square is located right in the center of London, a few streets away from the Thames River, in the Holborn suburb. The casino's location and quality games make it a great casino to visit and it is right opposite the popular Imperial Hotel. This casino is open 24 hours a day, every day of the week.
GROSVENOR CASINO – RUSSELL SQUARE GAMES
Grosvenor Casino Russell Square isn't the largest casino in London but they still have over 30 gaming tables, and an impressive selection of slot machines. Apart from the regular roulette, blackjack, and poker games, you will also find the Get Set Roulette experience on their electronic roulette posts.
CASINO GAMING OPTIONS:
Roulette – 8 Tables with a minimum bet of GBP 0.50 and a maximum of GBP 500
Electronic Roulette – 44 Posts with the same bets as regular roulette
Blackjack – 4 Tables with a minimum bet of GBP 1 and a maximum of GBP 1000
3 Card Poker – 3 Tables with a minimum bet of GBP 5 and a maximum of 500
Stud Poker – 1 Table with a minimum bet of GBP 5 and a maximum of 500

GROSVENOR CASINO – RUSSELL SQUARE DRESS CODE
Grosvenor Casino Russell Square has the same dress code as all the Grosvenor Casinos – smart casual. You can leave the suit and tie at home, but there are also a few items that Grosvenor Casino would prefer you left at home, like headwear, sportswear, tracksuits, and any offensive clothing. Apart from these items, as long as you are wearing close-toed shoes you won't have a problem.
FOOD & BEVERAGES
The food available at Grosvenor Casino Russell Square is unique compared to many other Grosvenor Casinos throughout the UK. They have their own restaurant with a personalized menu that accommodates most palates. The menu is divided into 'Small Plates', 'Flavours from the East', 'Large Plates', 'Grills', 'Salads & Sides', and 'Desserts'. You'll find plenty of dishes including poultry, fish, and beef. In the restaurant you can also order from their bar or from their specialized wine menu with Laurent Perrier French Champagne and Galanti Italian Prosecco. While on the gaming floor you will also have access to their casino bar. Here you will find all the drinks you'd expect from a regular pub including ciders, beers, wine, and spirits.
SPECIAL EVENTS
Grosvenor Casino Russell Square has plenty of special events to be enjoyed. These special events are not only limited to the casino games with various specials available for the restaurant and bar as well. One such special is the Burger, Beer, and Bet special which is available every day. For £9,95 you can enjoy a pint of beer, a loaded burger and a bet (with a chance to win £5. It is these type of specials that make Grosvenor Casino so popular.
Most of the Grosvenor Casino special events are limited to members so make sure you take advantage of their free registration. These members-only special include both online and local casino specials. Currently, you can win Hot Seat Prizes, get 30% off food, receive a £20 casino slot bonus, enjoy a free dessert, and get unlimited free soft and hot drinks while gaming. These are just some of the members-only special listed on their website and they are constantly being updated. There is also an upcoming GUKPT Main Event that you can win free entry to.
GROSVENOR CASINO – RUSSELL SQUARE MEMBERSHIP INFO
Grosvenor One is the name of the Grosvenor Casino chain membership. This is a unique casino membership because it automatically covers both their Grosvenor Online Casinos as well as all of their local casinos – including Grosvenor Casino Russell Square. This membership is an easy way to get a lot more from your visit to this casino because most of their special events and promotions are limited to members only.
The registration is free and simple and can be done on your first visit. All you need to do is visit any of the local Grosvenor Casinos, sign-up at the reception, and then complete your registration online. Once you have completed this you will immediately receive your £30 Welcome Bonus that can be used in the online casino as well as 50 free spins on the popular Cleopatra Online Slots game. If you are a member make sure to check the latest promotions and offers from the Grosvenor One page on their website.
Grosvenor One also allows gamers to benefit from a single wallet which can be used to deposit and withdrawal online funds directly from Grosvenor Casino Russell Square. You can then also use this online wallet at any of the Grosvenor slots and electronic roulette games in their local casinos.
ACCOMMODATION & TRANSPORTATION
Grosvenor Casino Russell Square is located in the centre of London, meaning you have plenty of transportation options. If you are arriving at the airport you can choose between a taxi, bus, or car rental agency for the next leg of your journey. The nearest bus stop to the casino is the one on the other side of Russell Square, less than 10-minutes' walk from the casino through the popular London park.
There is only public parking available opposite the entrance to the casino. If these are full you can look for parking along the adjacent streets and you shouldn't have to walk further than 5-minutes. The quickest way to get to the casino by car is by getting into London and heading to the Madame Tussauds Museum by The Regent's Park.
The closest accommodation option is directly behind the casino. The Imperial Hotel is a popular choice among travellers and is rated 3-stars. Just next door to this hotel you will find the President Hotel, Hotel Mercure London Bloomsbury, and Thistle Bloomsbury Park Hotel – all of which are within the same price range.
LOCAL ATTRACTIONS
London is the capital of England and by far one of the most visited cities in the UK. Thanks to its central location, visiting Grosvenor Casino Russell Square will put you close to many of London's most popular tourist attractions including the nearby Madame Tussauds Musem and the Charles Dickens Museum. The Thames River is also a short drive away from the casino and if you feel like a stroll through popular British-style gardens you can visit the nearby Russell Square, Brunswick Square Gardens, and Bloomsbury Square Gardens.
NEARBY CASINOS
London is filled with many casinos as well as other Grosvenor Casinos. Near to Russell Square, you have a few choices that are less than 10-minutes' drive away from Grosvenor Casino Russell Square. Merkur Cashino and St. Giles Casino is the most notable nearby casinos, with plenty more options available if you decide to travel further west into the neighbouring suburbs of Mayfair and Chelsea.
Park Lane Club Casino
The Palm Beach Casino
GROSVENOR ONLINE CASINO
Grosvenor's Online Casino is a great way to enjoy all their popular games from home. By registering for their casino membership you will have already signed up for the online casino and can immediately start gaming. Their online games include popular table games, slot machines, and live casino games.
Their online casino is divided into different gaming sections which can be easily accessed from the top of the website. Live Casino Games, Most Played, Slots & Games, Jackpots, Table & Card, Poker, and Sport are the gaming tabs available, with online promotions and Grosvenor One offers also available.
Once on the home page, you will find the most played online casino games which mainly features live casino games and slot machines. Lucky Ladys Charm Deluxe, Reel King Mega, Live Roulette, Live Blackjack, and Well of Wishes are currently the top 5 games played at Grosvenor Online Casino.
LIVE CASINO GAMES
Live casino games are available with roulette and blackjack featuring the most tables. The rest of the online casino games include Baccarat, Deal or No Deal, and Monopoly. These games all feature exclusive UK dealers and the same table limits that you'd find at the local casinos. These games are as authentic as you can get and their 24/7 availability make them a popular choice for enthusiastic gamers. The most popular live casino games currently available are:
Monopoly Live
Blaze Roulette
Victoria Roulette
Perfect Blackjack
CASINO RATING
Grosvenor Casino Russell Square, London - Rating
Summary
Grosvenor Casino Russell Square isn't the only Grosvenor Casino in the city but it is definitely one worth visiting. Their quality games and unique restaurant make it one of their most exciting branches. You will always find a special event or members-only offer to make sure you get the most out of every night.
Pros
Great service
Very friendly and helpful staff
Good food and drinks
Cons
A small casino compared to most
BASIC INFORMATION
Casino Name: Grosvenor Casino Russell Square
Location: London, UK
Address: 61-66 Russell Square, Holborn, London WC1B 5JS, UK
Phone: +44 207 833 1881
Opening Hours: 24 / 7
Table Games: Yes
Slots: Yes
Dress Code: Smart Casual
Grosvenor Casino Russell Square Licensee: Grosvenor Casinos Limited Limited is licensed and regulated by the UK Gambling Commission (See licensee).
THE GROSVENOR CASINO RUSSELL SQUARE IN LONDON ON A MAP