Palm Beach Casino At Mayfair Hotel London Review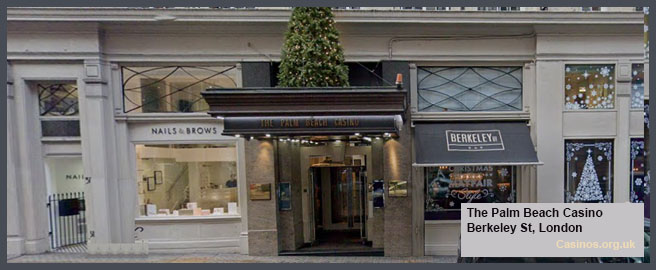 Palm Beach Casino is a premium gaming facility located in Mayfair, London. The casino is part of The Mayfair Hotel, a 5-star hotel on Berkeley Street. This is one of the best gaming options in the city with plenty of tables and electronic games to choose from. Despite its location, Palm Beach Casino is not a members-only casino and they welcome all guests – as long as they follow the smart casual dress code. The casino is open 24/7Itsand there are a few restaurants and bars located in the hotel, as well as a bar inside the casino itself.
PALM BEACH CASINO AT MAYFAIR HOTEL – LONDON GAMES
The Palm Beach Casino at Mayfair Hotel strives to provide one of the best gaming experiences in London without limiting its clientele to only members. You will find one of the largest collection of table and electronic games all spread out across their spacious gaming hall. This casino also has VIP rooms available when private gaming and entertainment can take place. These Gold Rooms can be rented beforehand by arranging with management and also features a private entrance separate from both the casino and hotel – perfect for more discreet gaming experiences. The games offered include roulette, blackjack, baccarat, and poker, as well as their collection of electronic gaming machines.
In addition to their main and private gaming rooms, Palm Beach Casino London also has their own poker room which offers Texas Hold 'em Cash Poker Games every day from 8 pm until the morning. The limits of these games start at £5/£10 and go up to £25/£50.
CASINO GAMING OPTIONS:
American Roulette
Blackjack
Punto Banco Baccarat
Cash Poker Games
Progressive Jackpots
Electronic Roulette

PALM BEACH CASINO AT MAYFAIR HOTEL – LONDON DRESS CODE</h3.
Smart casual is the dress code at Palm Beach Casino and it's slightly more strict than other smart casual dress codes in London. Here they request gentleman to wear collared shirts and smart pants, including smart jeans. No trainers or open-toed shoes are allowed and make sure you aren't wearing clothes with offensive wording or images.
FOOD & BEVERAGES
In the casino, there is a bar with ciders, beers, wine, and spirits. You can also visit the Mayfair Bar and the Mayfair Kitchen in the hotel for fine dining and a more sophisticated bar experience. The restaurant serves Spanish and Italian cuisine and there are also some dishes honouring the contemporary Peruvian, Mexican, and Japanese cuisines. They also offer afternoon tea with a selection of chocolates and chocolate-inspired desserts. The bar has over 40 signature drinks, including cocktails, a wide selection of whiskeys, and is open 24/7.
SPECIAL EVENTS
Apart from the cash poker games, the VIP room is available for reservation every day and is a great place to host parties and other events at the casino. If you're looking for a larger venue you can also make use of the Mayfair Hotels private function hall which comes with private dining and a bar.
PALM BEACH CASINO AT MAYFAIR HOTEL – LONDON MEMBERSHIP INFO
Palm Beach Casino is open to all gamers and does not have a membership available. You're welcome to visit the casino at any time of the day as long as you bring a valid proof of identity with you. Guests over the age of 25 may not be required to show ID, but it's better to have it with you.
ACCOMMODATION & TRANSPORTATION
The Palm Beach Hotel is on the border of the suburbs of Mayfair and St. James's and is located inside The Mayfair Hotel which is a part of the Radisson Collection. To get to Mayfair by can you can take the A5 to Hyde Park and then connect with the A4202. Once you're in Mayfair you can travel on Curzon Street directly to the hotel. There is limited parking available in the streets surrounding the hotel.
Public transport is the easier option when in London, with the closest bus stop located on Piccadilly Street at the Old Bond Royal Academy (Stop G). Alternatively, you can also use the subway and arrive on the corner of Piccadilly and Berkeley streets, less than 10-minutes walk from the casino.
Mayfair is home to some of the best accommodation in the UK but it can be quite pricey. If you want to stay close to the casino you can even use The Mayfair Hotel, where the casino is located, which is a 5-star hotel with rooms available from £500 a night. Other options in the area include the Holiday Inn London Mayfair 4-star Hotel, Brown's 5-star Hotel, and The Ritz London Hotel.
LOCAL ATTRACTIONS
Palm Beach Casino offers the perfect location for guests interested in visiting the many local attractions in the area. The City of London is home to many of the UK's most popular tourist attractions and most of them are within walking distance from the casino. Whether you take public transport or walk, you will be able to visit the nearby Buckingham Palace, Big Ben, and The Tower of London. These are some of the most popular locations, but definitely not the only ones. There are plenty of museums, art galleries, and other historical/cultural attractions to visit, including:
The River Thames
The London Eye
Westminster Abbey
Madame Tussauds Wax Museum
Green Park
Hyde Park
St James Park
NEARBY CASINOS
Along with plenty of accommodation, there are also plenty of casinos in this area of London, with more than 10 casinos less than 10-minutes drive from the Palm Beach Casino. Most of these casino options offer smart casual gaming similar to the Palm Beach Casino.
There are also more extravagant gaming options available that are only accessible to members. These exclusive casinos feature the best table games in the country and normally a small selection of electronic games in their smoking sections. Fine dining, bars, and top-class service can all be expected from the most famous casinos in London.
CASINO RATING
Palm Beach Casino At Mayfair Hotel, London - Rating
Summary
This stylish casino located inside a 5-star Mayfair hotel is the perfect option for those looking for a slightly more casual gaming experience in Mayfair. The casino was designed to replicate the famous Palm Beach in Florida and they have an extensive selection of table games and slot machines. Its central location and direct access to a hotel make it one of the easiest locations to stay at when visiting London City.
Pros
Great atmosphere and service
Excellent bar and restaurant
Very friendly and helpful staff
Great food and drinks
Cons
Too few poker tables
Check-in required
BASIC INFORMATION
Casino Name: Palm Beach Casino – Mayfair Hotel London
Location: London, UK
Address: 30 Berkeley St, Mayfair, London W1J 8EH, UK
Phone: +44 207 493 6585
Opening Hours: 24 / 7
Table Games: Yes
Slots: Yes
Dress Code: Smart Casual
Palm Beach Casino Licensee: Genting Casinos UK Limited is licensed and regulated by the UK Gambling Commission (See licensee).
THE PALM BEACH CASINO AT MAYFAIR HOTEL IN LONDON SOUTHAMPTON ON A MAP