Crown Aspinalls – London Casino Review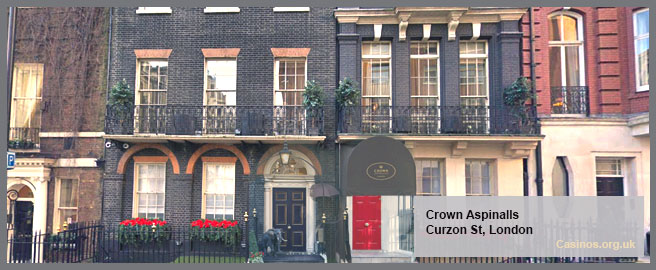 Crown Aspinalls London Casino is one of the most sophisticated casino options in the UK. This members-only casino is exclusive for a reason, with a wide selection of top-quality table games available as well as an exceptional restaurant. This casino was originally known as the Aspinnalls casino but has since been bought by Crown Resorts where after the name was changed. The casino also underwent a drastic modernization with the goal of sticking to the original owner's vision of an exclusive casino gaming experience like no other.
The casino is open 24/7 and is conveniently located in the centre of London in Mayfair. Unfortunately, no walk-in guests are allowed as this casino prides itself in only allowing members. Membership is free but will require prior approval from the casino's Membership Approval Committee.
CROWN ASPINALLS – LONDON CASINO GAMES
Crown Aspinalls is divided into 4 gaming quarters, each offering a unique table gaming experience. No electronic games are found in this casino as it doesn't live up to the atmosphere.
The Main Gaming Floor is where most of the action takes place and is considered the 'public' gaming floor where most of the night is spent. Here you will find American roulette, blackjack, three-card poker, and baccarat.
If you're looking for a more private gaming experience then the three private salons are for you. The Sapphire Room, The Jade Room, and The Gallery are three 'private' gaming areas that each offer unique décor, service, and games. The Sapphire Room has all the games you'll find on the main gaming floor but with more sophisticated surrounding – including a dining area and private lounge. In the Jade room you will find an exotic gaming floor with butler service, private dining, and three gaming tables. Finally, the Gallery is a contemporary room with four gaming tables, private dining, and a large lounge area – perfect for private parties.
CASINO GAMING OPTIONS:

CROWN ASPINALLS – LONDON DRESS CODE
Crown Aspinalls isn't your average UK casino and therefore doesn't have an average dress code. Members will only be allowed to enter if they're wearing formal attire such as tuxedos and evening dresses. The dress code is strictly enforced because it helps create the atmosphere in this upper-class casino.
FOOD & BEVERAGES
There is no shortage of food and beverages available at Crown Aspinalls. Each gaming area comes equipped with dining options and its own bar. Waiters will make sure you never have to lift a finger and their restaurants are the perfect place to enjoy their different dining options created by renowned chef Nicola Ducceshi and Chinese Chefs Steven & Ming.
Apart from the private dining areas available in the salons, the 27 Restaurant and Bar is the main dining area in the casino, opening from 12 pm until 3 am every day.
SPECIAL EVENTS
Crown Aspinalls does not have many gaming special events because each night is something to look forward to, but they do offer members a wide range of exclusive events to attend throughout London, the UK, and Europe. From bespoke experiences on private yachts to private boxes at any of London's most famous football stadiums, Crown Aspinall's service doesn't end with their casino. If you're looking to continue the top-class experience you can enjoy at their casino, and then help them create a special event around your holiday. Crown Aspinalls also has VIP transport services available if you need help travelling in London and the surrounding areas.
CROWN ASPINALLS – LONDON MEMBERSHIP INFO
Crown Aspinalls requires all their casino guests to be members or accompanied by a member. The casino experience is designed to be perfect and only those who have met the criteria of the Membership Committee will be allowed access to this exclusive casino. Membership is free but you'll need to complete it before arriving at the casino by printing out and completing the application form on their website. Once you have e-mailed in your application you will receive their response, after which you can travel to the casino and provide a valid proof of ID as well as a business card. Once you are a member you will gain access to all the salons and special events on offer by Crown Aspinalls.
ACCOMMODATION & TRANSPORTATION
Crown Aspinalls is located in Mayfair London nestled between Hyde Park and Buckingham Palace. There is private parking available for members but if you are unable to organize your own transport you are welcome to organise with the Crown Aspinalls VIP transportation service. They will be able to pick you up and take you back to your hotel whenever you are ready.
Guests visiting Crown Aspinalls Casino have some of the best hotels in London surrounding them. Options like the Four Seasons Hotel, InterContinental London, and The Lanesborough are all 5-star options available close to the casino.
The Athenaeum Hotel & Residences
COMO, The Halkin
London Hilton on Park Lane
LOCAL ATTRACTIONS
Mayfair is one of the more famous areas of London with many of the most famous attractions in the UK located less than a short drive away from the casino. A few streets away is Hyde Park, a great option for those wanting to relax in a scenic part of the city. Just across the road, you will find Green Park which is on the border of Buckingham Palace and St James' Park. The Queen's Gallery is also a popular attraction just outside the palace gardens.
Apart from these nearby options, if you travel a bit further you can visit some of Londons most treasured attractions like the Thames River, Big Ben, The London Eye, and Madame Tussauds Wax Museum.
NEARBY CASINOS
There are plenty of other casinos in the area with many offering luxurious and more regular options available. If you're looking for a gaming experience to compare to the Crown Aspinalls then you can visit Les Ambassadeurs Casino, The Ritz Club, or The Park Tower Casino.
There are also less sophisticated options where you can find a large collection of electronic games and smart-casual dress codes for a more relaxed gaming experience.
The Palm Beach Casino
Park Lane Club
CASINO RATING
Crown Aspinalls, London - Rating
Summary
Crown Aspinalls lives up to its reputation as one of the most exclusive casinos in the UK. This formal casino provides a variety of table games in different atmospheres. Their exclusivity is maintained by only allowing approved members, but once you've registered you will see what all the fuss is about.
Pros
Great service
Very friendly and helpful staff
Very good food and drinks
Good atmosphere
Cons
Only members can enter the club
BASIC INFORMATION
Casino Name: Crown Aspinalls London
Location: London, UK
Address: 27-28, Curzon St, Mayfair, London W1J 7TJ, UK
Phone: +44 207 499 4599
Opening Hours: 24 / 7
Table Games: Yes
Slots: Yes
Dress Code: Formal
Crown Aspinalls Licensee:Aspinall's Club Limited is licensed and regulated by the UK Gambling Commission (See licensee).
THE CROWN ASPINALLS IN LONDON ON A MAP