Les Ambassadeurs – London Casino Review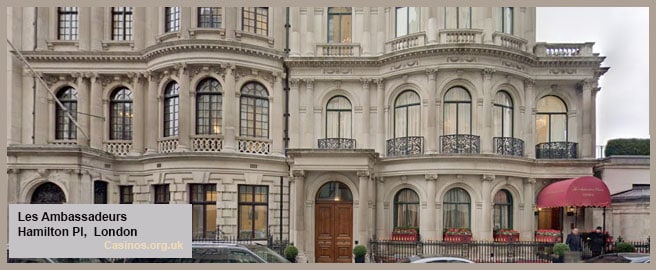 Not interested in the average London casino experience, then it's time to visit Les Ambassadeurs casino. This posh casino is one of London's finest and has been created to provide the perfect casino experience for those with more sophisticated gaming needs. Located in Mayfair, London, this casino is situated in the centre of luxury in the city. Les Ambassadeurs is a members-only casino that ensures all its members are treated to one of the best casino experiences in the UK.
LES AMBASSADEURS – LONDON CASINO GAMES
Les Ambassadeurs makes sure to offer all the casino games its guests could offer with different gaming areas available each offering a unique gaming experience. The main gaming area is home to the majority of their table games featuring all the British casino classics like blackjack, poker, and roulette.
The rest of the casino keeps with the sophisticated gaming theme and offers guests various private gaming areas including The Marble Room, The Gold Room, The Palace Room, The Leopold Room, and their latest addition, Penthouse Rooms Terrace. Each of these gaming rooms offers different table gaming options as well as a few electronic roulette machines in their unique smoking garden.
CASINO GAMING OPTIONS:
American Roulette
Blackjack
Texas Hold-em
Electronic Roulette Posts

LES AMBASSADEURS – LONDON CASINO DRESS CODE
Les Ambassadeurs is an upper-class London casino and only accepts members dressed formally. Suits, tuxedos, and evening dresses are some of the options but make sure you dress to impress because you will be surrounded by some of Europe's most sophisticated casino gamers.
SPECIAL EVENTS
Apart from being one of the most luxurious casinos in the UK, Les Ambassadeurs also offers one of the only outside table game experiences in the country. You'll be able to enjoy your smokes or one of their Cuban cigars while playing your favourite table games. There are also the only electronic roulette posts in the casino available here. You can also just come outside to relax and watch some TV while you enjoy your smoke.
The library at Les Ambassadeurs is a special event on its own. This well-crafted library has been looked after for generations and is all original. You are welcome to visit the library at any time and read from their extensive collection.
FOOD & BEVERAGES
Les Ambassadeurs has its own top-quality restaurant which is led by Tully Filmer. The restaurant is designed after a traditional English Gentleman's club. The dining room is something to behold and allow guests to enjoy their meals in a beautiful environment. If you aren't feeling like going to the restaurant you can also order meals from almost every private room in the casino. All of these meals are prepared by the same excellent staff and will allow you to enjoy what you like, where you like it. Their drinks list is also filled with everything you could require including French Champagne, aged Whiskey, and some of the finest wines the London.
LES AMBASSADEURS – LONDON CASINO MEMBERSHIP INFO
Les Ambassadeurs is a casino with a history of exclusivity ensuring that only the finest casino games and services are available. When you become a member of Les Ambassadeurs you receive various privileges, apart from access to the casino and its various private rooms. The premium membership is available for £25,000 per annum. If you are interested in becoming a member you need to complete the first step of the registration by contacting their customer services directly.
ACCOMMODATION & TRANSPORTATION
As a member of Les Ambassadeurs, you are entitled to various services including their exceptional transportation service. They can arrange all your flights, transfers, and also helicopter arrivals. Once in London they will pick you up and bring you straight to your hotel or to the casino.
Hotels are another thing you won't have to worry about as a member of Les Ambassadeurs because they have exclusive room rates at all of the best hotels in Mayfair. The Four Seasons, The Lanesborough, InterContinental, The Metropolitan, and The Berkeley are some of many hotels on their list.
LOCAL ATTRACTIONS
Mayfair is one of the most sought after areas of London with residences here dating back hundreds of years. Les Ambassadeurs is nearby to many of London's most famous attractions including Buckingham Palace and Hyde Park. If you travel a little bit further to the River Thames you can visit Big Ben and the London Eye. These are but a few of the many attractions that are all within driving distance from the casino and your potential hotel.
Hyde Park
Madame Tussauds
Big Ben
The London Eye
Buckingham Palace
Westminster Abbey
National Army Museum
SEA LIFE Centre London Aquarium
Lambeth Palace
NEARBY CASINOS
If you're looking for other casinos on the same level as Les Ambassadeurs you won't find that many except for Crown London Aspinalls and The Ritz Club. These luxurious casinos are also for those looking for a more exclusive gaming environment with quality table games, the best service, and members-only access.
Apart from these high-end casinos, there are many quality UK casinos in the surrounding suburbs as well, offering a more relaxed gaming environment. These casinos also offer more electronic games compared to Les Ambassadeurs and other high-end casinos with slot machines, progressive jackpots, and electronic roulette. The Hippodrome Casino, Grosvenor Casino Russell Square, The Victoria Grosvenor Casino, and Genting Casino Cromwell Mint are all options within 20-minutes' drive of Mayfair and Les Ambassadeurs.
CASINO RATING
Les Ambassadeurs, London - Rating
Summary
One of the most exclusive casinos in London, Les Ambassadeurs has been a place of luxury for over 100 years. Many famous UK and foreign dignitaries have graced No. 5 Hamilton Place with their presence. This property has changed hands a few times but it has always remained the posh location that it is today, finally lending itself to become one of London's most bespoke gaming experiences.
Pros
Great services
Lovely atmosphere
Great food and drinks
Very friendly and helpful staff
Stunning views
Cons
More expensive than others
BASIC INFORMATION
Casino Name: Les Ambassadeurs
Location: London, UK
Address: 5 Hamilton Pl, Mayfair, London W1J 7ED, UK
Phone: +44 207 495 5555
Opening Hours: 24 / 7
Table Games: Yes
Slots: Yes
Dress Code: Formal
Les Ambassadeurs Licensee: Les Ambassadeurs Club Limited is licensed and regulated by the UK Gambling Commission (See licensee).
THE LES AMBASSADEURS IN LONDON ON A MAP