The Victoria, Grosvenor Casino – London Review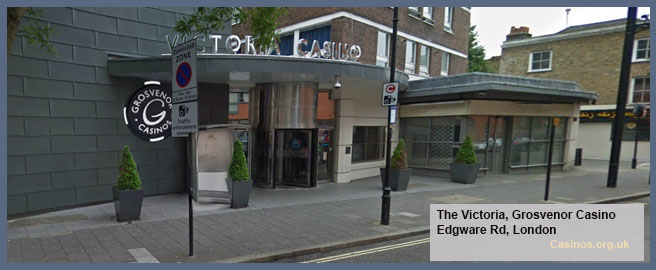 Located in Marylebone, London, The Victoria Casino is one of the Grosvenor Casino chains more upmarket gaming options. It's one of two Grosvenor Casinos in this part of the city, with The Barracuda located a few roads down on Baker Street. Both of these casinos offer plenty of table and electronic games as well as the same Grosvenor One casino membership.
Apart from the gaming action, The Victoria has its own bar, restaurant, and function facilities available. There is also a separate poker room available where you can participate in some of the finest cash games and poker tournaments in London.
THE VICTORIA, GROSVENOR CASINO – LONDON GAMES
The Victoria Casino has a large selection of both table and electronic games spread out between their gaming hall and poker room. In the main gaming hall, you will find roulette, blackjack, poker, baccarat, craps, and casino war; while in the poker room you will find cash games and their signature poker tournaments.
CASINO GAMING OPTIONS:
Roulette – 14 Tables
Blackjack – 6 Tables
Super Stud Poker – 1 Table
Electronic Roulette – 70 Multiplayer Posts
Three Card Poker – 3 Tables
Baccarat – 3 Tables
Craps – 1 Table
Casino War – 1 Table
Progressive Jackpot Slots – 40 Machines
Cash Poker Games

The cash games that take place in the poker room are available daily. They offer both Texas Hold 'em, Omaha, and other varieties 24/7. There are many different tables with different game types, min-max buy-ins, blinds, and charges. The blinds start at £1/£1 and go all the way up to £200/£400. Tournaments are also available with a roster of the latest events available online and at reception.
THE VICTORIA, GROSVENOR CASINO – LONDON DRESS CODE
The dress code at The Victoria is smart casual. Most Grosvenor Casinos offer the same dress code, which means you can dress comfortably – leaving the formal attire at home – but you should still take into considering the 'smart' in smart casual. You could still be denied access if you are dressed too casually, which includes swimming shorts, sportswear, flip flops, and any offensive clothing. Just try look your best without putting on your suit, tie, or evening dress and you should have no problem.
FOOD & BEVERAGES
The Dining Room restaurant located inside the casino is a great place to go for a modern dining experience. Their menu includes many international dishes as well as traditional classics. The menu is always changing to keep up to date for their customer's enjoyment.
The bar located close to the gaming floor is a great place to relax in-between games and get a drink. It is quite a spacious area that has a few tables and a long bar with plenty of comfortable seating available. There are also plenty of non-alcoholic options including their various coffees. Snacks are also available from the bar menu.
SPECIAL EVENTS
The Poker Tournaments are the main gaming special event that takes place at The Poker Room. These tournaments range in importance with various international standard tournaments hosted here, including the Grosvenor UK Poker Tour (GUKPT), the European Poker Tour (EPT), The Unibet Open, and the Worlds Heads-Up Poker Championship (WHUP). These aren't events for your average casino gamer, but they are something special to watch. Apart from these prestigious events, there are also regular poker tournaments that everyone can take part in.
THE VICTORIA, GROSVENOR CASINO – LONDON MEMBERSHIP INFO
Grosvenor One is the membership option available at The Victoria Casino. This is the same membership that you will find at all the Grosvenor Casino chains throughout the UK – making it far easier if you've already signed up at another Grosvenor Casino. If this is your first time at a Grosvenor Casino, or you've just never become a member before, this might be a great time to register. Registration is free and offers you the opportunity to benefit from their rewards card, discounts, and access to their special members-only rewards like free non-alcoholic drinks.
ACCOMMODATION & TRANSPORTATION
If you're struggling to find The Victoria you can just drive towards Hyde Park, which is only a 4-minute drive from the casino. You can travel to the casino by bus, taxi, or by car – but parking might be challenging with only a few private parking bays outside the casino entrance. Other public parking spots are available throughout the area. The nearest bus stop is just outside the casino on George Street.
There are no shortages of accommodation in this part of London, with some of the finest hotels in the UK located just a few minutes drive away. If you're looking at staying at an upmarket hotel then you can visit the JW Marriott Grosvenor House, The May Fair Radisson, London Hilton, and The Chesterfield – all located within the suburb of Mayfair. Other accommodation options closer to the casino are:
Shakespeare Hotel
Z Hotel
Holton London Metropole
LOCAL ATTRACTIONS
The Victoria is located inside the City of London, one of the world's most famous cities. There are so many different things to do in London that you would struggle to fit it all into one visit. Instead of struggling through endless lists, some of the best attractions are less than 20-minutes drive from the casino premises.
If you hop over to the neighbouring area of Mayfair you will be able to visit the most expensive area in the UK. Residences here are beautiful and the whole area is so well kept that it looks like a movie. From here you can take a stroll through Hyde Park or visit Buckingham Palace. Once you've visited the Queen's Residence the next place to travel would be Westminster. Here you can visit Westminster Abbey and then Big Ben which is right next door. Now you just loop around to the London Eye and you can make it back to the casino by lunch.
NEARBY CASINOS
When visiting London you should definitely check out as many casinos as possible, considering this is one of the areas with the most casinos in the UK. There is a wide range of gaming options to choose from, including slot machine parlours, fully-stocked casinos, and more exclusive gaming options. If you're looking for a similar casino experience to The Victoria then you should look for other fully-stocked casinos that offer a relaxed gaming experience with all the table games and electronic games that you could ask for. More of these casinos in the area also have their own restaurants and bars.
Merkur Cashino
China Town – Genting Casino London
The suburb of Marylebone is right next to Mayfair, one of the most expensive locations in the UK. Not only are their plenty of upmarket locations to visit, but the casinos here are the finest in the country and most are only accessible to members. These casinos include:
Crockfords – Genting Casino London
Crown London Aspinalls
Les Ambassadeurs Casino
GROSVENOR ONLINE CASINO GAMES
One of the best online UK casinos is available to guests of The Victoria. Since this casino is part of the Grosvenor Casino chain, it is also part of the Grosvenor Online Casino experience. Visit the Grosvenor website for information on both their local casinos and for their fully-equipped online casino. The online casino is easy to navigate, with all the online casino categories located at the top of the page.
There is a sports section which includes all the latest sporting events that you can bet on, while the rest of the sections are all different casino games. Slots make up the vast majority of games, but there are also plenty of table games and progressive jackpots to choose from. Gamers that prefer a more realistic gaming experience can try their hand at one of the live casino games on offer.
LIVE CASINO GAMES
Grosvenor Online Casino has the latest in live casino action with high-quality games and the best UK dealers. Their live games are hosted in different locations, depending on which game you choose, and they offer a variety of Grosvenor and non-Grosvenor hosted games. Whether you enjoy roulette, blackjack, poker, baccarat, or more unusual games like Monopoly and Deal or No Deal, you'll have plenty to choose from.
Lightning Roulette
Grosvenor Blackjack
Grosvenor Roulette
Speed Baccarat
Victoria Baccarat
There are also a few games hosted directly from certain Grosvenor Casinos in the UK, including the Victoria Baccarat mentioned above. This game is hosted from The Victoria casino giving you another opportunity to join in on the action.
CASINO RATING
The Victoria, Grosvenor Casino, London - Rating
Summary
The Victoria is one of a few Grosvenor Casinos located in the City of London, but it doesn't disappoint. This casino ensures its clients have everything from quality gaming to classy dining. The casino is located in one of the busiest areas of the UK and is close to many of the most popular attractions in the country.
Pros
Great poker room
Great atmosphere
Friendly and helpful staff
Free parking
Cons
Always busy
No free complimentary food/drinks
BASIC INFORMATION
Casino Name: The Victoria, Grosvenor Casino – London
Location: London, UK
Address: 150-162 Edgware Rd, Marylebone, London W2 2DT, UK
Phone: +44 207 262 7777
Opening Hours: 24 / 7
Table Games: Yes
Slots: Yes
Dress Code: Smart Casual
The Victoria, Grosvenor Casino Licensee: Grosvenor Casinos Limited Limited is licensed and regulated by the UK Gambling Commission (See licensee).
THE VICTORIA, GROSVENOR CASINO IN LONDON ON A MAP