The Rialto Grosvenor Casino – London Casino Review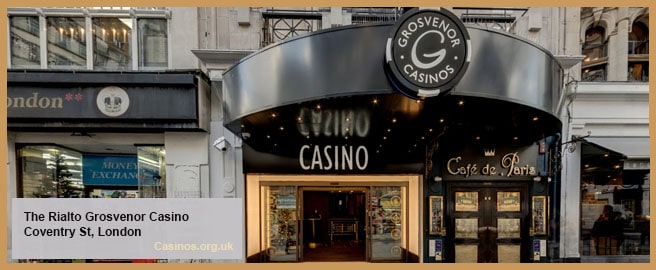 The Rialto Grosvenor Casino, formerly known as G-Casino Piccadilly, has been bought over and modernized. The new casino is stylish and offers much more than previously. Now you can find multiple gaming areas all filled as well as their restaurant, bar, and TV lounge.
The Rialto is open 24/7 and is located in the City of London. This area is popular among tourists and casino goers alike with plenty of nearby casinos and tourist attractions to visit.
THE RIALTO GROSVENOR CASINO GAMES
There's no shortage of gaming options at The Rialto. Here you will find both table games and electronic games. There are three gaming areas: the main gaming hall, the poker hall, and the baccarat lounge. The main gaming hall is where you'll find the majority of the gaming action as well as their bar. Roulette, blackjack, poker, slot machines, and progressive jackpots are all available in this area. In the baccarat lounge, you'll find the baccarat tables as well as their small Chinese restaurant. Finally, the poker hall is only available for tournaments which are hosted throughout the year.
CASINO GAMING OPTIONS:

THE RIALTO GROSVENOR CASINO DRESS CODE
Smart casual is the dress code at The Rialto Grosvenor Casino. They do ask that visitors refrain from wearing any sportswear, tracksuits, headwear, or offensive clothing. If you have offensive tattoos you should also make sure that they are covered.
FOOD & BEVERAGES
There is a bar available inside the casino as well as a small restaurant in the Baccarat lounge. The bar is located adjacent to the main gaming area and is also where you'll find the TV lounge. Their bar is open 24 hours a day and offers both alcoholic and non-alcoholic drinks. Members are welcome to complimentary soft drinks and hot drinks throughout the day.
In the Baccarat Lounge they have a small restaurant and tables that serves a selection of Dum Sum and other Chinese specialities. If you're looking for something else to eat, the stylish Café de Paris is located next door and is a great option for lunches or dinners.
SPECIAL EVENTS
Poker tournaments are the main special event at The Rialto. They host regular tournaments as well as professional tournaments. These professional tournaments include the GUKPT, one of the UK's leading poker events. Their Deepstack Poker Tournaments are popular among regular gamers and create a lot of action in their Poker Hall. If you're a Grosvenor One member you will stand a chance to win a free seat at their Deepstack Tournaments.
Apart from gaming, they have a live TV area which is always streaming the latest sporting action. Any time there is an event going on, no matter the sport, they'll be showing it. TVs are close to their bar and there is plenty of comfortable seating available.
THE RIALTO GROSVENOR CASINO MEMBERSHIP INFO
The Rialto offers the Grosvenor One membership which can be used throughout the Grosvenor Casino chain as well as on their online casino. Their unique membership provides an electronic wallet that can be used at their casino and online. Not only can you earn points while playing at both casinos, but you can also use the wallet to deposit and withdraw money for online gaming directly from the casino.
The Grosvenor One membership is very advantageous to gamers thanks to their loyalty card and additional members-only promotions. There are plenty of Grosvenor Casinos throughout the UK and you will most likely be able to find a branch close to where ever you travel. Promotions include their £30 welcome offer – no deposit needed – raffles to win tickets to musical performances, discounts on food, and Hot Seat Instant Prizes. Considering membership is free, even the free soft drinks and hot drinks that you'll get at the bar make it worthwhile.
To sign-up, all you have to do is visit The Rialto Grosvenor Casino and sign up. You won't need to show ID unless you are under 25 years old. After you've registered you'll need to hop online to activate your account and immediately receive your £30 bonus.
ACCOMMODATION & TRANSPORTATION
London is very accessible by all modes of transport. If you're arriving by plane you will have a choice of two major airports, Heathrow International and London City Airport. London City Airport is obviously closer to the casino but they both have access to busses, trains, and rental car agencies. If you're using public transport you can arrive at the bus stop on Haymarket Jermyn Street, just across the road from the casino, or exit the Metro at Holborn Station.
This area if London is the most densely packed with accommodation and you will struggle to make up your mind. You have a choice between staying at some of the fanciest hotels in the world or opting for more reasonable options.
The Piccadilly 4-star Hotel
Thistle Piccadilly Hotel – 4-star Hotel
Harm Yard Hotel – 5-Star Hotel
Radisson Blu Edwardian Hampshire – 5-star Hotel
LOCAL ATTRACTIONS
When visiting The Rialto Grosvenor Casino you will be in the most famous part of the UK – The City of London. From here you are a few minutes drive away from many of the most popular tourist attractions in the world – including Big Ben which is just a short drive down the road. From here you can stick close to the Thames River and visit The London Eye and the Sea Life Centre London Aquarium.
If you enjoy museums and art galleries then you should definitely visit The National Gallery and the Imperial War Museum. Finally, you will have to check out the suburbs of Mayfair and Westminster – home to many extravagant attractions, including Westminster Abbey, Hyde Park, and Buckingham Palace.
Madame Tussauds Wax Museum
St James Park
Charles Dickens Museum
Adelphi Theatre
Princess Diana Memorial Fountain
NEARBY CASINOS
The Rialto Grosvenor Casino is near to many casinos in the busiest area of the UK. There are over 10 choices within a 15-minute drive from the casino and they all have something different to offer. You'll have a choice of casinos with gaming options similar to The Rialto, like The Hippodrome Casino, Grosvenor Casino Russel Square, and Genting Casino Chinatown; or casinos that offer more exclusive casino gaming, like The Ritz Club, Crown London Aspinalls, and Les Ambassadeurs Casino – which are members-only table gaming parlours.
The Ritz Club
Merkur Cashino
The Palm Beach Casino
GROSVENOR ONLINE CASINO GAMES
Grosvenor's online casino comes with all the games you'd find in The Rialto Grosvenor Casino and more. You will find casino games, live casino games, and sports betting. They accept a variety of payment methods, but if you're a member you will be able to use your Grosvenor One wallet to deposit and withdraw money directly from their local casinos.
The casino games include roulette, blackjack, poker, baccarat, slots, and progressive jackpots. The most popular of these games are available on their online casino's home page and currently includes:
Lucky Lady's Charm Deluxe
Reel King Mega
Live Roulette
Live Blackjack
Heart of Egypt
Book of Ra Deluxe
Pyramidion
LIVE CASINO GAMES
If you navigate to their live gaming section you will find over 20 options all featuring exclusive UK dealers. These live casino games are available 24/7 and are a popular alternative to normal casinos. These games all feature the same betting limits as real casino games and they also have a few unique live game options.
Monopoly Live
Deal or No Deal Live
Blaze Roulette
Perfect Blackjack
Grosvenor Speed Roulette
Lightning Roulette
Victoria Baccarat
Their Victoria Baccarat is a unique addition that allows you to play directly with the Victoria Baccarat table. These live games are linked with the dealers at The Victoria Grosvenor Casino and are one of the most popular live games.
CASINO RATING
The Rialto Grosvenor Casino, London - Rating
Summary
Not only does The Rialto casino have plenty of gaming options, a bar, and a restaurant, but their central location makes it a great choice when visiting all the most popular casinos in London, as well as all the famous tourist attractions in the area. This casino should definitely be on a gaming enthusiasts checklist when visiting The City of London.
Pros
Very friendly and helpful staff
Great atmosphere
Good tables and lovely decor
Cons
Overcrowded at some days
Located in a congestion charge zone
BASIC INFORMATION
Casino Name: The Rialto Grosvenor Casino – London
Location: London, UK
Address: 3-4, Coventry St, London W1D 6BL, UK
Phone: +44 207 287 7887
Opening Hours: 24 / 7
Table Games: Yes
Slots: Yes
Dress Code: Smart Casual
The Rialto Grosvenor Casino Licensee: Grosvenor Casinos Limited Limited is licensed and regulated by the UK Gambling Commission (See licensee).
THE RIALTO GROSVENOR CASINO IN LONDON ON A MAP