Forty Five Kensington Review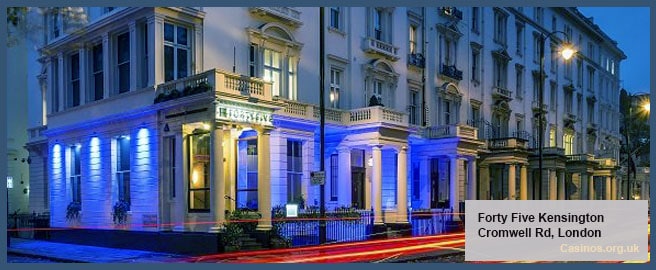 London has a wide array of land-based casinos for you to enjoy and many of them are among the best that you will find in the UK. The Forty Five Kensington at 43 – 45 Cromwell Road in South Kensington, London is another of these and one that is well worth visiting if you want to experience a quality gambling experience in the city.
Open 24-hours, 7-days a week the Forty Five is located in one of the most exclusive parts of Kensington and is widely known to be one of the most popular casinos in London. Fairly small in size, the Forty Five Kensington is packed with numerous gaming tables, a multitude of slots and a large dedicated poker room for players to enjoy.
Adding to the experience is a restaurant that will allow you to enjoy some high-quality dining and a bar that will provide you with all the refreshments that you need alongside the ability to enjoy all the latest sporting action on the television.
FORTY FIVE KENSINGTON GAMES
Once you enter the casino and pass through the reception, you will quickly gain a view of a small but well-designed gaming floor that has a mix of traditional and electronic gaming options.
There fourteen classic table games in total with six American Roulette tables, five Blackjack tables, two 3-card poker tables and a single Baccarat table. The tables will have a good mix of minimum betting limits to ensure that bankrolls of all sizes will be able to find the action that they crave.
There are 56 gaming machines in total as well with 21 of these being electronic roulette terminals and the remainder being state-of-the-art slot machines. Among the latter, you have IGT Multi Game slot machines, Novomatic Super V+ Gaminator slot machines and Novomatic Dominators slot machines that will all give players the potential of winning jackpots up to £10,000.
CASINO GAMING OPTIONS:
6 x American Roulette Tables (£2 – £200)
5 x Blackjack Tables (£5 – £3,000)
2 x Three Card Poker Tables (£5 – £200)
1 x Baccarat Table (£5 – £5,000)
21 x Electronic Roulette Machines (10p minimum bet)
To the left of the reception is where you will find the dedicated card room and it is in here that you can enjoy poker via daily cash games and regular tournaments. This room opens up at 7 pm each night starting with £1/£2 cash games that require a minimum buy-in of £50.
Six nights of the week there will also be a poker tournament which usually starts at around 7.30 pm. Most of these tournaments will have a buy-in of £40 + £5 and a prize pool guarantee of between £1000 – £2500 but this will depend on the current schedule. You can see the schedule of tournaments at their website or by following their Facebook page.
FORTY FIVE KENSINGTON DRESS CODE
With the casino being located in an upmarket area of London, you would be excused for thinking that you will have to dress up like James Bond to gain entry. This is actually not the case and you can put that tuxedo away as there is a smart/casual dress code adopted at the Forty Five Kensington.
You can, of course, dress up if you so wish but as long as you avoid wearing football shirts, shorts, sportswear and hats or caps, you will likely have no trouble gaining entry.
FOOD & BEVERAGES
You basically have three options if you want a bite to eat at the Forty Five Kensington Casino. Your first option is to order from the Graze and Play menu which provides light snacks, meals and drinks that you can enjoy while playing on the casino floor.
From 7 pm until 1 am each night you also have the ability to enjoy the fantastic value of the buffet supper. Here you get a great value meal costing just £6.50 and can even customise it by adding your own salad options from the buffet.
For the best quality dining experience, you will want to enjoy the European, Asian, Arabic and the many other fabulous cuisines on offer in the restaurant at the casino. Affordable but to a very high standard, this restaurant is open from 7 pm to 3 am on a daily basis.
The restaurant will also give you the ability to choose from a wide range of fine wines, sparkling champagnes, wholesome beers, exotic cocktails and strong spirits. Those can also be had from the Late Bar at the casino which is a great place to take a break, watch some sporting action or catch up with friends.
SPECIAL EVENTS/PROMOTIONS
The Late Bar is where you will sometimes find some additional entertainment put on by the Forty Five Kensington Casino. Whether it is the monthly Bollywood night, a live band, a comedy show or a tribute act, you will be able to enjoy a few drinks as you enjoy the show.
As well as the additional entertainment on offer at the Forty Five Kensington, guests will also be able to enjoy sporadic promotions and offers. One such deal is that if you attend on a Sunday, you can enjoy a three-course Sunday Roast which, as part of the £12.99 price, also gives you a half-price meal the next time you visit or a free buffet should you visit again during the week.
FORTY FIVE KENSINGTON MEMBERSHIP INFO
The Forty Five Kensington Casino markets itself as exclusive but in actual fact, it really isn't. Anybody can enter the casino without requiring membership as long as they are above 18-years old. You may be asked to provide identification if you look under the age of 18 or wish to bet or cash out more than £1,300.
For those that do want to register as a member to Genting, you can do this by presenting your identification at the casino. You can also get a head start by starting the process online at their website.
This membership allows you to collect rewards and enjoy promotions and events that are exclusive to members only. All points are earned whenever you play at any Genting Casino and can be exchanged for a whole heap of goodies including drinks, food and betting chips.
ACCOMMODATION & TRANSPORTATION
If you are coming to the casino by car, you should not that there is no onsite car park at Forty Five Kensington. That said, on-street parking is available throughout the area and you also have the option of the Union Car Park which is located just a couple of minute's walk away.
The casino is also close to most major public transport with Gloucester Road and South Kensington underground stations alongside a number of bus stops being in close proximity.
In terms of accommodation, you have Chelsea Cloisters, 54 Queens Gate, Royal Garden, the Hotel ibis and the JW Marriott Grosvenor House London hotels close to the casino.
LOCAL ATTRACTIONS
London is one of the world's most vibrant, historical, iconic and most visited cities. You could spend months in the city and not get through everything that there is to see and do. If you wanted to enjoy some of what the city has to offer, you could start with the National History Museum which is just yards away from the Forty Five Casino.
Once done there, why not take in some other popular tourist attractions such as:
Buckingham Palace
The Tower of London and Tower Bridge
Big Ben
Trafalgar Square
Churchill's War Rooms
NEARBY CASINOS
There are just short of 30 casinos in London so you are never far away from an enjoyable gambling experience in the capital city. As well as the Forty Five Kensington, we recommend taking a look at the following casinos if you wanted to enjoy a different experience:
GENTING ONLINE CASINO GAMES
You can even enjoy a bit of Genting action when you're not at one of their casinos in the UK. They have an online casino that is chock full of games, offers an excellent welcome bonus and is regarded by many to be the best online casino in the UK.
There are hundreds of slots, dozens of table games a scattering of video poker titles, a live casino and even a sportsbook that you can enjoy. Slots make up most of the titles at the Genting online casino and among them you can enjoy:
Book of Ra
Incinerator
Ozwin's Jackpots
Easter Island
Vikings go to Hell
TRY THE LIVE CASINO GAMES
If you prefer to play casino table games where you can actually see the dealer or croupier operating the game rather than just a bit of software, the live casino at the Genting online casino is where you will want to go.
These games are performed live and you get to see the action as it happens from your PC or mobile device. Place your bets, sit back and wait to see if your luck is about to change. Below are just some of many live tables that you will find at the online casino:
Roulette Live from Crockfords
Genting Live Baccarat
Vegas Roulette Live
Lightning Dice
Live Blackjack
CASINO RATING
[wp-review]
BASIC INFORMATION
Casino Name: Forty Five Kensington
Location: London, UK
Address: 43, 45 Cromwell Rd, South Kensington, London SW7 2EF, UK
Phone: +44 207 589 4041
Opening Hours: 24 / 7
Table Games: Yes
Slots: Yes
Dress Code: Smart Casual
Genting Casino Forty Five Kensington Licensee: Genting Casinos UK Limited is licensed and regulated by the UK Gambling Commission (See licensee).
THE FORTY FIVE KENSINGTON IN LONDON ON A MAP