Maxim Club – London Casino Review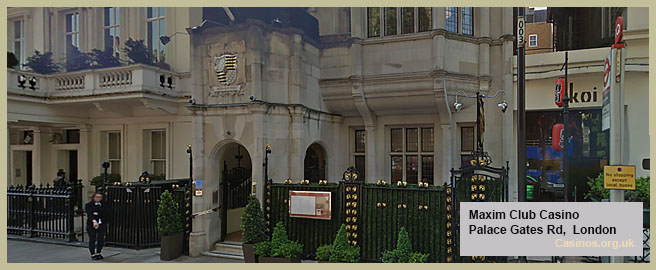 Maxim Club London has a reputation of being a sophisticated casino. The casino was originally built in 1862 but was known as the Palace Gate House. This exclusive gaming location became well-known among the upper-class visiting London. Since it's renaming to Maxim Club, the casino has undergone extensive renovations to their gaming hall, bar, restaurant, and private gaming halls creating the modern-styled casino that is present today. They are open every day of the week for 24 hours and offer some of the highest limit gaming in the country.
MAXIM CLUB – LONDON CASINO GAMES
Maxim Club offers an exclusive gaming environment in the heart of Kensington. Their beautiful and modernly designed gaming floor was recently renovated and includes the finest gaming tables in the country. There are 26 tables spread throughout the main gaming hall located in the original Drawing Room of the house, including roulette, blackjack, poker, and baccarat.
These games are played at different stakes but you're also welcome to visit their private gaming rooms for more exclusive and higher stake gaming. These two private gaming rooms are The Kensington Room and The Palace Room. Both of which can be reserved by members and filled with any table game of your choosing.
CASINO GAMING OPTIONS:

There are different stake levels available for all of these games and Maxim Club offers some of the highest limits in London. If you're a high stake gamer this is a great casino to visit, especially if you prefer to have your gaming done in their private gaming rooms where the highest limit gaming can take place.
MAXIM CLUB – LONDON CASINO DRESS CODE
Maxim Club is a sophisticated casino that was created 'by gentlemen, for gentlemen'. To keep with this theme, all Maxim Club members must dress smartly when visiting. This means suit and tie or a tuxedo for the men and evening dresses for the ladies.
SPECIAL EVENTS
The only special events available at Maxim Club are those hosted by private events. This high-end casino does not cater for gaming tournaments and other entertainment events, but their private gaming rooms can be rented out and used to throw parties. Even your own private poker tournaments can be held here.
FOOD & BEVERAGES
Food and beverages are plentiful at Maxim Club. Management has created a modern environment with both a bar and restaurant available.
Maxims Whisky Lounge Bar is an intimate bar that was lavishly designed when they renovated the casino. Boasting some of the finest Whiskies in the world, you'll have over 126 options to choose from. Apart from Whiskey they also have many other spirits, champagnes, wines, and over 60 varieties of single malt scotch – including a 20-year-old Dalmore. The drinks list at Maxim's is designed to impress and they have sourced their drinks from countries as far away as China, New Zealand, and Japan. This bar is open to members and non-members alike from 6 pm until late.
Fine dining is available for both members and non-members. The restaurant is open for dinner from 7 pm until 3 am and the last orders will be taken at 2:30 am. The restaurant features an A La Carte Menu and a Sample Club Menu (for £30). Their Executive Chef prepares all their meals and you will have the choice of European, Chinese, and Middle Eastern / Indian Cuisines.
MAXIM CLUB – LONDON CASINO MEMBERSHIP INFO
Although Maxim Club is one of the most exclusive gaming locations in London, their membership is one of the easiest to obtain. As long as you are over the age of 18 you are welcome to apply for membership – either online or at reception. Once your application has been approved you will be allowed access to one of Kensington's finest gaming clubs.
ACCOMMODATION & TRANSPORTATION
If you're travelling by car you will have to settle for the public parking available outside the casino as there isn't private parking available. Just travel to the A315 and turn onto Palace Gate Street. The casino is opposite the large Cheval Thorney Court Hotel. Public transport is probably the easier option when travelling in London with the nearby bus stop less than 2-minutes walk from the casino at Palace Gate. There is also access to the London Underground from High Street Kensington station and Queensway Station – bus stops can be found outside both of these stations and can be used to travel directly to the casino.
Directly opposite the casino, you will find the 5-star Cheval Thorney Court Hotel. This beautiful hotel is across the street from the Kensington Gardens and offers plenty of amenities and large comfortable rooms. There are a few other options in the streets surrounding the casino, including:
The Milestone Hotel & Residences – 5-star Hotel
Hyde Park Gate Hotel – 3-star Hotel
Royal Garden Hotel – 5-star Hotel
B'Shan Apartments – 4-star Hotel
LOCAL ATTRACTIONS
Kensington is another one of London's famous suburbs. Located right next to Kensington Gardens and the Kensington Palace, you'll have no shortage of local attractions when visiting the casino. In Kensington itself, you can visit the Natural History Museum, the Victoria and Albert Museum, and the Royal Albert Hall. If you can't get enough of the London attractions then you just need to travel to the neighbouring suburbs of Belgravia, Mayfair, Westminster, and Lambeth. These suburbs are home to many popular attractions including:
Westminster Abbey
The Tower of London
Buckingham Palace
Lambeth Palace
Florence Nightingale Museum
The London Eye
Big Ben
The Palace of Westminster – the seat of the UK parliament
NEARBY CASINOS
Kensington isn't the famous gaming location like nearby Mayfair and Leicester Square, but there are still a few casinos less than 10-minutes drive from Maxims Club. These nearby casinos offer a more relaxed gaming environment, accepting non-members and a smart casual dress code. These include popular UK casino chains like Grosvenor and Genting Casino, with the nearest options being The Gloucester Grosvenor Casino and Cromwell Mint Genting Casino.
Members at Maxims Club might expect a certain level of sophistication when looking for an alternative gaming spot. Mayfair is the best location for exclusive members-only gaming and houses the finest casinos in the UK. Here you will find the famous Playboy Club London – home to their Playboy Bunnies – Les Ambassadeurs Club, and Crown London Aspinalls.
CASINO RATING
Maxim Club Casino, London - Rating
Summary
Maxims Club Casino is the only casino available in Kensington and they offer an unforgettable experience right opposite Kensington Gardens and the Kensington Palace. This popular area of London is home to many tourist attractions and one can easily travel to other nearby suburbs to enjoy the rest of London. Make sure to visit this exclusive members-only casino if you're interested in a stylish and modern table gaming experience.
Pros
Very friendly and helpful staff
Great atmosphere
Good food and drinks
Good service
Cons
Betting could be too high for some
BASIC INFORMATION
Casino Name: Maxim Club – London
Location: London, UK
Address: 1a Palace Gates Rd, Palace Gate, South Kensington, London W8 5LS, UK
Phone: +44 207 581 0337
Opening Hours: 24 / 7
Table Games: Yes
Slots: Yes
Dress Code: Smart
Maxim Club Licensee: Coastbright Limited is licensed and regulated by the UK Gambling Commission (See licensee).
THE MAXIM CLUB IN LONDON ON A MAP