Napoleons Casino & Restaurant – Owlerton Review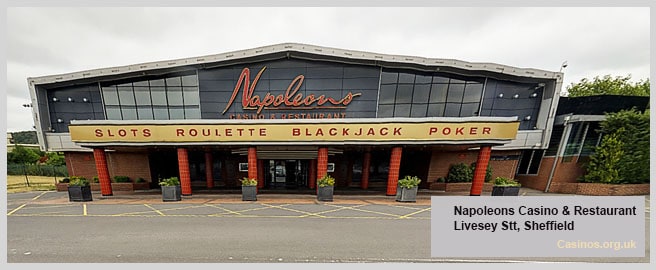 Fresh from a £2 million refurbishment a few years back, the Napoleons Casino & Restaurant in Owlerton, Sheffield is one of three casinos that you can enjoy in the city. In fact, it is now probably the best of the three due to the expansion that the refurbishment provided to the casino floor, restaurant and bar.
Overlooking the famous Owlerton Greyhound Stadium and Sheffield Speedway at 17 Livesy Street, the casino offers a mix of modern electronic gaming machines and a number of classic gaming tables.
Open from 1 pm to 7 am from Monday to Thursday and 24 hours a day over the weekend, you can also expect to enjoy a dedicated poker room and one of the best restaurants in town as part of your experience.
NAPOLEONS CASINO & RESTAURANT – OWLERTON GAMES
Napoleons Casinos are often quite small but thanks to the refurbishment, this is no longer the case at their Owlerton venue. The gaming space was increased in size making it one of the largest casinos in their chain and certainly the biggest in Sheffield.
Something that is popular with the smokers is that as part of that refurbishment, there is now an outdoor gaming terrace. The Napoleon Casino & Restaurant in Owlerton was the first casino outside of London to develop a terrace such as this and it allows those that like to smoke the ability to do so without interrupting their gaming.
CASINO GAMING OPTIONS:
Poker is a favourite for many in the UK and Napoleons Casino knows it. This is why they have ensured that they have a dedicated card room that can handle moderate-sized cash games each night from 8 pm.

They also run regular Texas Hold'em tournaments and any of you that are interested in signing up should check their website for a more precise schedule.
NAPOLEONS CASINO & RESTAURANT – OWLERTON DRESS CODE
While it is nice to make an effort whenever you go to a casino, Napoleons is not overly strict with their dress code. The obvious no-nos are football shirts, caps (except in the poker room), open-toed shoes and anything that looks scruffy. You will be able to get away with clean trainers and T-shirts while jeans are acceptable too.
18 is the legally required age before a person can gamble in the UK as you might know but to make sure they do not miss anybody flouting that law, Napoleons will ask for identification from anyone who looks under 21-years old.
FOOD & BEVERAGES
Napoleon are well known for having great onsite restaurants and at this venue, you can expect some seriously tasty food at fantastic prices. You can enjoy a full three-course meal for under £20, or could even take advantage of a combo-package which includes a 3-course meal, a drink on arrival and a £5 gaming chip for just £22.
That restaurant is open from 6.30 pm to 10 pm each night which might seem quite early but there is also a late-night menu available at the bar which is open until 3 am.
SPECIAL EVENTS
Providing good quality Entertainment is a top priority for Napoleons and you will find plenty in the bar. Karaoke nights, live music, quiz nights and even talent shows are hosted on a regular basis. Furthermore, if you go to the casino on Mondays and Tuesdays, you will be able to enjoy a free buffet after 11 pm.
Another good option that you have is to visit the neighboring Owlerton Greyhound Stadium. Owned by the same company, you can go and enjoy a few races, take a chance with some bets and then head back to the casino to finish up a big night out.
NAPOLEONS CASINO & RESTAURANT – OWLERTON MEMBERSHIP INFO
Members are always given extra attention at Napoleons in terms of bonuses and promotions so it would make sense to get yourself signed up. All you need is a passport or other type of photo ID, fill out a form and have your picture taken. They will then get your membership card generated within a few minutes.
If you have forgotten your ID or are not interested in membership, you can still enter as a guest but with potential limitations attached. Non-members that do not have photo ID on them will only be allowed to both bet and cash out a maximum of £1,300 at the casino.
ACCOMMODATION & TRANSPORTATION
There is a massive car park opposite the casino which offers guests free parking for as long as their stay inside the casino. Additionally, being close to the city centre in Sheffield, making your way to the casino via public transport will be quite straightforward.
The closest bus stop is just a short walk away on Bradfield Road and this is on a number of bus routes throughout the city. If you're coming by train to Sheffield train station, you will probably need to grab a bus or 10-minute taxi ride to the casino.
The Garrison Hotel, Bar and Restaurant, OYO Williams Hillsborough Apartments and the Queens Ground are just some of the local options you have for accommodation.
LOCAL ATTRACTIONS
You may not have known this but Sheffield is actually the fourth largest city in England. Full of parks, museums and historical buildings as well as being a great base to start exploring the Peak District, this industrial city has so much more to explore than just the local casinos.
If you have the time during your stay in the city, we recommend that you go and take a look at the following attractions:
Peak District National Park
Peveril Castle
Sheffield Botanical Gardens
Kelham Island Museum
National Emergency Services Museum
NEARBY CASINOS
If you like to experience other casinos rather than just sticking to one, you will likely be pleased to know that there are another two casinos aside from Napoleons Casino & Restaurant in Sheffield.
The first is the Grosvenor Casino on Queens Road in the city and this is a fairly small casino. It has just 7 classic gaming tables and 6 gaming machines. Still, it does attract a loyal following throughout the week and is definitely worth a visit.
Next, you have the Genting Casino which can be found on St Paul's Place. This casino is much bigger and is open 24 hours a day and 7 days a week. As well as 16 live gaming tables, it has dozens of slots and roulette machines as well as a fully-fledged restaurant and dedicated poker room.
CASINO RATING
Napoleons Casino & Restaurant - Owlerton, Sheffield - Rating
Summary
Napoleons Casino & Restaurant is still one of the best nights out to be had in Sheffield. With the Greyhound track right next door, you even have the opportunity to combine the two to make it even more special.
The refurbishment of the casino has also allowed it to shake off the small, dark and dingy reputation that some Napoleon Casinos seem to attract. It now feels spacious, modern and when coupled with the fantastically priced restaurant and bar and the many gaming options, makes it the best casino experience in Sheffield.
Pros
Very good food and drinks
Friendly and helpful staff
Good atmosphere
Good service
Poker tournaments
BASIC INFORMATION
Casino Name: Napoleons Casino & Restaurant – Owlerton
Location: Sheffield, UK
Address: 17 Livesey St, Sheffield S6 2BL, UK
Phone: +44 114 285 5566
Opening Hours: 24 / 7
Table Games: Yes
Slots: Yes
Dress Code: Smart Casual
Napoleons Casino & Restaurant, Sheffield Licensee: The A&S Leisure Group is licensed and regulated by the UK Gambling Commission (See licensee).
THE NAPOLEONS CASINO & RESTAURANT IN OWLERTON, SHEFFIELD ON A MAP