Genting Casino – Sheffield Review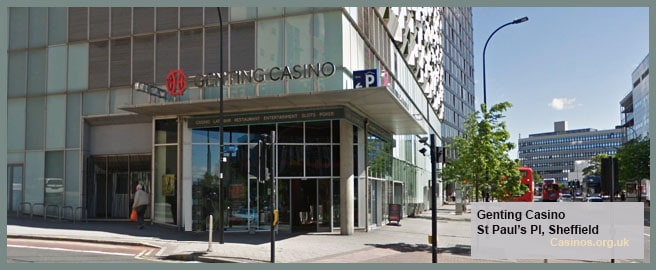 Genting Casino Sheffield is located in the centre of town and is one of the largest casinos available. Part of the Genting Casino chain, this local casino offers the Genting membership as well as a good collection of games, a bar, a restaurant, and a sports lounge. Popular table games like roulette, poker, and blackjack are available, as well as slot machines and progressive jackpots. Genting Casino Sheffield is open 24/7.
GENTING CASINO – SHEFFIELD GAMES
American roulette, blackjack, poker, and slots are the main games available at Genting Casino Sheffield. In total there are 18 table games, including 2 baccarat tables. There are also 32 multiplayer electronic roulette posts available which offer their 'All in Roulette' tournament where you can stand a chance to win up to £350 worth of E-Table Credit.
In addition to the main gaming area, Genting Casino Sheffield also offers a unique private gaming experience from their 'Salon Privee'. This modern gaming lounge is a great opportunity to get away from the crowds and enjoy some private gaming. The stakes on some of the games are also higher, with American Roulette offering a maximum of £500. There are food and drink available from a dedicated host. You will need to speak to management to gain access to this area of the casino.
CASINO GAMING OPTIONS:
American Roulette – 9 Tables [Minimum stake £1; Maximum stake £200]
Blackjack – 5 Tables [Minimum stake £3; Maximum stake £2,000]
Three Card Poker – 2 Tables [Minimum stake £2: Maximum stake £200]
Baccarat – 2 Tables [Minimum stake £5; Maximum stake £2,000]
Electronic Roulette – 32 Posts [Minimum stake £0.10; Maximum stake £100]
Progressive Jackpots – Jackpot of £20,000

GENTING CASINO – SHEFFIELD DRESS CODE
Smart casual attire is accepted at Genting Casino Sheffield, however, you are not allowed to wear anything too casual like sportswear, tracksuits, open-toed shoes, hats, and your work clothes. As long as you stick to these rules you'll be golden.
FOOD & BEVERAGES
Genting Casino Sheffield offers both a bar and restaurant. The Late Bar is available near the gaming area and offers a full menu of drinks and light meals. This is the perfect place to get a drink, something small to eat, or to get food once the restaurant is closed. They have breakfast and main menu available in the morning and afternoon/evening.
The Late Bar is also where you'll find the sports lounge with comfortable chairs, tables, and HD TVs. This is a great place to visit when major sporting events are taking place.
If you're looking for something bigger than a snack, then the Hou Mei restaurant is a good option. It is an authentic Chinese restaurant serving delicious meals from the far east prepared by experienced chefs. You have a choice of their Dim Sum Menu and Regular Menu. Meals start from £9pp and they are open every day from 6 pm until 2 am. Bookings are recommended to avoid disappointment.
SPECIAL EVENTS
Genting Casino Sheffield is one of the most active Genting Casinos when it comes to special events are promotions. There is always something going on and you'll need to keep track of it from their website. You can choose between their entertainment events, gaming events, and discounts.
Their latest entertainment events include the Moon Festival and Tribute Nights. The Moon Festival celebrates the Chinese Moon Festival and will offer a complimentary buffet to all guests. Prize draws are also available. Tribute Nights take place throughout the year and are available for £25. You will enjoy a 3-course meal, live entertainment, and a free £5 gaming voucher.
The gaming events are also plenty with their Genting Nights available every night. Genting Nights is available in most Genting Casinos and is the perfect way to experience casino games for the first time. For a set fee, you can choose which game you want to learn and get a few extras like a welcome drink, a meal, and a free gaming voucher. Roulette, blackjack, and slot packages are available.
GENTING CASINO – SHEFFIELD MEMBERSHIP INFO
Genting Casino Sheffield offers free membership to all guests. Anyone over the age of 18 can register for this membership but you will need to supply a valid identification if you are under the age of 21. You can start the registration process online and thereafter you will have to complete the process in any one of their local casinos. Just visit the reception at Genting Casino Sheffield after you've completed the first step and you'll become a member in minutes.
The membership allows you to skip the general access queue to the casino but also offers a wide range of promotions and access to special members-only events. Find everything you need to know about the membership promotions on their website in the 'Genting Members' section.
ACCOMMODATION & TRANSPORTATION
Transportation shouldn't be a problem with Genting Casino Sheffield because they share a building with the Charles Street public multi-storey car park. The ground level is accessible step-free and there are plenty of accessible bays to use by blue badge holders. Those using the bus can find the nearest stop located a few steps away from the casino entrance.
There are plenty of accommodation options in Sheffield but not so many located near to the casino. If you're willing to travel 5-minutes by car then you'll have access to far more options. The two casinos nearest to the casino are the Mercure Sheffield St Paul's Hotel [4 stars] and the Jurys Inn Sheffield [4 stars]. Travelling a bit further you can visit the 3-star Easy Hotel.
LOCAL ATTRACTIONS
Sheffield is a busy university town that is one of the most thriving towns in the country. If you enjoy great food, cultural attractions, and plenty of countrysides, then Sheffield should be on your list.
When in Sheffield you can't help but notice all the greenery. Although being known as the city of Steel, Sheffield is actually very green and was rated the 6th greenest city in the UK. There are plenty of art galleries to choose from including the Millennium Gallery and Graves Gallery, both of which host world-renowned artists.
Museums are plentiful in Sheffield. Whatever you're looking for, you'll find it. The Kelham Island Museum is a great place to look upon the city's industrial past, while the Shepherd Wheel Museum focuses on knives and knife grinding. The Weston Park Museum is a great place to go to hear the history of Sheffield.
NEARBY CASINOS
Despite being quite an active city, Sheffield does not have many casinos. The Genting Casino is the only casino located in the city centre and there is only one other casino nearby. The Grosvenor Casino Sheffield is located 10-minutes to the South of Genting Casino and is another well-known UK casino chain. You'll find a similar environment with table games and slot machines as well as a bar and free membership.
If you're willing to travel a little bit further to the outskirts of Sheffield you can visit Napoleons Casino & Restaurant and Admiral Casino Hillsborough. Napoleons Casino is larger and offers its own restaurant with late-night dining.
GENTING ONLINE CASINO GAMES
Genting Casinos have their very own online casino which can be used from desktops or mobile devices. Registering for this online casino is simple and will allow you to access their many online games, including table games, slot machines, progressive jackpots, live casino games, and even sports betting. Registering will earn you a 100% match bonus on your first deposit.
Some of the most popular games currently available in the casino section are:
"Return of Kong Megaways
Speed Roulette Live
Valley of The Gods
Spina Colada
Wolf Hunters
Hanzo's Dojo
LIVE CASINO GAMES
Live casino games are very popular at Genting Online Casino and often feature multiple times in the most popular games list. These games are also hosted from the UK with some live games hosted directly from a local Genting Casino. Live casino games are a great way to enjoy a casino experience that is as similar to the real thing as possible. Not only do you play with real dealers, but all of the live casino games feature the same betting limits as in the casino.
The most popular live casino games are:
Roulette life from Edinburgh
Monopoly Live
Super Sic Bo Live
Deal or No Deal Live
Blackjack Live
CASINO RATING
Genting Casino, Sheffield - Rating
Summary
Being the only gaming option in the centre of town, Genting Casino Sheffield has the opportunity of attracting a lot of attention. The high-quality games, bar, and dining option make it a great place to enjoy yourself while visiting the city. Accommodation is only a few minutes away and all the most popular place in Sheffield are nearby.
Pros
Good prize pools for poker tournaments
Professional and attentive staff
Good atmosphere
Good food and drinks
Cons
Drinks are expensive
Overcrowded at some days
BASIC INFORMATION
Casino Name: Genting Casino – Sheffield
Location: Sheffield, UK
Address: St Paul's Pl, Arundel Gate, Sheffield S1 2PN, UK
Phone: +44 114 228 8980
Opening Hours: 24 / 7
Table Games: Yes
Slots: Yes
Dress Code: Smart Casual
Genting Casino Licensee: Genting Casinos UK Limited is licensed and regulated by the UK Gambling Commission (See licensee).
THE GENTING CASINO IN SHEFFIELD ON A MAP