Grosvenor Casino – Nottingham Review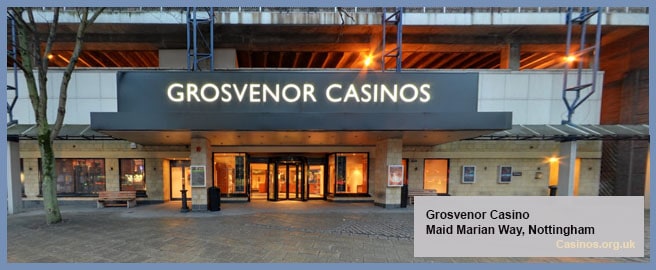 Grosvenor Casino Nottingham has everything you'll need when visiting the city. They are part of the Grosvenor UK casino chain offering many branches, a membership, and their popular Grosvenor restaurant and snack menus. There's always an event taking place here, whether it's a special on food & beverages, a poker tournament, or the latest sporting event.
The spacious gaming area available has all the most popular casino table games like roulette, blackjack, poker, and baccarat, as well as an extensive selection of slot machines, electronic roulette, and progressive jackpots. This is definitely one of the best options for casino gamers in the city and is open 24/7. Consider joining their free membership if you're interested in the improved benefits and special discounts.
GROSVENOR CASINO – NOTTINGHAM GAMES
Grosvenor Casino Nottinghams gaming area was modernized a few years ago when they renovated and includes plenty of space, seating, and gaming options. The games are spread out equally and at the back of the gaming area is where you'll find the bar, comfortable seating, and their HD TVs with live sports viewing.
Their main gaming hall does not offer any cash poker games and tournaments. For these, you will go to their separate Poker Room which is accessible from the main gaming hall. Here you'll find all their Texas Hold 'em poker tables that are used daily for cash games and weekly for tournaments. Members can earn free access to these weekly tournaments.
CASINO GAMING OPTIONS:

GROSVENOR CASINO – NOTTINGHAM DRESS CODE
Grosvenor Casino Nottingham has a smart casual dress code that accepts most casual clothing as long as it doesn't look worn down or won't make other customers uncomfortable. Jeans are welcome, but they may not be torn, and you gentlemen are requested to wear close-toed shoes. No sports clothes may be worn in the casino
FOOD & BEVERAGES
The restaurant and bar are all you'll need for food & beverages at this casino. The restaurant offers the Grosvenor chain menu with a wide selection of poultry, beef, fish, vegetarian meals, and delicious desserts. The restaurant is open for lunch and dinner, but if you're hungry you can still order from their 24-hour menu available from the bar.
The bar is where you'll find all your ciders, beers, spirits, and wine. The 24-hour menu they offer is made up of snacks and light meals that can be enjoyed throughout the day. Members receive discounts at both the restaurant and bar and can enjoy free soft & hot drinks throughout the day.
SPECIAL EVENTS
Grosvenor Casino Nottingham has a separate poker room that hosts cash games and some of the hottest tournaments in the city, including their Deepstack Poker Tournament. They also have special jackpot events which offer increased jackpots compared to other days.
Their restaurant and bar also regularly offer specials. At the bar, you can get two cocktails for £10 on Sundays to Thursdays between 12 pm and 10 pm. The restaurant has special dining events for certain holidays, including Christmas, with a delicious three-course meal and the chance to win a prize from their holiday raffle.
If you're hosting an event in the future, why not host it at Grosvenor Casino Nottingham. They offer a great range of experience packages suitable for all budgets. You'll be able to enjoy food, drinks, entertainment, and plenty of casino games.
GROSVENOR CASINO – NOTTINGHAM MEMBERSHIP INFO
Grosvenor One membership is available at Grosvenor Casino Nottingham and all of their UK branches. This casino membership is free and is not required to enter the casino, but with all the added benefits it's definitely something to consider. You will receive a Grosvenor One rewards card which can be used at all of their table and electronic games. Loyalty points can be used at their bar and restaurant.
In addition to the loyalty points you'll earn, you'll also be able to benefit from various members-only promotions. These include winning tickets to musical performances, bonuses at the casino, hot seat instant prizes when you play slots or electronic roulette in the casino, and free soft & hot drinks. There are also certain casino tournaments – like their Deepstack Poker Tournament – that members can win free access to.
Another unique feature of the Grosvenor One membership is their all-in-one wallet. This e-Wallet can be used while gaming in any local Grosvenor casino or on the Grosvenor online casino. Keeping all your funds in one location makes it very simple whenever you want to top up your account or withdraw your winnings – all you have to do is head down to the money counter in any of their local casinos.
ACCOMMODATION & TRANSPORTATION
Grosvenor Casino is located on the corner of Maid Marian Way and Mount Street. If you're travelling from the North you can get on to the A60 and head directly into the centre of Nottingham. From here you can either drive through the city on Mansfield Road or drive around to Collin Street which is closer to the casino. Parking is limited to public parking but there is the NCP Car Park Nottingham St James just two buildings away from the casino.
There are bus stops further up the street on Derby Road. The Cathedral (Y1) stop has dropped kerb access and is less than 5-minutes walk. There is also a tram system and train stations, so using public transport is quite easy in this city.
Nottingham is a popular location with plenty of hotels in the city centre to choose from. The closest hotel to Grosvenor Casino Nottingham is the Park Plaza 4-star Hotel. It is less than a 5-minutes walk from the casino and offers great amenities. Slightly further up the street is the Premier Inn Nottingham City Centre and Travelodge Nottingham Central – both offering 3-star hotel accommodation with quality service.
LOCAL ATTRACTIONS
Nottingham is a great city to visit with a long history as a trading hub and manufacturing centre known for its fine lace. It has grown into a popular destination for tourists thanks to its numerous attractions, including theatres, art galleries, and the annual Nottingham Goose Fair. Nottingham is known as the 'Queen of the Midlands' and has beautiful parks and broad streets. The Arboretum, Embankment, and Colwick Park are great places to visit when the weather is good. You can also explore the nearby Sherwood Forest – the legendary home of Robin Hood
Other popular attractions are:
Old Market Square
The Lace Market
Nottingham Castle
The City of Caves
Highfields Park
Green's Mill & Science Centre
NEARBY CASINOS
There are only three casinos in the centre of Nottingham where this Grosvenor Casino is located. Genting Casino Nottingham and Admiral Casino: The Lion are your two choices. Genting Casino is a similar experience to Grosvenor with table games, slots, a bar, membership, and an online casino. Admiral Casino is mainly an electronic gaming parlor with a roulette table as well.
On the outskirts of the city, there are a few other Admiral Casinos as well as the Dusk Till Dawk Poker and Casino. The Dusk Till Dawn casino is a good option for poker with cash games and tournaments taking place regularly.
GROSVENOR ONLINE CASINO
Grosvenor's online casino and their local casino website are all rolled into one easy-to-use location. At the top of the screen, you'll find the different only gaming categories available, currently offering live casino, slots & games, jackpots, table & card, poker, and sports betting.
Registration is simple and if you're already a Grosvenor One member then you won't have to register for the online casino again. Upon registration you will receive a welcome bonus of £30 – no deposit needed. You will also receive 100 free Cleopatra Online Slot spins when you make your first deposit and if you bet £25 on Sportsbook every week you will receive an additional £5 free.
They also have various online promotional events, including Game of the Week bonuses, double the odds, Grosvenor Goals, and special jackpots. All of these can be seen on their promotions page online.
CASINO RATING
Grosvenor Casino, Nottingham - Rating
Summary
Without Grosvenor Casino Nottingham this city wouldn't have the same level of casino action. Plenty of table and electronic games and their separate poker room means you'll never be short of games. There are plenty of promotions to benefit from and their restaurant and bar provide good food and a wide range of drinks. This is one casino you have to visit when in Nottingham.
Pros
Very friendly and helpful staff
Great atmosphere
Good food and drinks
Big and not too busy
Cons
Sometimes slow on table service
Remember to get it car park ticket validated for free parking
BASIC INFORMATION
Casino Name: Grosvenor Casino – Nottingham
Location: Nottingham, UK
Address: Byron House, 4 Maid Marian Way, Nottingham NG1 6HS, UK
Phone: +44 115 979 9288
Opening Hours: 24 / 7
Table Games: Yes
Slots: Yes
Dress Code: Smart Casual
Grosvenor Casino- Nottingham Licensee: Grosvenor Casinos Limited Limited is licensed and regulated by the UK Gambling Commission (See licensee).
THE GROSVENOR CASINO IN NOTTINGHAM ON A MAP