Genting Casino – Margate Review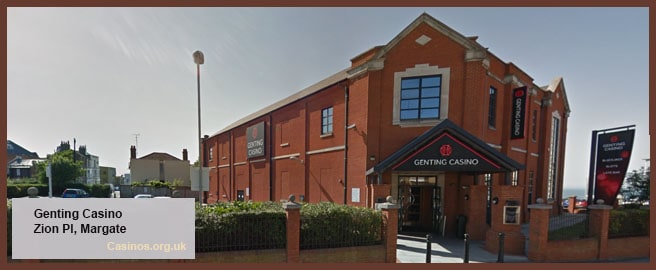 Genting Casino Margate is one of two casinos located in the small coastal town of Margate in South-East England. Don't let the lack of casinos fool you, Genting Casino Margate offers roulette, blackjack, poker, and plenty of slot machines. These games, their late bar, and small TV lounge make for a great place to enjoy casino gaming in Margate. The casino is open every day of the week, 24 hours of the day.
GENTING CASINO – MARGATE GAMES
With roulette, poker, blackjack, slot machines, progressive jackpot, and Genting e-tables, Genting Casino Margate has everything you need to turn your visit to Margate into a full-on casino gaming experience. They might not have as many tables as some of the larger Genting Casinos but they still have enough to make it interesting.
The Genting e-Tables are also a unique option available at this casino. These tables feature electronic casino games that you'd find on their online casino, but you can play them in their local branches. The gaming stations are comfortable and feature high-definitely screens ensuring a top-quality gaming experience. You can also join some of the Genting Live Casino Games that they have on offer.
CASINO GAMING OPTIONS:
American Roulette – 3 Tables [£1 – £200]
Blackjack – 2 Tables [£2 – £1,000]
Three Card Poker – 1 Table [£2 – £50]
Electronic Roulette – 10 Posts [£0.10 – £100]
Crazy 4 Poker – 1 Table [£2 – £100]
Genting e-Tables

GENTING CASINO – MARGATE DRESS CODE
Genting Casino Margate does away with a formal dress code and allows their guests to come dressed in smart casual attire. As long as you look presentable then there shouldn't be a problem, however, there are some items that are not allowed inside the casino. Sleeveless shirts, sportswear, tracksuits, and work clothes should be left at home. It's important to know that you also can't wear any headwear for security reasons.
FOOD & BEVERAGES
The Late Bar available at Genting Casino Margate has everything you need to make your night a memorable one. They offer both non-alcoholic and alcoholic beverages and there's often a discount or special available. Currently they have the Gin Experience going on which allows guests to create their own gin combinations out of gin, tonic, and a garnish. There are also 2-1 cocktail specials available every day between 5 pm and 9 pm. Apart from these drink specials you'll be able to find all the ciders, beers, and spirits you'd hope to find at any reputable bar.
Genting Casino Margate has also recently released their 'all-day menu' this is a light meal menu that can be enjoyed 24/7. You'll be able to find various classics that the bar always offered as well as a few new options. There are also vegan and gluten-free options available.
SPECIAL EVENTS
Genting Casino Margate is one of the quieter Genting Casinos, not offering as many special events as you might find in the larger branches. However, they still have a few special events that are regularly changing to keep customers entertained. For example, you can visit whenever there is a major sporting event and enjoy the live action from their HD TV lounge by the bar. They are also offering the Moon Festival Event, available at most Genting Casinos, which is a prize draw with maximum prizes of £500. Finally, you can also try their Power Link Jackpot which is currently running a '10% bonus' promotion. If you're lucky you could instantaneously win 10% of the power-link jackpot without having to do anything. This jackpot is split amongst all power link players at the time.
Genting Casino Margate also offers the Genting Nights package available at all Genting Casinos. These packages are available every night and allow new gamers to get a feel for the different casino games without having to fork out too much money. By paying a small fee you will receive a welcome drink, a snack, a tutorial, and your own table/slot machine to practice before you start using real money.
GENTING CASINO – MARGATE MEMBERSHIP INFO
Genting Casino Margate offers the usual Genting Membership. This membership is available at all of the Genting Casino branches are will apply no matter which of these casinos you visit. Visiting Genting Casino Margate with a membership will improve your overall experience and help you stand the chance to participate in members-only promotions, earn bonus rewards, as well as get discounts at the bar.
Before you worry about the sign-up fee, you should know that it's 100% free. The Genting Membership doesn't cost anything and it can be completed from the comfort of your home before you even visit the casino. All you have to do is register online and then complete your membership application at the casino by bringing along a valid form of identification. All members must be over the age of 18.
ACCOMMODATION & TRANSPORTATION
Genting Casino Margate has its own parking available behind the casino and there is also a drop and go area in front. If you're using public transport you're in luck, the bus stop is located outside the casino on Fort Crescent. The nearest airport is located outside the neighbouring town of Manston but will only take you a 15-minute drive to get to the casino.
Accommodation isn't in short supply in this popular holiday area. There are a few options on the same street as the casino and they will ensure you're close to the water, shops, and your favourite Margate Casino.
Sherwood Hotel – 2-star Hotel
Crescent Victoria – 4-star Hotel
The Dalby Rooms
The Britannia
LOCAL ATTRACTIONS
Margate is a small town but a great place to go when you feel like getting away from the hustle and bustle of city life. There's plenty of attractions to keep you entertained between your visits to Genting Casino Margate and the nearby seaside is a great place to relax.
Art Galleries
Margate Seaside
The Shell Grotto
The Vintage Shops
The Tudor House
Old Kent Market
Dreamland
NEARBY CASINOS
Margate is a small town that's a popular place to relax in the summer season, however you're going to struggle to find alternate gaming locations. Genting Casino Margate is one of two casinos in the town, with the other one located 2-minutes drive away on Hall by the Sea Road.
Merkur Cashino is the casino name and it is also a popular UK casino chain with table and electronic games available. If you travel a bit further, 13-minutes by car, you'll be able to visit the Grosvenor Casino outside Ramsgate. Grosvenor Casino chain has casinos throughout the UK and is also a popular choice among gamers.
GENTING ONLINE CASINO GAMES
Genting Online Casino provides a suitable alternative to their local casinos. Their online casino was recently remodelled and is far easier to use than before. The home page is where you'll be able to register and find the three gaming categories, 'casino', 'live casino', and 'sports'. Registration includes a 100% welcome bonus of up to £30.
The casino gaming section is where most of the online games can be found. Here you will find table games, slot machines, and progressive jackpots. The casino games home page is where you'll find a list of the latest and most popular games, currently listing:
Roulette Live from Mayfair
Lightning Roulette
Starburst
Narcos Video Slot
Gonzos Quest
Return of Kong
Dead Alive II
Ozwin's Jackpot
Speed Roulette
Valley of the Gods
LIVE CASINO GAMES
Apart from regular online casino games, Genting Online Casino hosts their own live casino games. These casino games all feature real dealers from the UK, creating an almost perfect casino experience. If you're looking for something unique, then Genting Casino offers their own 'live from' casino experience. These live games are hosted directly from one of their most popular brick-and-mortar casinos, with options from Edinburgh and Manchester available.
All the live casino games feature the same table rules and betting limits as you'd find in the real games.
Live Roulette
Live Blackjack
Super Sic Bo Live
Monopoly Live
Deal or No Deal Live
CASINO RATING
Genting Casino, Margate - Rating
Summary
Margate might not be the number one casino location in the UK but with Genting Casino Margate providing more than enough gaming options, this is still a great location for any avid casino gamer. Genting Casino Margate offers all the great gaming you'd expect to find at Genting Casino while being able to enjoy some of the best views in the area.
Pros
Good atmosphere
Very friendly and helpful staff
Good service
Cons
Quiet during the day
Small casino
BASIC INFORMATION
Casino Name: Genting Casino – Margate
Location: Margate, UK
Address: Zion Pl, Margate CT9 1RP, UK
Phone: +44 238 022 1021
Opening Hours: 11am – 4am
Table Games: Yes
Slots: Yes
Dress Code: Smart Casual
Genting Casino Licensee: Genting Casinos UK Limited is licensed and regulated by the UK Gambling Commission (See licensee).
THE GENTING CASINO IN MARGATE ON A MAP