Aspers Casino – Westfield Stratford City Review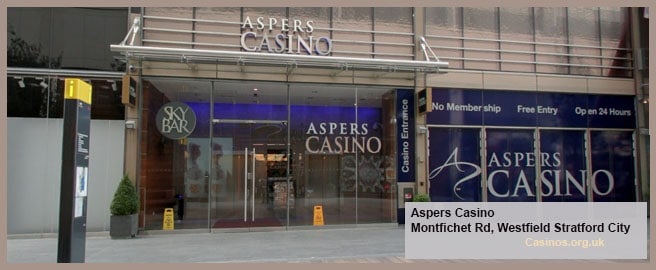 Aspers Casino Westfield Stratford City is a great gaming option in the Stratford area of London. It is located inside a modern shopping centre that is equipped with accommodation, dining, and shopping options. The casino itself also has a restaurant and a large gaming area – with table games and electronic games – and a separate poker hall – where the cash poker games and poker tournaments take place. The casino is open 24/7.
ASPERS CASINO – WESTFIELD STRATFORD CITY GAMES
Aspers Casino has plenty of tables and electronic games including poker, roulette, blackjack, slot machines, baccarat, and more. There are over 150 slot machines making it one of the largest collections in the Greater London Area. They also offer tutorials for all their games if you are new to the casino.
Poker is one of the main focuses for Aspers Casino with a wide selection of both cash poker games, poker tournaments, and three-card tables. A unique addition to their cash poker games is their progressive jackpot which is automatically triggered once you flop a royal flush in diamonds or 25% for any other suit.
CASINO GAMING OPTIONS:
Cash Poker Games – Texas Hold 'em and Omaha
European Roulette – with progressive jackpot of up to £100,000.
Punto Banco Baccarat
Slots
Casino War
Super Wheel

ASPERS CASINO – WESTFIELD STRATFORD CITY DRESS CODE
Aspers Casino wants to keep a certain level of sophistication in their casinos but they don't expect you to come dressed formally. Smart casual is the dress code. If you're unsure if you're allowed to wear something, they have provided a list of all the things you don't accept:
Soiled and ripped clothing
Working clothing
Clothing with extreme wording
Vests, sleeveless shirts
Swimming shorts or cut-off jeans
Tracksuits
Steel toe-capped boots/ shoes or trainers
T-shirts or sweatshirts with adult slogans or images
FOOD & BEVERAGES
There are 2 bars and a restaurant available at Aspers Casino Stratford City as well as a rooftop terrace where you can enjoy your drinks. The Sky Bar serves a variety of drinks from their modern bar with illuminated backlighting and floor-to-ceiling drinks display. Their speciality is cocktails but this doesn't mean you won't find a large drinks menu. The bar is open from 12 pm until 3 am during the week and until 4 am on weekends. Don't forget to take advantage of their 2-4-1 cocktail specials on Thursdays after 5 pm.
The Tanzibar Sports bar is a 24 our sports bar equipped with HD TV bringing you live sporting action including football, rugby, F1, cricket, golf, tennis, and more. All of the major events are shown here and they even offer a bar menu with plenty of snacks and light meals to keep you satisfied.
Clary's Restaurant is the modern cuisine option available at this Aspers Casino. This is an elegant dining and not your typical casino restaurant. Their chef prepares all their meals from locally derived ingredients and their a la carte menu include steaks, poultry, seafood, and vegan options. The restaurant is open from 5 pm until midnight every day except Fridays and Saturdays where it stays open until 3 am.
SPECIAL EVENTS
Poker Events are the main special events when it comes to gaming at Aspers Casino. The British Poker Open is one of the poker tournaments being held at the casino this year and is a great place to see some poker experts in play. There is also the 888 cash race with an estimated £70,000 prize pool and Afternoon Annihilator series.
They also offer specials for their bar including 2-4-1 cocktails and drinks in the Caribbean. On Saturdays, they sometimes offer brunch with a hand-crafted menu and flowing prosecco.
ASPERS CASINO – WESTFIELD STRATFORD CITY MEMBERSHIP INFO
Aspers World is the name of their membership/rewards program. You'll receive a black Asper's World membership card upon sign-up which can be used while gaming in the casino to earn points. The higher rank you are the more points you will earn and your rank is determined by the amount you play. You start out at Voyager level and could eventually make your way up to Gold or even VIP. The more you use your card the more your chance of ranking up and earning more points and better rewards.
The Aspers World card can be used at any Aspers Casino on all slot machines, electronic games, and table games. At table games, you can just hand your card over to the croupier.
Membership also entitles you to discounts from various Aspers Casino partners including the Port Lympne Reserve, Howletts Wild Animal Park, and Holiday Inn Westfield Stratford City – this is the hotel located in the same shopping complex as the casino.
To sign up for the membership program you can ask at the Guests Services desk at any Aspers Casino.
ACCOMMODATION & TRANSPORTATION
Aspers Casino is located on level 3 of the Westfield Stratford City, easily accessible from The Stree,t Car Park B, and the World Food Court. They have all the nearby transportation options listed on their website, including the tube & train, bus, car, taxi, even uber. The nearest train station is Stratford Station a few minutes drive from the casino, while you will find a bus stop directly outside Westfield Stratford City. If you're travelling by car you will find more than enough parking available at the casino but they do come at a charge.
Stratford is a popular suburb of London and one that has many accommodation options. This upmarket area of the city is a great place to find a place to stay. There is one option inside the Westfield Stratford City if you don't feel like travelling far. The Holiday Inn London Stratford is a 4-star hotel with rooms available from £136. You can also try the Moxy London Stratford 3-star hotel, the Westbridge 4-star hotel, or the Roomzz London located on alongside Stratford Park.
LOCAL ATTRACTIONS
Stratford is part of Greater London which is the busiest area of the UK, seeing the most tourists and passers-by than any other area. If you're looking for things to do, then you've come to the right area. There are a lot of residential, industrial, and shopping areas nearby but amongst these you'll find plenty of cultural and historical attractions – as well as a few parks and even the famous Thames River.
Westfield Stratford City is a large shopping mall featuring various luxury stores, a cinema, a food court, restaurants – and of course Aspers Casino. Just behind the centre is the Queen Elizabeth Olympic Park which is home to London Stadium and was one of the venues for the 2012 Olympic Games.
Travelling a little further to the City of London you'll be able to visit some of the most famous destinations in the UK, including the Tower of London – where the Crown Jewels are kept – Big Ben, the London Eye, and Buckingham Palace.
NEARBY CASINOS
This part of Greater London is actually quite limited when it comes to casino options. Aspers Westfield Stratford City is actually the only casino in a 10 km radius. Luckily this casino pulls out all the stops and does not require you to look elsewhere. However, if you are looking to travel somewhere else, your best bet would be the casinos located in the City of London itself. This area is filled with over 15 casinos including some upmarket options that are only available to members.
ASPERS ONLINE CASINO
The gaming action doesn't stop at Aspers Casino Stratford City, now you can also enjoy their online casino available on a separate site. If you go to aspers.com you'll find their fully-equipped live casino which is available to all gamers. Their online casino is easy to use and starts with their 'Join Aspers Online' button which will take you directly to the registration page. They also offer a 100% match welcome bonus of up to £500 – which is quite a lot for online casinos. They have a 25x wagering requirement for this bonus.
Their gaming categories can be found at the bottom of page with 'All Games', 'Table & Card', 'Live Casino', 'Slots', 'Roulette', and 'Novomatic Progressive Jackpot' tabs available. These games are filled with the latest online games in each category and their live casino games allow you to play with real people to make the gaming experience more personal.
The top games on their 'All Games' list are:
The 100,000 Pyramid
108 Heroes
Fortunes Multiplier
1421
3 Lucky Pots
3 Wheel Roulette
5x Magic
LIVE CASINO GAMES
In this section, you'll find the games that feature real dealers and include popular options like monopoly, roulette, poker, and blackjack. These games are more realistic than normal online casino games and they have over 35 games to choose from.
CASINO RATING
Aspers Casino, Westfield Stratford City - Rating
BASIC INFORMATION
Casino Name: Aspers Casino – Stratford
Location: Stratford, UK
Address: Westfield Stratford City, 312 Montfichet Rd, London E20 1ET, UK
Phone: +44 208 536 5630
Opening Hours: 24 / 7
Table Games: Yes
Slots: Yes
Dress Code: Casual
Aspers Casino – Stratford Licensee: Aspers (Stratford City) Limited is licensed and regulated by the UK Gambling Commission (See licensee).
THE ASPERS CASINO IN WESTFIELD STRATFORD CITY ON A MAP