Grosvenor Casino – Stockport Review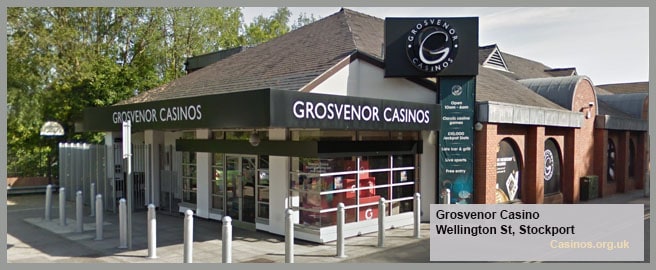 Previously known as Gala Casino Teeside, this casino has been renamed according to its new Grosvenor Casino owners. Grosvenor Casino Stockport is one of many Grosvenor Casinos available in the Greater Manchester Area and the rest of the UK. If you love quality casino games, a nice drink, and a place to watch the footy – then this should definitely be on your list of casinos to visit in Stockport.
GROSVENOR CASINO – STOCKPORT GAMES
You won't need to worry about visiting another casino when at Grosvenor Casino Stockport. This casino has all the most popular games you'd expect from a quality UK casino, including roulette, blackjack, and poker. Not only do they have these table game classics, but they also offer some modern gaming experiences such as electronic roulette, progressive slot machine jackpots, cash poker games, and rummy tournaments.
CASINO GAMING OPTIONS:
American Roulette – 8 Tables with a minimum stake of £0.25 and a maximum of £200
Blackjack – 4 Tables with a minimum stake of £3 and a maximum of £100
Three Card Poker – 3 Tables with a minimum stake of £5 and a maximum of £1,000
Electronic Roulette – 18 Multiplayer Posts with a minimum stake of £0.20 and a maximum of £50
Rummy Tournaments – Available every Sunday with an entry cost of £5
Cash Poker Games – Available according to the casino schedule

GROSVENOR CASINO – STOCKPORT DRESS CODE
As long as you're wearing smart-casual attire you won't have any problems entering this casino. You can leave your suit and tie at home when visiting Grosvenor Casino Stockport. They allow gamers to come dressed comfortably but have a few restrictions in place. Guests are not allowed to wear tracksuits, their work clothes, offensive attire, sportswear, or sleeveless shirts. As long as you follow these simple rules you'll be gaming in no time.
FOOD & BEVERAGES
The bar and restaurant available at Grosvenor Casino Stockport are enough to keep your hunger and thirst at bay. Their bar is located on the gaming floor and has a wide selection of drinks, including both non-alcoholic and alcoholic options. Any member interested in their non-alcoholic drinks is welcome to do so at no charge.
The restaurant is in a separate room and has plenty of tables and their own chef. The menu is quite large for a casino restaurant and offers the 'absurd bird', 'field & fin', 'the real grill', 'kitchen bites', and 'the good pud' options. Make sure to visit the restaurant from Sundays to Thursdays to enjoy a special rate for any 2-course or 3-course meals.
SPECIAL EVENTS
Grosvenor Casino Stockport is always offering its guests something special to keep them entertained. Whether it's a special from the bar/restaurant, a promotional event, or even a gaming tournament – there is always something to join.
The main gaming special events are their rummy tournaments, cash poker games, and poker tournaments. All offer cash prizes for the highest placed gamers and are very exciting. The Rummy Tournament is available every Sunday from 9 pm and costs £5 to participate, but you stand the chance of winning up to £100. The Cash Poker games are available daily, while the poker tournaments are hosted throughout the year depending on the current tournament schedule online – make sure to check it out.
There are also a variety of special events for the bar, restaurant, and members-only. The bar and restaurant regularly offer discounts and 2-1 specials, including their midweek menu deals which allows you to enjoy a 2-course meal for only £12. Members can enjoy the loyalty points bonus week which will see them earn more points than usual when playing on any casino game in Grosvenor Casino Stockport or on their online casino.
GROSVENOR CASINO – STOCKPORT MEMBERSHIP INFO
Grosvenor Casino Stockport offers, like all Grosvenor Casinos, the all-inclusive Grosvenor One membership. This membership is unique to other casinos because it not only applies to all Grosvenor local casinos, but also to their online casino which can be accessed both on their webpage and through a mobile app. No matter which Grosvenor gaming experience you choose, you'll always receive the latest promotions, discounts, and loyalty points to make your visit to the next level.
Registration is free and very easy to do. All you need to do is visit any Grosvenor Casino in the UK and complete the first phase of registration. If you are under the age of 21 this is where you will need to provide a valid proof of ID before completion. Once you've done the local registration, you can complete the final step which is online. All you have to do is complete your registration online and voila, you are now a Grosvenor One Member with access to all their exclusive perks.
ACCOMMODATION & TRANSPORTATION
Stockport is a town in Northern England, just south of the city of Manchester. If you're travelling here from the south or north then you can use the major road A6, and if you're travelling from the East or West you can use the A560. If you drive you'll be pleased to find plenty of private and public parking available. The parking lot adjacent to the casino is only for casino guests, while the parking lot opposite the casino is available to the public.
There is also the nearby Manchester Airport which is located approximately 25-minutes away from Grosvenor Casino Stockport. At the airport, you'll find plenty of car rental agencies, taxis, and busses to take you directly to Stockport. The closest bus stop to the casino is located right outside on Wellington Street.
There are only two hotels located in Stockport central close to the casino and both are similarly priced 2-star hotels.
Holiday Inn Express Stockport
Travelodge Stockport
LOCAL ATTRACTIONS
Stockport might not be the number one attraction in the UK but there are still plenty of cultural and historical attractions in this town in the Great Manchester Region. Located just south of Manchester, Stockport is home to museums, parks, and many old cultural attractions – including the Stockport Air Raid Shelters and the Robinsons Brewery Tour. If you prefer a walk through a park then you should visit the Etherow Country Park, with its 32 acres, or the Reddish Vale Country Park. The Plaza is another great place to visit, especially if you like unique attractions because it is the UK's only remaining super cinema and variety theatre.
Etherow Country Park
Robinsons Brewery
Stockport's Air Raid Shelters
Staircase House
Bramall Hall
The Plaza
NEARBY CASINOS
There aren't many casinos in this small town in Greater Manchester but you still have the option of three casinos other than Grosvenor Casino Stockport. The closest option to Grosvenor Casino is Casino 36. It is a 24/7 casino located in the centre of town and a popular gaming location. Here you will find table games, electronic games, and a fully-stocked bar. The two other options are both UK casino chains, with Admiral Casino Stockport and Merkur Cashino. These two chains have many branches throughout the UK and feature small gaming floors with many popular choices like roulette, blackjack, and slot machines.
GROSVENOR ONLINE CASINO GAMES
Whether you're a Grosvenor One member or not, you definitely need to visit the Grosvenor Online Casino if you're a fan of casino games. Their online casino is everything you'd expect from a local casino and more. Here you'll find a collection of all the most popular online games, including both table and slot machines, as well as their live gaming category which is home to the best live table games with real UK dealers. Registration is simple and once completed you will have the opportunity to earn up to £60 from their welcome bonus offer.
You can find all the gaming categories in both their website casino and mobile casino versions. These games are divided into live games, table games, slot machines, and sport. The sports section is where you'll find sports betting action on all the latest sporting events. If you prefer table games and slot machines, be sure to check out some of the most popular titles available:
Lucky Lady's Charm Deluxe
Well of Wishes
Dolphin's Pearl Deluxe
Pyramidion
Bar X Safecracker Megaways
Reel King Mega
Blackjack
European Roulette
Monopoly
LIVE CASINO GAMES
The action doesn't stop there, the live casino section of Grosvenor Casino houses some of their most played games. These live casino games all feature UK dealers that will take your gaming experience to the next level. The most popular games listed are:
Monopoly Live
Blaze Roulette
Victoria Roulette
Perfect Blackjack
These live casino games all offer the same betting limits that you'd find in local Grosvenor Casinos.
CASINO RATING
Grosvenor Casino, Stockport - Rating
Summary
Although Stockport isn't famous for its casino gaming, Grosvenor Casino Stockport is definitely one of the best. They offer everything you need including games, food, and live sporting entertainment to ensure that you never want to leave.
Pros
Very friendly and helpful staff
Good food and drinks
Good atmosphere
BASIC INFORMATION
Casino Name: Grosvenor Casino – Stockport
Location: Stockport, UK
Address: 59 Wellington St, Stockport SK1 3AD, UK
Phone: +44 161 480 3037
Opening Hours: 10:30am – 6am
Table Games: Yes
Slots: Yes
Dress Code: Smart Casual
Grosvenor Casino Stockport Licensee: Grosvenor Casinos Limited is licensed and regulated by the UK Gambling Commission (See licensee).
THE GROSVENOR CASINO IN STOCKPORT ON A MAP