Rainbow Casino Birmingham Review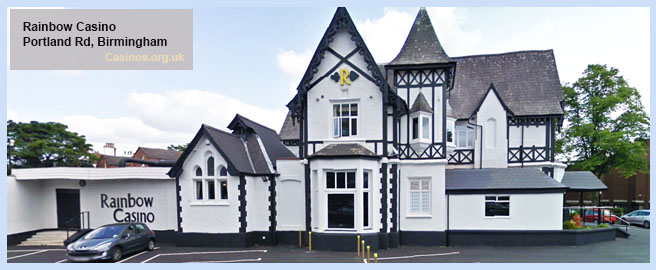 With a good number of casinos situated in Birmingham, you're never going to be too far from a good night of gambling. That said, if you have not tried the Rainbow Casino as of yet, perhaps it is about time that you did.
Located on 1 Portland Road, Edgbaston, Rainbow Casino is not only the oldest casino in Birmingham having first opened its doors in 1962, but it is also the first casino that the city has ever had. Still going strong today and after a recent refurbishment, there is very little doubt that there are some great times to be had inside.
Always delivering a great atmosphere, the casino floor is accompanied by an impressive restaurant, good sized bar and a dedicated poker room that is renowned for its daily tournaments.
RAINBOW CASINO BIRMINGHAM GAMES
The Rainbow Casino opens at 2 pm to 4 am each and every day of the week and once inside, you will quickly know that you are in for a night to remember.
In total there are 20 slot machines scattered around the Rainbow Casino. Many of these will be your standard video slots but others will be progressive jackpot slots that could net you as much £20k if you're lucky enough to hit the jackpot. You will also find 28 roulette machines dotted around the various rooms of the casino. Some are on the main floor, others in the bar and some are even in the smoking lounge.
If table games are your preference, you will have 14 of those to choose from as well. Blackjack, Roulette and Punto Banco are your options here with each table offering various betting limits.
CASINO GAMING OPTIONS:
6 Blackjack Tables
6 Roulette Tables
A Punto Banco Table
Poker Room Fitting 45 Players
Roulette Terminals
The poker room in the Rainbow Casino is a particular favourite with locals. It might only seat 45-players but they run a tournament each and every night. Registration should be done before 9 pm with the tournament starting 10-minutes after that cut-off.

Once the tournament is finished, a number of cash game tables usually open up depending on demand and here the limits are agreed beforehand by the players interested in playing.
RAINBOW CASINO BIRMINGHAM DRESS CODE
Despite what you have seen in the movies, you really do not have to dress up as if you're going to a wedding to be able to enter most UK casinos. At the Rainbow Casino in Birmingham, as long as you have dressed in a smart/casual manner and look passable, you will have no trouble getting in.
Even trainers and jeans are permitted as long as they are clean. Caps and hats are not allowed however as they will obscure your face from the CCTV cameras.
FOOD & BEVERAGES
No casino experience would be complete without some good food to keep our energy levels up and a few drinks to lift our spirits. At the Rainbow Casino in Birmingham, there is both a restaurant and a bar that will be able to provide you with when required.
The Clarendon Restaurant is open from 7 pm to 11 pm and has a decent-sized menu that includes sumptuous dishes such as 21-day aged steaks, spicey curries, custom-built burgers, healthy salads and more. A number of sweet desserts are also available as is a wide range of wines, cocktails, beers and spirits to help get you in the mood.
The bar is where you can go to chill out, relax and generally have a good time with your friends or other guests. There are large televisions that you can use to catch the latest live sporting events, a snack menu and once again, an eclectic choice of alcoholic drinks that will surely spice up the occasion.
SPECIAL EVENTS
The Rainbow Casino in Birmingham regularly hosts entertainment nights in one form or another. Whether this is live music in the bar or hosting the live showing of the big football matches, boxing bouts or other sporting occasions, there is always something going on – especially on weekends.
You can even arrange your own special events as they offer various group booking packages that you can take advantage of. Some of this include tutorage of their games, free meals, drinks and even vouchers for some free bets on their many games.
RAINBOW CASINO BIRMINGHAM MEMBERSHIP INFO
Apart from the really exclusive and higher-end casinos that you might find in London, memberships are not usually required to enter casinos in the UK. As long as you look over 21-years old or can at least prove that you are 18-years of age or older, you will be able to enter the Rainbow Casino in Birmingham by signing in as a guest.
If your planning on becoming a regular visitor to the casino, the membership program really is worth a look, however. You will be given vouchers for money off your food in the restaurant, drinks in the bar and also vouchers for some free games on the gaming floor. You will also be invited to take part in exclusive promotions and member-only promotions.
Simply sign up for a membership at the casino itself or get the process started online. You will need some photographic identification and will not have to pay any kind of fee.
ACCOMMODATION & TRANSPORTATION
The Collection Hotel, Best Western Plough and Barrow and the Hallmark Hotel are probably the best bet for convenient accommodation close the Rainbow Casino. These are within walking distance.
As for travel to the casino, this can be done easily via bus as the bus stop directly outside is on the 127, 128 and 129 routes. Furthermore, routes 9, 120, 126, 140 all stop just around the corner to the casino.
If you are driving in, your best bet is to come off the A456 on to the B4125 before turning onto Clarendon Road. They do have plenty of parking available at the casino itself but even if that does fill up, you have the option of parking down one of the local side roads.
LOCAL ATTRACTIONS
As well as the Rainbow Casino and numerous other casinos that we will touch on shortly in Birmingham, you will find that there is plenty of other stuff to do around the city. It has a thriving nightlife which will compliment your casino visits nicely but if you wanted to fill your days with some activities, there are plenty of options for that as well.
The city centre is full of historic architecture such as the St Phillips Cathedral and the Town Hall while for a little bit of family fun you might want to consider a visit to the world-famous Sea Life Centre.
Cadbury World
St Philips Cathedral
Bullring and Grand Central Mall
Birmingham Botanical Gardens
Sea Life Centre
NEARBY CASINOS
You will not find another city in the UK apart from London that has more land-based casinos than Birmingham. In fact, the current number of seven has dropped down from nine in recent years but that is still more than enough to keep most casino lovers happy.
The Rainbow Casino is probably the least known of all and while it offers up a great experience, we do suggest you check out some of the others while in town. The International Casino by Genting, in particular, is one to see as it is absolutely massive.
CASINO RATING
[wp-review]
BASIC INFORMATION
Casino Name: Rainbow Casino Birmingham
Location: Birmingham, UK
Address: 1 Portland Rd, Birmingham B16 9HN, UK
Phone: +44 121 454 1033
Opening Hours: 24 / 7
Table Games: Yes
Slots: Yes
Dress Code: Smart Casual
Rainbow Casino Birmingham Licensee: Double Diamond Gaming Limited is licensed and regulated by the UK Gambling Commission (See licensee).
THE RAINBOW CASINO IN BIRMINGHAM ON A MAP