Broadway Casino Review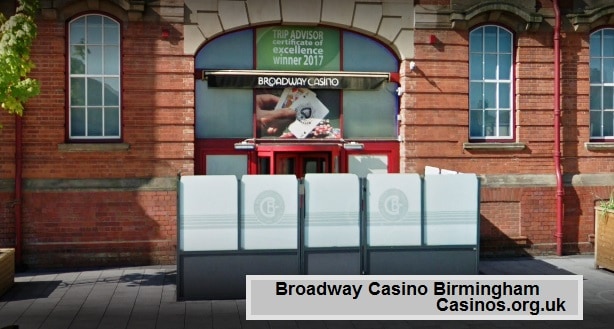 Situated in the Broadway Plaza on the Ladywood Middleway Birmingham, the Broadway Casino is one of seven casinos that can be experienced in Birmingham. This casino opens its doors seven days a week at 12 pm and stays open until the early hours of 9 am each day.
The Broadway Casino first opened back in 2005 and close to fifteen years later, it is still regarded as one of the best casinos in the city. It offers excellent gambling facilities, a couple of bars and a restaurant that is famed for the superb Indian, Italian and Thai cuisine that it serves.
As well as all of that above, the Broadway Casino will host live music events, charity poker tournaments, has a large smoking area, free wi-fi access, numerous televisions showing the latest sport and provides full disabled access.
See the best UK Online Casinos HERE
BROADWAY CASINO GAMES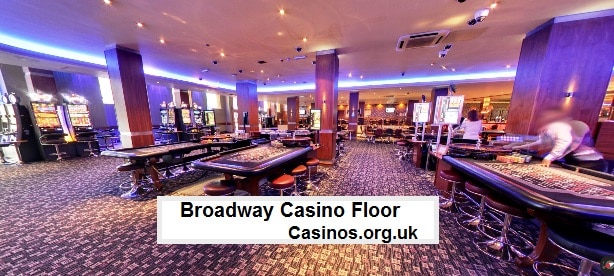 While the 24,000 square foot gaming floor is fairly small compared to most other casinos in Birmingham, they have still managed to squeeze quite a lot in terms of gaming options. There are 15 gaming tables hosting the likes of Blackjack, Roulette, Three Card Poker and Punto Banco. 50 electronic games are also available with most providing roulette or slot machines.
Another popular aspect of the Broadway Casino is the large poker room. Seating as many as 200 players, you can expect regular poker tournaments and cash games most evenings. Cash games start at 6 pm from Monday to Sunday with the table limits and blinds being agreed by the participating players beforehand.
CASINO GAMING OPTIONS:
American Roulette (8)
Blackjack (5)
Electronic Roulette (32)
Three Card Poker (1)
Punto Banco (1)
Slots (18)
160-Seat Poker Room
The friendly staff at the Broadway Casino know that not all guests will have a clear understanding of the rules for the games on offer. They are always happy to help in this regard and will always do their best to answer any questions or give a bit of guidance.
BROADWAY CASINO DRESS CODE
Much like most casinos in Birmingham, there is a smart casual dress code at the Broadway Casino. This means no sportswear although trainers and T-shirts are permitted. Caps and hats are only allowed in the poker room but in all other areas, you will be asked to remove them.
FOOD & BEVERAGES
When your stomach starts calling out for food, it is the excellent restaurant in the Broadway Casino that you should be headed to. Called 'The Restaurant',  it is open from 6 pm until 1 am each night, can seat 100 guests and is renowned for the sublime cuisine that it produces.
Italian cuisine is their specialty but you will also be able to enjoy popular Indian, Thai and British dishes too. Additionally, there are some fantastic desserts on the menu and a vast selection of refreshments that will help to wash down your food.
You will also find two bars in the Broadway Casino that will always be on hand when you need some refreshments, snacks or somewhere to sit and relax. Television screens around the bar will be showing the latest sporting action and you will be able to choose from a wide range of drinks to enjoy.
SPECIAL EVENTS
The Restaurant is where you are going to find a good number of promotions. Friday night is called Curry Night and for £17.50, you can get two curries with two beers. Saturday night, on the other hand, is steak night and this time you can get your lips around two steaks and a bottle of house wine for £25.
If poker is a game that you are planning to play a lot at the Broadway Casino, there is some money to be saved whenever you start getting peckish. All cash poker players qualify for 25% off the restaurant menu and 50% of the snack menu in the bars.
Live music can be found in the restaurant every Friday and Saturday night between 7 pm and 10 pm which makes it a great place to enjoy a nice meal, some music and night out.
BROADWAY CASINO MEMBERSHIP INFO
The majority of casinos in the UK do not require membership to gain entry but that is not the case at the Broadway Casino. Memberships is required and will take just a matter of minutes to register for in the reception. All that is needed is some photo identification and a couple of minutes of your time and you can then start to take advantage of the benefits of membership.
One such benefit is that becoming a member at the Broadway Casino will allow you to have a complimentary three-course meal for two in the restaurant. A bottle of house wine is even thrown in on top too.
ACCOMMODATION & TRANSPORTATION
If you are coming into Birmingham by car, the M5, M6 and M42 will be the best option for getting close to the casino. Visitors to the casino can enjoy free parking underneath the Broadway Plaza, a car park which can easily hold more than 1,300 vehicles.
The closest train stations are the Five Ways and Birmingham New Street stations with both being less than a mile away from the casino. A number of the major bus routes will also stop just up the road from the Broadway Casino.
There is a Travelodge and a Best Western locally if you wanted some affordably priced accommodation nearby. Alternatively, if you wanted to make a real night of it, you could opt instead for the Birmingham Marriott or Park Regis Hotels in the city.
LOCAL ATTRACTIONS
If you're visiting Birmingham for more than just a night, you will likely want to check out some other attractions in the city. There are numerous nightclubs, eateries and shopping centres for you to explore but if you're looking for a few unique things to see and do, there are tons of them around.
The National Sea Life centre is known all around the world and will no doubt be an excellent day out for you and the family. The Birmingham Arena is also where you can catch many a live event while there is a variety of museums that you can visit as well.
National Sea Life Centre
Birmingham Arena
Bullring & Grand Central Mall
Hall of Memory
Pen Museum
NEARBY CASINOS
Birmingham is a real gambling hub compared to most other cities apart from London as it has seven land-based casinos in total. The Broadway Casino is the only independent casino of those with Grosvenor, Genting and Rainbow being brands that can also be seen in other cities up and down the country.
Genting has three casinos in Birmingham with the Genting International Casino being the biggest and best of them. Grosvenor also has two casinos in the city while there is a solitary Rainbow Casino.
The following is the full list of casinos in Birmingham alongside the Broadway Casino:
Genting Casino Chinatown Birmingham
Genting International Casino
Genting Casino Edgbaston Birmingham
Grosvenor Casino Birmingham Broad Street
Grosvenor Casino Birmingham Hill Street
Rainbow Casino Birmingham
CASINO RATING
Broadway Casino Birmingham Ratings
Summary
Birmingham's Only Independent Casino.
There is no shortage of choice in Birmingham when it comes to casinos but there is something a little more personal about the Broadway Casino when compared to its competition. Genting, Grosvenor and Rainbow are all big names in the industry with their casinos being found up and down the UK. The Broadway Casino is the only independent casino and an appreciative one that has you feeling well looked after.
Pros
Has a High 4.3 Google User Star Rating
Staff Very Friendly And Professional
Nice Food & Atmosphere
Cons
Interior Design is a bit Outdated
See the best UK Online Casinos Here
BASIC INFORMATION
Casino Name: Broadway Casino
Location: Birmingham, UK
Address: 1-4, Broadway Plaza, 220 Ladywood Middleway, Birmingham B16 8LP
Phone: 0121 456 5557
E-mail: enquiries@broadwaycasino.co.uk
Table Games: Yes
Slots: Yes
Dress Code: Smart Casual
Opening Hours: 12pm–9am
Broadway Casino Gambling Licensee:  Broadway Casino is licensed and regulated by the UK Gambling Commission (See licensee).
Broadway Casino on a Map