Grosvenor Casino Riverboat Review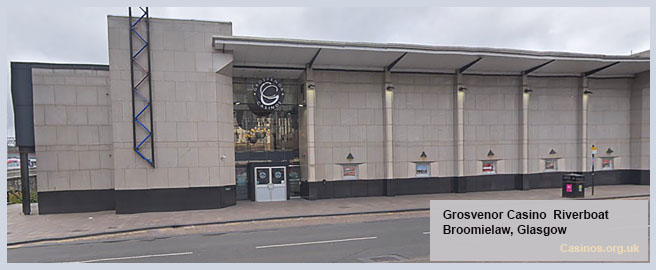 The name of the Grosvenor Casino Riverboat is a little misleading as it is actually not on a boat at all. It is actually located at 61 Broomielaw on the riverbank of the River Clyde in Glasgow. It does offer a fascinating view while you enjoy some of the enjoyable casino games that the casino has to offer.
Open all week including weekends from 12 pm to 6 am, this large casino spans across two floors. The ground floor is where the main gaming floor is alongside a bar while the first floor occupies a splendid restaurant and another bar which both overlook the river below.
GROSVENOR CASINO RIVERBOAT GAMES
On the casino floor of the Grosvenor Casino Riverboat, you will find a total of 10 classic gaming tables and a total of 47 electronic machines. The former include American Roulette, Blackjack and 3-Card Poker tables while the latter is a mix of slots, Roulette and video poker machines. At the far end of the casino is two cash poker tables too.
Betting limits will vary from game to game and table to table but in general, this casino will be suited to budgets and bankrolls of all shapes and sizes.
CASINO GAMING OPTIONS:
Poker fans might be a little disappointed at the lack of additional tables as with just the two, only a maximum of 20-players will be able to play at one time. While that is more than enough for a couple of cash games, tournaments are pretty much out of the window at this casino.

There are other casinos in the area that have larger poker rooms and will, therefore, be able to curb your cravings for poker tournaments.
GROSVENOR CASINO RIVERBOAT DRESS CODE
The official dress code at the Grosvenor Casino Riverboat is that of smart casual and this essentially means that as long as you look relatively smart, you will be allowed entry. Football shirts will be refused as will most other types of sportswear but smart-looking jeans and T-shirts will be allowed.
Tattoos should be covered when possible while you will be asked to remove any caps or hats unless you are playing on the poker tables.
FOOD & BEVERAGES
Louisiana's Restaurant is the place to be when hunger suddenly strikes and this is located up the stairs on the first floor. Here you can enjoy a diverse menu of classic and contemporary meals that are delicious and well-priced. Additionally, you will have plenty of choices when it comes to beverages too whether you prefer champagne, beer, wines or spirits.
You also have the choice of two bars, one of which is opposite the gaming floor which allows you to grab a quick drink while you are playing. The other offers players the ability to have a more relaxing drink as it is situated upstairs overlooking the fabulous River Clyde.
SPECIAL EVENTS
In terms of entertainment, you will have a lot to look forward to if you were to become a regular visitor to the Grosvenor Casino Riverboat. Saturday nights usually sees a live swing band take to the stage while you will also get to see regular tribute acts, karaoke nights and even murder mystery nights at the casino.
If you do not have Sky Sports at home or would prefer to catch the latest sporting coverage on a big screen with a nice drink in your hand, you can do so at the two bars that are available at the casino. Boxing, football, motor racing or whatever sporting event that you will want to see will no doubt be shown live here.
GROSVENOR CASINO RIVERBOAT MEMBERSHIP INFO
If you wanted to be able to earn reward points which can later be redeemed for betting money, drinks at the bar or some food in the restaurant, you will need to sign up for membership to Grosvenor. That membership will allow you to earn those points at any of their casinos in the UK.
You will also benefit from member-only promotions and bonuses and will no longer have to show identification if you are fairly young looking.
Just bring a photo ID with you to the casino and you will be able to register yourself for membership.
ACCOMMODATION & TRANSPORTATION
The Grosvenor Casino Riverboat could not be in a more convenient location in the city in terms of public transport. You have bus stops on both Broomielaw and Oswald Street which will both see many of the major bus routes pass through them. You also have both the Glasgow Central and Argyle Street train stations within a mile away from the casino.
As for coming in by car, you will not need to worry about parking as you will be able to do so for free after 6 pm in the car park which is adjacent to the casino.
In terms of accommodation, you have numerous options close by. The Hilton Glasgow will be the place to go if you have money to burn or have just won a nice amount from the casino while you also have the Village Hotel or the Premier Inn Glasgow Pacific Quay if you wanted to be a bit more practical.
LOCAL ATTRACTIONS
As the cultural hub of Scotland, there is no better city than Glasgow if you wanted to visit museums, art galleries and theatres. Additionally, there are many great parks, historical buildings and glamorous gardens to admire while the city is also known for its thriving music scene.
Below are just some of the attractions that you can see when staying in the city:
Kelvingrove Art Gallery and Museum
Glasgow Cathedral
Riverside Museum
Pollok House
Celtic Park
NEARBY CASINOS
While Glasgow may not have as many casinos as other major cities in the UK such as London, you would at least have to say that the quality of those that they do have is very high. There are just four casinos in the city in total but most of them offer an excellent casino experience.
As well as the Grosvenor Riverboat, you have the Grosvenor Casino Merchant City which is also of good size and quality. Then you have the Alea Casino which is the city's largest and arguably the most prestigious as well as the Genting Casino Glasgow which is another large casino that is worth checking out.
GROSVENOR ONLINE CASINO GAMES
There will come a time when you simply do not have the time to make it to the Grosvenor Casino Riverboat and that is when you should consider using the Grosvenor online casino instead.
Full of more than 400 games, numerous bonuses and promotions and the ability to play poker and enjoy sports betting, this is one of the best online casinos around. Of those games, most are online slots, some of which have progressive jackpots that could pay you out huge amounts of money.
Table games, video poker, instant win games and a live dealer suite is what makes up the remaining games and these will all give you the ability to take home some winnings.
What you can look forward to at the Grosvenor online casino is:
All Popular Table Games
Hundreds of Online Slots
Lucrative Bonuses and Promotions
Online Poker
Sports Betting
GROSVENOR LIVE DEALER SUITE
If you have not tried live casino games at an online casino before, you really are missing out. Technology means that we can now enjoy games being played in a casino as if we were there in person.
A dealer or croupier is tasked with running the game in front of a camera while you the player simply place your bets from the device that you are using. It is almost as if you are in the casino yourself as you watch the cards flip over the roulette wheel spin.
This is what you can expect from the live gaming suite at the Grosvenor Online Casino:
Live Roulette
Live Blackjack
Live Baccarat
Live Sic Bo
Other Live Games
CASINO RATING
Grosvenor Casino Riverboat, Glasgow - Rating
Summary
While the Grosvenor Casino Riverboat has plenty of competition in Glasgow, it is still a very good casino that is able to compete with the best of them. Located in an ideal location for transport needs and with a stunning view, there is little wonder that it is still so popular in the city.
A quality restaurant, two bars and a balcony that allows you to view the River Clyde are other big plusses for a casino that already has everything that you need in terms of gaming options.
Pros
Very helpful and friendly staff
Good service
Good riverside view
Good bar and a restaurant
Cons
Tables don't open until the late time
BASIC INFORMATION
Casino Name: Grosvenor Casino Riverboat
Location: Glasgow, UK
Address: 61 Broomielaw, Glasgow G1 4RJ, UK
Phone: +44 141 226 6000
Opening Hours: 6AM – 12PM
Table Games: Yes
Slots: Yes
Dress Code: Smart Casual
Grosvenor Casino Riverboat Licensee: Grosvenor Casinos Limited is licensed and regulated by the UK Gambling Commission (See licensee).
THE GROSVENOR CASINO RIVERBOAT IN GLASGOW ON A MAP