Grosvenor Casino Merchant City Review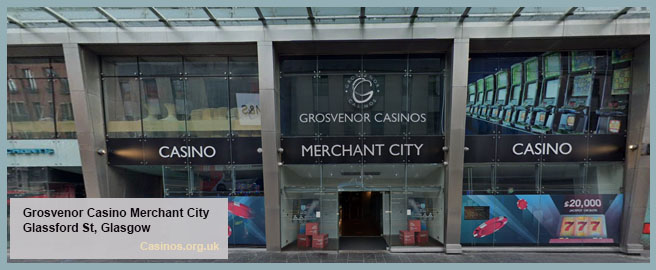 Open 24-hours a day the Grosvenor Casino Merchant City is one of four casinos in Glasgow and easily one of the largest with 30,400 square foot of gaming space available. Spanning two floors, this casino offers players an enjoyable experience as they take in a session at the blackjack, roulette or three-card table games or on the dozens of slots and roulette machines.
Featuring a very impressive restaurant and two lively bars, the Grosvenor Casino at Merchant City provides more than just a good night of gaming. Visitors can enjoy quality food, a few drinks and then try their luck on the many games on the gaming floor.
GROSVENOR CASINO MERCHANT CITY GAMES
The gaming is split across both floors at the Grosvenor Casino Merchant City with the slot machines and roulette terminals being found on the ground floor. Among those slot machines, you will find some that are linked to a huge progressive jackpot. This means that if you were to get lucky, you could scoop as much as £12,000.
As you make your way to the centre of the casino, you will notice a staircase and it is here that will take you to the basement level of the building where you will find the main gaming floor. There, you will find the numerous classic table games such as Roulette, Blackjack and 3-Card Poker with varying betting limits.
CASINO GAMING OPTIONS:
In a dedicated poker room, you will find a total of eight tables that can seat ten people each. This is more than enough for numerous cash poker games and even some small tournaments.
Cash games are generally held daily as long as there is enough demand for them but they also run a regular schedule of tournaments. To find out about the latter, we recommend checking out their website or even their Facebook page to learn of the current schedule.
GROSVENOR CASINO MERCHANT CITY DRESS CODE
All Grosvenor casinos in the UK have a dress code requirement of smart/casual for any guests that want to enter. This generally means that you will have to look presentable but will not have to go over the top in how you dress.
Football shirts, ripped jeans and caps, in particular, should definitely be avoided as it is unlikely you will be allowed in.
FOOD & BEVERAGES
We mentioned that the Grosvenor Casino has two lively bars and also that they have two floors. Well, you have a bar conveniently located on each floor which means that you are never too far from the next glass of your favourite tipple. As well as a wide range of spirits, beers, wines and cocktails, those bars also offer a snack menu and numerous televisions showing the latest sports events.
Grosvenor is renowned for having good quality restaurants in their venues and you get another good example of that at their Merchant City Casino in Glasgow. You can enjoy everything from their grilled signature dishes to soups, and salads and just about everything else in between.
Enjoy an amazing dessert to finish off your meal and knock back the refreshments of your choosing to wash it all down.
SPECIAL EVENTS
We would have to say that while the Grosvenor Casino Merchant City is not known for hosting a huge amount of live entertainment, it does provide it on occasion. The best way to learn of when a tribute act, some live music or a comedy night is going to be on stage is to follow the casino via social media.
In terms of promotions, the restaurant is the best place to find those. They are always offering meal deals and package deals at the casino that include meals, betting chips, drinks and even a tutorial on the games.
GROSVENOR CASINO MERCHANT CITY MEMBERSHIP INFO
Membership at the Grosvenor Casino Merchant City can be obtained easily at the reception when you arrive. You can also make the process a little easier by filling out the form online at their website as this will save time when in the casino. Be sure to bring some valid photo ID or you will not be accepted for membership.
The benefits of Grosvenor Casino membership? Well, for one, you will not need to carry ID around with you when gambling there anymore. Also, you will be able to start earning Grosvenor reward points which are called 'play points'. Those points can then be spent on food, drink or even exchanged for use on the casino games.
ACCOMMODATION & TRANSPORTATION
The location of the casino makes it extremely easy to reach no matter how you plan on getting there. A bus stop is directly outside the casino that has a number of major bus routes passing through it while the Argyle Street train station is no more than a two-minute walk away.
Accommodation is also easy to find with Rab Ha's Hotel being the closest to the casino. A little further away are other options such as the Glasgow Marriott and the Hilton Glasgow.
LOCAL ATTRACTIONS
You will not find a more cultural city in Scotland than Glasgow and for that reason, you will never be short of things to do or places to see. Whether you love architecture, wildlife or a night out on the town, Glasgow will provide you with exactly what you are looking for.
Here a just a few of the places we recommend that you check out when in Glasgow:
Celtic Park
Glasgow Cathedral
Gallery of Modern Art
Riverside Museum
People's Place
NEARBY CASINOS
Glasgow actually has a very good selection of casinos dotted around the city. The Grosvenor Casino at Merchant City is one that you will now know a lot about but you also have three others that also offer a top-class casino experience.
The Grosvenor Riverboat is another from this chain of casinos and it is also fairly large, occupies two floors and has a restaurant and two bars to enjoy on top of the many gaming options that it provides. Where this one has that one beat is that at least you can enjoy poker tournaments here.
Two others include the Caesars owned Alea Casino which is the cities biggest and most premium casino and the Genting Casino which is worth a look too.
Grosvenor Casino Riverboat
GROSVENOR ONLINE CASINO GAMES
If you are a firm believer in the quality that Grosvenor provides via its land-based casinos up and down the UK, then you might want to try out their online casino too.
You will be able to enjoy a combined 400 slots, table games, video poker games and more when you sign up as well as numerous bonuses and promotions. The welcome bonus that is given to new players, in particular, is very lucrative as it gives additional value for your first deposit.
Slots are the most popular type of game at online casinos and they will make up the majority of the games here. Some will even be progressive jackpot slots that could win you hundreds of thousands in one go and possibly even more.
Here is a taster of the online slots available to play at the Grosvenor online casino:
Book of Ra
Starburst
Raging Rhino
Cleopatra
Gladiator
TRY LIVE DEALER GAMES AT GROSVENOR
Most visitors to land-based casinos go there for the frills and spills of playing at the classic table games. Well fear not, you can enjoy these at an online casino as well. Not only does Grosvenor online casino have software-based table games but it also has a large suite of LIVE dealer tables games as well.
Fundamentally, these are going to be the best alternative to actually visiting your local casino as they are the next best thing. They are operated by fully trained and licensed dealers and croupiers, do not rely on RNG software and are beamed to your computer in realtime.
These are just a few of the live dealer games at the Grosvenor online casino:
Perfect Blackjack
Grosvenor Roulette
Speed Baccarat
London Roulette
Grosvenor Blackjack Gold
CASINO RATING
Grosvenor Casino Merchant City, Glasgow - Rating
Summary
Glasgow is fortunate to have a number of large casinos and each of them will provide an enjoyable experience. The Grosvenor Casino Merchant City might not be the very best of them but it is still of a very good standard and located in almost the perfect location in terms of accommodation, things to do and transport.
Pros
Friendly and helpful staff
Good location
Good service
Good food and drinks
Cons
Terrible atmosphere after clubs close
Service is a bit slow sometimes
BASIC INFORMATION
Casino Name: Grosvenor Casino Merchant City
Location: Glasgow, UK
Address: Merchant City, 16-18 Glassford St, Glasgow G1 1UL, UK
Phone: +44 141 553 5410
Opening Hours: 24 / 7
Table Games: Yes
Slots: Yes
Dress Code: Smart Casual
Grosvenor Casino Merchant City Glasgow Licensee: Grosvenor Casinos Limited is licensed and regulated by the UK Gambling Commission (See licensee).
THE GROSVENOR CASINO MERCHANT CITY IN GLASGOW ON A MAP