Divine Showdown Online Slot Machine – Free Play & Review
Mythology has been an inspiration for a lot of games over the years, though usually it's areas like Ancient Greece or Ancient Egypt that get the attention.
Here though, it's more of a mix, so you get lesser known gods from several cultures, including Egypt, China, Greece and Norse. The deities are present on the reels, including Thor, Athena, Anubis and Wukong. The rest of the symbols are showing off the low Royals.
Developer
Play n GO, which has been founded in 1997, is one of the big names in this industry. It's based in Sweden, but with offices around the world, something to be expected from a big company such as this.
They have a large number of high volatility slot machines, and they're loved by a lot of players. Originality is not always a strength of theirs though, as themes and mechanics have often been very similar to what others are offering.
Basic Information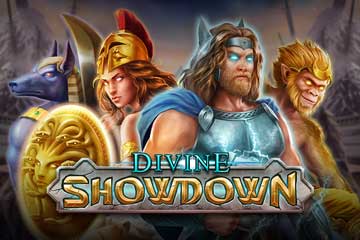 How To Play It
To get the reels going in Divine Showdown, you will be required to place a bet, and the options which are listed at the bottom of the screen will have a range between $0.20 and $100. As 20 lines are covered, you have line bets of up to $5, that you can use.
The game's going to let you spin 5 reels and form combinations on 20 active lines. Excitement is guaranteed, thanks to its reel modifiers and multipliers, but otherwise it's an easy game to play.
Special Features
Random features are going to be important for this game, and they will involve the use of the different gods, each one bringing you something of their own. You might get a Multiplier Reel as well, boosting wins by as much as 10x, which is excellent. As for the gods, those will bring wild reels, extra wilds, can sync up to three reels, or transform high value symbols into Thor icons. You can even mix a Multiplier Reel with one of the god extra features, if you're lucky.
With the scatter symbol landing three times on the reels, you get a free spins feature, along with a choice for the god that you prefer to represent you. Each one has a different extra feature to bring to the table, in the form of the random options I mentioned above, but guaranteed now.
As each spin starts up, a Battle Reel spins and it can either give you a regular round or a battle between your god and another deity. You get Power Symbols and these are taken into account for the two sides, to decide the winner. Once you lose three rounds/lives, the feature ends.
Maximum Payouts
As with most slot machines available in Play n GO's collection, the payouts tend to be worth it. Here, we have one of their slots which pay 5,000x the stake at most, meaning as much as $500,000.
The game's volatility being very high, a 10 out of 10, I would've actually expected an even better payout out of this game. Nonetheless, you have the RTP at 96.51%, and the slot will pay back to players an above average amount of what's wagered. Do check the paytable for the RTP figure though, as casinos have the option to reduce the level, to 94.50%, and you don't want to play the game on a site that does that.
Summary
A game with excellent graphics and decent potential, Divine Showdown is doing alright and it's plenty of fun to play, so all in all, I'd say it's a slot worth looking into.
Other Games We Love: