Unwrapping the gift that is the Holiday Season slot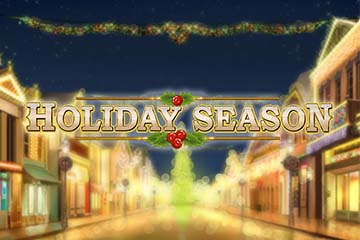 Surely you knew that it was coming? It is that time of the year again. In a little over a week, the run-up to Christmas will begin.
It isn't just malls, shopping centres, television channels and radio stations that are feeling festive, though. This week, you can get your hands on Play 'n Go's latest Christmas themed slot – Holiday Season.
You might be thinking that it is perhaps a tad too early to start playing Christmas slots. Why on earth have they released it now, when November is not yet done?
Play 'n Go are the first major developer to unveil a Christmas themed slot this year, and the reason for that is simple; they want Holiday Season to get a good run in casinos before other developers release their own titles. That is fair enough to understand.
After playing this Christmas themed slot a tad, though, we've come to another conclusion. It may just be that the reason Play 'n Go needs a good run up with their latest Noël themed game is because it isn't very good. How so? Find out now…
What we love
Play 'n Go's Holiday Season offers up a modern Christmas theme, which you don't often see in many of today's Christmas slots. Most still cling to this retro, 60s/70s Christmas look and feel, and that is seriously dated. Credit has to be handed to Play 'n Go for making their Christmas themed slot up to date.
With funds fairly tight around the Christmas period, Play 'n Go have been very clever in ensuring that their Holiday Season slot doesn't cost a packet to play.
Indeed, wagers vary from as little as $0.01 per line per spin, up to $100 per spin this game. However, the cheap bets come at a cost, and that can work against Holiday Season in the long run.
What we do not like
The main reason why Play 'n Go have managed to keep the cost of Holiday Season down is because they have cut corners. This slot only features 10 paylines on its 5 reels, and that is hardly going to impress too many players.
Holiday Season's special features also need a bit of work.
Sure, there are wild symbols and scatter icons. Neither of these does anything out of the ordinary, though, in an age where we expect to find wilds and scatters doing more.
Similarly, the free spins bonus round offers 5 Win Spins (players are guaranteed to win on every spin), but you can only bag 2-3 more by retriggering the feature, and there are no special bonuses available in this bonus.
Worth playing?
As long as other developers' Christmas themed slots remain unreleased, then Holiday Season will be the top Christmas themed slot this winter. Of course, that won't last. In a matter of days or weeks, other developers will have released their own titles, and in all likelihood, they will overshadow this newly released slot.
>> Play This Slot Now & With $/£/€ 200 Bonus +10 Free Spins <<