Super Heroes comes your way October 24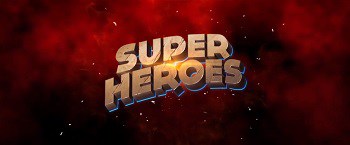 Should you be one of the many superhero themed slot fans out there eagerly awaiting the new Yggdrasil themed superhero slot, you won't have long to wait.
The release date has been announced, and it seems like you're going to be able to don your cape and dive right into this slot on October 24.
What you are going to be expecting when you get there, though, remains to be seen. The slot's features are being kept under lock and key by its developers, so we don't actually know a whole lot about it.
Fortunately, we've been working in this industry for a very long time, so we know what is "possible", what is "likely", and what is "unrealistic" based on the previous releases from Yggdrasil, and other superhero themed slots. Here's our take on what you can expect come October 24.
What we love
Super Heroes won't be long now, but until it is, we can only postulate about what this slot will contain. We know for a fact that Yggdrasil is going it, its own way, though. Instead of messing about trying to acquire difficult to obtain licenses for major comic book heroes or movie franchises, Yggdrasil is creating their own franchise.
Yggdrasil has not only created six superheroes for their game, though, they each have their own unique special powers. Those special powers will also double as special features in this slot.
If you read that right, you will understand then that there are 6 special features which can be activated in this game. These include random wilds, free spins, stacked wilds, wild reels, multipliers and so much more.
What we do not like
Cloak and dagger stuff. This is exactly how Yggdrasil wants to play it. We know very little about their upcoming 5-reel, 20-line Super Heroes slot. Nobody else claims to know any more about it, either.
There could be any number of reasons why Yggdrasil are keeping everybody in the dark about this, but one possible reason could be that the slot needs more work, or that there is an unfinished element to it. Yggdrasil may therefore rush that, and we could up with a stinker of a slot.
We always prefer to see completed slots in trailers and demos to get us excited. Perhaps there have been a few hiccups discovered in testing, and that is holding up the release of a trailer or demo. Either way, it rubs us the wrong way.
Worth playing?
To be perfectly honest, Yggdrasil is playing this one that close to their chest, we haven't got a clue. It could be the best superhero themed slot since The Dark Knight, or it could be utterly rubbish.
It will contain top 3D graphics, and a host of top features – this much we know. Beyond seeing a better trailer or getting our hands on a demo, we honestly wouldn't want to commit one way or another at this point, though.
>> Play This Slot Now & With $/£/€ 200 Bonus +10 Free Spins <<