Genting Casino – Torquay Review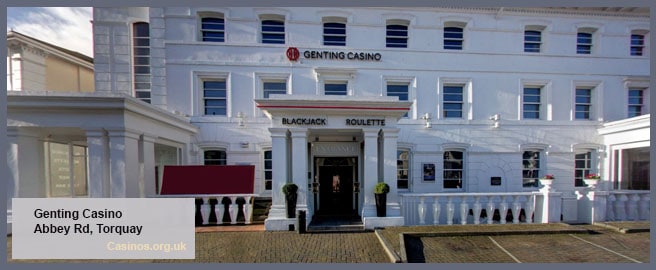 Genting Casino Torquay is one casino you can't miss when visiting this seaside town. It's the only casino offering you a proper UK casino experience with table games, slot machines, progressive jackpots, and a sports bar with a lounge. This casino has it all and is also located right in the heart of the city, close to the coastline and all the most popular accommodation options. The casino is open every day from 1 pm until 5 am.
GENTING CASINO – TORQUAY GAMES
There are no shortages of gaming options at Genting Casino Torquay. Even though this is a small seaside town, they have made sure to provide their guests with everything they'd need and more. Just head to their main gaming hall to find all their electronic and table games, including roulette, poker, blackjack, and baccarat. You can also visit the poker room for their Texas Hold 'em Games and tournaments.
Genting Casino Torquay also stops a few Genting e-Table providing an alternative to the usual electronic gaming options found in UK casinos. These e-Tables have all the electronic games available from a single terminal. You sit in comfort on an armchair while playing on a 26' HD monitor. You can play 3-5 Multi-win poker, baccarat, Velocity Roulette, and much more. The live casino games you find on Genting Online Casino are also available from these e-Tables.
CASINO GAMING OPTIONS:
American Roulette
Electronic Roulette
Crazy 4 Card Poker
3-t Multi-win Poker
Electronic Baccarat
Cash Poker Games

GENTING CASINO – TORQUAY DRESS CODE
No need to wear your formal attire when visiting Genting Casino Torquay as it has a smart casual dress code. This dress code includes smart jeans, shorts, t-shirts, but does not include ripped clothing, sportswear, or clothing with offensive wording/images.
FOOD & BEVERAGES
Genting Casino Torquay has its popular 'Late Bar' accessible from the main gaming area. Here you will find plenty of drinks, both alcoholic and non-alcoholic, TVs, and comfortable seating. There is also a small food menu available 24/7 that only serves light meals and snacks including sandwiches, chips, and nachos.
The bar also regularly offers specials on all their drinks. Every day between 7 pm and 3 am you can buy one get one free cocktail. They also have their Gin Experience promotion which includes a wide variety of popular Gins like Tanqueray, William Chase, and Sipsmith Lemon.
SPECIAL EVENTS
Genting Casino Torquay loves poker. Here they have poker games every night and tournaments almost every night. These games are all Texas Hold 'em but there is a large variety of types, buy-ins, chips, and prize pools. Some of the most impressive tournaments have guaranteed prize pools of up to £5,000. There are also more modest tournaments available for beginners with prize pools of up to £174. These beginner tournaments also have smaller buy-ins and allow unlimited re-buys up until registration closes.
Those interested in a party should consider Genting Nights. This special event is available every day and allows prize pools the opportunity to first get involved in the different games without having to risk their money. Choose your favourite game, pay the £13.95/£17.95 sign-up cost, and you're ready to go. There are roulette, blackjack, poker, slots, and poker tournament packages available.
The different price is depending on whether you opt for the 'jackpot' package or not. The jackpot package includes an additional 'Big Deal' benefit which is a delicious snack from their bar menu. Otherwise, the package includes a welcome drink, personal training, and free chips.
Genting Casino Torquay is also available to help you celebrate any of your special events with their different party packages. You are welcomed to design the package as you see fit, but they offer a few options to cater to the average birthday, bachelor/bachelorette party, and business function.
GENTING CASINO – TORQUAY MEMBERSHIP INFO
No Genting Casino is complete without their Genting membership. The same membership that you'll find across all the Genting casinos is available at Genting Casino Torquay to take your gaming experience to the next level. Registration is free, but not required to enter the casino, so if you decide not to do it you can still enjoy all their table and electronic games. However, signing up for this membership is definitely in your best interests because of all the gaming and non-gaming benefits available.
Gamers can use their Genting loyalty card at any of their games, all you have to do is insert your card into the electronic machine or hand it to the dealer/croupier at any table. The more points you earn, the more discounts you will receive from the bar.
ACCOMMODATION & TRANSPORTATION
Genting Casino Torquay is close to Upton Park in the centre of Torquay. This seaside resort town is easily accessible by via the A380 south. You'll take the Torquay newcomers and then turn onto Tor Church Road where the casino is located. There is free casino parking available for customers and there is a level surface until the entrance. Just outside the casino, on Abbey Road, you'll find a sheltered bus stop with seating available.
Torquay is filled with accommodation for tourists. This resort town is popular during peak season so you'll want to book in advance. Most of the hotels are less than 5-minutes drive from the casino and some can even be walked to. The Cimon 4-star Hotel is just down the road from the casino and offers free breakfast and wi-fi.
The rest of the hotels in the area are in the centre of Torquay, within driving distance from all the beaches and other popular attractions.
The Hillcroft Boutique 4-star Hotel
Abbey Lawn 3-star Hotel
Cavendish 2-star Hotel
The Abbey Sands 3-star Hotel
LOCAL ATTRACTIONS
Torquay is one of the UK's leading seaside resort towns thanks to its location, pristine beaches, and a boost from the Great Western Railway Company. This small town was promoted by the railway company after WW2 to boost it into the tourist attraction that it is today and thanks to this there are plenty of local attractions to visit.
The number one people visit this town is thanks to its seaside location. The town is known as the UK Riviera and has plenty of boats anchored inside the relatively large Torquay Harbor. This seaside town doesn't have that many beaches but just next door in the town of Preston you'll find the famous Preston Sands beach.
If you're interested in the history of the area, Torquay Museum and the Torre Abbey Museum both offer different pieces of history. At the Torre Abbey Museum, the main focus is on the medieval history of the area with tours of the abbey and its gardens. Torquay Museum has various displays of local and world modern history.
CASINO RATING
Genting Casino, Torquay - Rating
Summary
If you're looking for gaming in Torquay look no further than this Genting Casino. They are the only casino offering both table games and electronic games and their modern interior cannot be beaten. Come and enjoy a 5* casino experience while by the sea.
Pros
Very helpful and friendly staff
Good relaxed atmosphere
Good service albeit slow sometimes
Cons
Overcrowded on weekend nights
Lack of staff on a busy nights
BASIC INFORMATION
Casino Name: Genting Casino – Torquay
Location: Torquay, UK
Address: 5 Abbey Rd, Torquay TQ2 5NR, UK
Phone: +44 180 329 4901
Opening Hours: 1 pm – 4am
Table Games: Yes
Slots: Yes
Dress Code: Smart Casual
Genting Casino in Torquay Licensee: Genting Casinos UK Limited is licensed and regulated by the UK Gambling Commission (See licensee).
THE GENTING CASINO IN TORQUAY ON A MAP