Grosvenor Casino – Swansea Review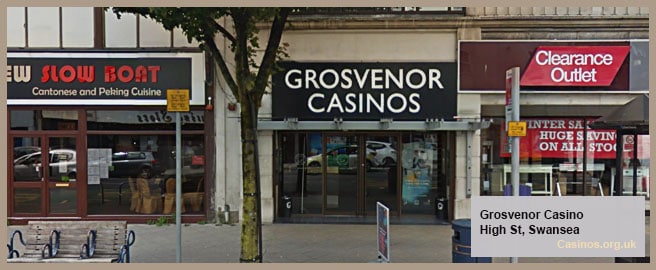 Grosvenor Casino Swansea is one of the best gaming locations in Wales and the only place you'll find a fully-equipped traditional casino with table games, electronic games, and a separate poker room for cash games and tournaments. This casino has all the usual Grosvenor amenities, including their membership and special Grosvenor parties.
Come down to this casino located just outside Swansea Castle that is open every day between 11 am and 6 am. It is close to all the popular attractions and has a restaurant/bar to keep you satisfied.
GROSVENOR CASINO – SWANSEA GAMES
Grosvenor Casino Swansea offers two gaming areas: the main gaming hall and its poker room. The main gaming hall is where you'll find your typical casino games like roulette, blackjack, three card poker, and all their electronic games. Next door, in the poker room, is where you'll find all the Texas Hold 'em poker action with cash games and tournaments available. These poker games are available daily in the evenings until 4 am and the tournaments are hosted according to their timetable.
CASINO GAMING OPTIONS:
American Roulette
Blackjack
Three Card Poker
Electronic Roulette
Cash Poker Games

GROSVENOR CASINO – SWANSEA DRESS CODE
Grosvenor Casino Swansea creates the perfect environment to enjoy a sophisticated – yet casual – gaming experience. You don't need to dress formally, but smart casual attire is a must. As long as you don't arrive dressing too casually, in sportswear, tracksuits, or gym clothes, you won't have any problems. Wear something nice and enjoy this popular Swansea Casino.
FOOD & BEVERAGES
The Grosvenor Casino Swansea has all the popular dining & bar options available at most Grosvenor Casinos. Their grill restaurant has everything you'll need, no matter the type of food you enjoy. Their extensive menu is made up of everything from salads to pizzas. They also have discounts available if you're a Grosvenor One member including 10% discount and vouchers to be won. The restaurant is open for lunch and dinner and closes at 2 am.
The Grosvenor Casino's bar has everything you'll need in terms of beers, wines, and spirits. Their extensive wine list is also available in the restaurant. Members receive free cold and hot drinks throughout the day. The bar is available as soon as the casino opens at 11 am and stays open until closing at 6 am.
SPECIAL EVENTS
Grosvenor Parties are their poker events are the main things to look out for when visiting this casino. Their parties are organised privately and vary in cost based on what you'd like to include. They have a few select packages to choose from depending on the situation but they also leave it open for you to change it. If you want to include, or remove, something you're more than welcome.
The poker events are where gaming action takes place. These events are available every day in the form of cash poker games and then weekly/monthly in the form of their poker tournaments. Both of these poker events use the Texas Hold 'em poker variation and are a great way to brush up on your skills. If you're lucky you'll be able to win one of their poker tournaments which could win you access to their GUKPT poker tournament. Members can also earn free access into the Deepstack Poker Tournaments which offer the most impressive payouts of any Grosvenor Casino Swansea tournament.
GROSVENOR CASINO – SWANSEA MEMBERSHIP INFO
You won't need to be a member to enter the casino, but you should consider this free membership if you're going to be there for more than a few minutes. The membership gives you access to plenty of benefits, both for food and drinks and for games, and is useable at every Grosvenor Casino in the UK.
To become a member all you have to do is visit Grosvenor Casino Swansea and ask to sign-up. The whole process will only take a few minutes and will require you to quickly go online to activate your account. The reason this is necessary because Grosvenor One is a dual-purpose membership, for both their local casinos and their online casino. With this one membership you will have access to all their local bonuses, the Grosvenor One loyalty card, and all their online games and promotions.
The loyalty card doubles as an e-Wallet that can be used to top up your online account in the casino or used at the cash desk or directly at their local casino's slots and other electronic games.
ACCOMMODATION & TRANSPORTATION
Grosvenor Casino Swansea is located close to the Maritime Quarter and the River Tawe. To travel here via car you need to take the A483 or A4067 depending on whether you're driving from the East or North. Once in Swansea you can drive towards Swansea Castle and just before you get there you will reach the casino. There is a bus stop just up the road from the casino on New Cut Road if you're using public transportation.
Accommodation options are plentiful and most of them are located close to the waterfront, a few minutes drive away from the casino. The closest option is less than 5-minutes walk from the casino. The Grand Hotel is one of the most luxurious options in Swansea with great amenities available. Other nearby options include the Dolphin SA1 Hotel, Travelodge Swansea Central, and Ice House Apartments.
LOCAL ATTRACTIONS
Swansea is one of the bigger cities in Wales and has plenty to offer visiting travellers. It might not be as popular as the capital of Cardiff, but Swansea still attracts quite a crowd. The main reason for visiting Swansea is its sea location. Walk along the beach, visit the pier, or stop at the Swansea harbour. It is a waterfront city with plenty of famous beaches and seaside resorts.
Swansea also has other things going for it, including its selection of beautiful parts. Singleton Park has an incredible collection of botanical gardens and a small lake. There are also plenty of cultural attractions, with Swansea being named the 2017 UK city of Culture. You can visit popular events like Proms in the Park, the International Jazz Festival, and The Liberty Stadium.
NEARBY CASINOS
Casinos are rather limited in Swansea, with Grosvenor Casino Swansea definitely being the main gaming location in the city. This is the only place you'll find a similar collection of table, electronic, and cash poker games. However, if you are looking for somewhere else to go you can always visit Stardust Casino Slots just down Orchard Street from the casino. This is a small electronic gaming parlour only offering slot machines. They are open daily from 9 am until 9 pm.
GROSVENOR ONLINE CASINO GAMES
The Grosvenor Casino website has recently been upgraded and now offers a more modern experience. Their main casino website is where you'll find information about all their local casinos as well as all their online casino games. These different gaming categories can all be found at the top of the screen and are currently:
Live Casino
Slots & Games
Jackpots
Table Games
Sport
Poker
There is also a list of the most popular games played on their casino and is currently made up of:
Lucky Lady's Charm Deluxe
Book of Ra Deluxe
Dolphin's Pearl Deluxe
Live Roulette
Live Blackjack
Registration is simple can be done whether you're a Grosvenor One member or not. If you have already signed up as a member then you won't need to register again for the online casino. If you aren't a Grosvenor One membership you will have to complete the online registration form. Once registered you will receive access to all their promotional events which include some of the hottest online bonuses available like free slot spins, double the odds, and access to exclusive online live tables.
LIVE CASINO GAMES
Only the best live casino games are available at Grosvenor Online casino. They mainly offer roulette, blackjack, and baccarat but they also have two unique game options: Monopoly Live and Deal or No Deal Live.
All of these games are played with real UK dealers and is a great way to enjoy traditional casino action from the comfort of your desktop or mobile devices. You will be able to see the dealer live and in action. A few of these dealers are located in popular Grosvenor Casinos throughout the UK.
CASINO RATING
Grosvenor Casino, Swansea - Rating
Summary
The main gaming event in Swansea, this Grosvenor Casino has everything to brighten up this seaside town. Plenty of local attractions, a great community, and their cash poker games make this a hot location for any gaming enthusiast visiting Wales. You won't find another such gaming opportunity for quite a few kilometres.
Pros
Good service
Friendly and helpful staff
Good food and drinks
Cons
Tends to be busy on weekends at night
BASIC INFORMATION
Casino Name: Grosvenor Casino – Swansea
Location: Swansea, UK
Address: 15-16, High St, Swansea SA1 1LF, UK
Phone: +44 179 265 5227
Opening Hours: 11am – 6am
Table Games: Yes
Slots: Yes
Dress Code: Smart Casual
Grosvenor Casino Swansea Licensee: Grosvenor Casinos Limited is licensed and regulated by the UK Gambling Commission (See licensee).
THE GROSVENOR CASINO IN SWANSEA ON A MAP