Grosvenor Casino – Stockton Review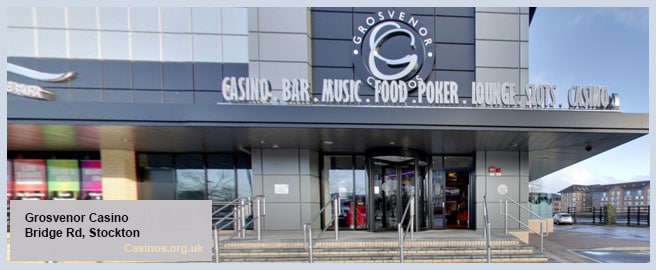 Grosvenor Casino Stockton is part of the Grosvenor Casino chain, a prominent casino franchise with branches in many cities and towns. This Stockton casino is the best gaming option in the city with the largest collection of both table and electronic games. Their additions of a bar, restaurant, and live sports viewing ensures you'll have everything you need.
GROSVENOR CASINO – STOCKTON GAMES
Grosvenor Casino Stockton offers roulette, poker, blackjack, and plenty of electronic games. All of these games are located in their main gaming hall, but if you'd rather try your luck at one of their cash poker games or poker tournaments then you can visit their poker hall. Fans of electronic games can also use their online wallets to play the various electronic roulette and slot games available.
CASINO GAMING OPTIONS:

GROSVENOR CASINO – STOCKTON DRESS CODE
Smart casual attire is welcomed at Grosvenor Casino Stockton so no need to dress fancy when visiting this casino – unless you want to of course. Most people dress more towards the casual side with shorts, a t-shirt, and whatever else looks smart enough to get in. However, there are a few items that Grosvenor Casinos specifically do not allow in their casino and this includes sportswear, tracksuits, and any offensive clothing.
FOOD & BEVERAGES
The bar and restaurant options available at Grosvenor Casino Stockton are more than enough to provide all your food and drink needs. The bar is fully equipped with all your favourite drinks like spirits, wines, and beer. If you're not looking for alcohol, find out about their extensive coffee, soft drink, and warm drinks menu.
For food, you can visit their restaurant for a large array of options including meat, fish, chicken, pizzas, and delicious desserts. If you're a member you will be entitled to discounts from both the restaurant and bar.
SPECIAL EVENTS
Grosvenor Casino Stockton hosts a few special events throughout the year. Sporting events are the main entertainment events available. You can view all these events from their HD TVs by the bar and if you'd like to place a bet you can use their online sports betting options. UFC, Football, and Tennis are some of the sports available.
The special events also include a few gaming options, including their daily poker cash games and occasional poker tournaments. One of the most prestigious poker tournaments in Europe is held at various Grosvenor Casinos throughout the UK, including Grosvenor Casino Stockton. Their dedicated poker room hosts a leg of the GUKPT and also where you'll find all the cash poker games.
GROSVENOR CASINO – STOCKTON MEMBERSHIP INFO
The Grosvenor One membership is a unique casino membership. When you become a member at Grosvenor Casino Stockton you are not only a member for all Grosvenor's UK casinos but also for their online casino. This membership is beneficial for players who enjoy using both gaming platforms as they will be able to benefit from a single-use wallet that can be used to withdrawal or deposit funds directly from the casino. You can also use your electronic wallet to play on the various electronic machines that they have available in Grosvenor Casino Stockton.
The membership also entitles you to a loyalty card which can be used when playing games throughout their online and local casinos. These loyalty points can be redeemed for a variety of discounts and instant prizes.
Registration for the Grosvenor One membership is free and can be done on your first visit to the casino. All you'll need is a valid proof of ID if you are under the age of 21.
ACCOMMODATION & TRANSPORTATION
If you're driving to the casino you can use the A66 to get into Stockton central and then turn onto the Mandale Road before arriving at the casino. You won't have to worry about parking because there is a large parking lot next to the casino that is available for all nearby businesses. If you're lucky you can also park directly in front of the entrance in one of the 10 streetside parking spots. If you're arriving by bus you also won't have to walk far with the bus stop located just outside the parking lot on Bridge Road.
Accommodation options available include:
Outram 26 – 3-star hotel
Hampton by Hilton Stockton – 3-star Hotel
Premier Inn Stockton – 3-star Hotel
Bishopton Road Bed & Breakfast
LOCAL ATTRACTIONS
Stockton is situated along the river Tees and this Grosvenor Casino is located on the banks overlooking the river. You could always use this opportunity to go on boat rides along the river, otherwise, you can visit some of the other nearby tourist attractions like the Victoria Bridge, the Teesside Princess, Ropner Park, and Butterfly World.
NEARBY CASINOS
When visiting Grosvenor Casino Stockton you might want to try out some of the other casinos in the area. Stockton only has two other casinos available, but if you're willing to travel a bit further to the neighbouring town of Middleborough then you will also find another three casinos.
However, if you're looking for a variety you might be disappointed because most of these alternate casinos are Admiral Casinos, offering very similar gaming experiences no matter where you go. Their main supply is electronic games, with a collection of slot machines and electronic roulette posts. The only non-Admiral casino available in Stockton is the B 'n' S fun casino which is a small gaming post only offering electronic gaming machines.
GROSVENOR ONLINE CASINO GAMES
Grosvenor Casino has their online casino that is easy-to-use and provides all the high-quality games you'd expect to find in their local casinos and many more. Their online casino is unique compared to many other online casinos in the UK because they combine both their online casino and local casino webpage into one location. Once on their website you'll find their online gaming tabs and the registration link at the top. Registration is simple and for a short time, new guests are entitled to a welcome bonus of up to £60.
Not only do they have table games, slot machines, and progressive jackpots, but their online membership – Grosvenor One – is applicable to both their online casinos and local casinos. This all-inclusive membership is very useful for those that enjoy both gaming options. The Grosvenor One wallet can be used to deposit and withdraw your online funds directly from Grosvenor Casino Stockton.
The most popular games currently listed are:
Lucky Lady's Charm Deluxe
Reel King Mega
Live Roulette
Bar X Safecracker Megaways
Book of Ra Deluxe
20p Roulette
LIVE CASINO GAMES
The online gaming action doesn't stop there, there is also a live casino games section that offers live UK dealers to make your games even more realistic. These games can be found in their own tab and are very popular.
Monopoly Live
Blaze Roulette
Victoria Roulette
Perfect Blackjack
Baccarat Live
Deal or No Deal Live
CASINO RATING
Grosvenor Casino, Stockton - Rating
Summary
Grosvenor Casino Stockton is hands down the best gaming option in Stockton offering the largest collection of electronic and table games, as well as their additional entertainment features so that you never have to leave. Its central location is also popular among tourists interested in local attractions and easy access to public transport.
Pros
Good atmosphere
Very friendly and helpful staff
Good poker tournaments
Good service
Good location and a good parking
Cons
Busy on Saturday nights
Slow service when busy
BASIC INFORMATION
Casino Name: Grosvenor Casino – Stockton
Location: Stockton, UK
Address: 4, Chandlers Wharf Retail Park, 4 Bridge Rd, Stockton-on-Tees TS18 3BA, UK
Phone: +44 1642 927450
Opening Hours: 24 / 7
Table Games: Yes
Slots: Yes
Dress Code: Smart Casual
Grosvenor Casino Stockton Licensee: Grosvenor Casinos Limited is licensed and regulated by the UK Gambling Commission (See licensee).
THE GROSVENOR CASINO IN STOCKTON ON A MAP