Casino 36 – Stockport Review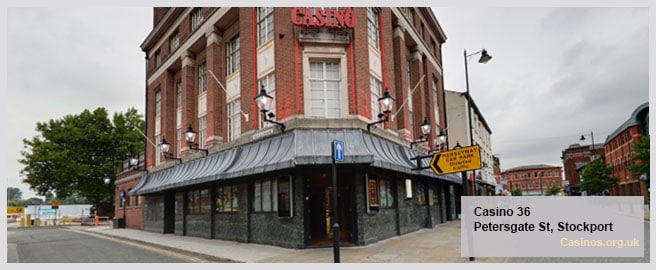 Open from 12 pm to 6 am seven days a week, Casino 36 can be found at 36 Petersgate in the town of Stockport. This is the second of two Casino 36 venues in the UK at this current time but a third is in the process of construction and will be located in Dudley.
Casino 36 in Stockport has recently undergone a refurbishment, so guests can expect to enjoy a modern, clean and fresh gambling experience when visiting. It is quite small in size but many guests like this about the casino as it feels more cozy compared to much larger casinos.
Despite that small size, you still do have a good selection of tables games, slot machines and gaming terminals while you can even enjoy some poker too. Top all that off with a restaurant and bar and there is not too much more that most would ask for from a casino.
CASINO 36 – STOCKPORT GAMES
All the usual suspects are available to play at the Casino 36 in Stockport. American Roulette, Blackjack and Three Card Poker are the table games while you have numerous modern gaming machines to choose from.
Dual Auto Roulette Wheels, Touch Bet Roulette Terminals and slot machines with jackpots that can go as high as £20,000 are your options when it comes to electronic machines. Stakes are lower on the machines compared to the tables but they are more convenient and easier to play.
CASINO GAMING OPTIONS:
American Roulette
Touch Bet Roulette Machines
Dual Auto Roulette Wheel Machines

As well as all of the above, Casino 36 in Stockport also hosts regular poker tournaments and cash games. The schedule is constantly changing and the only way to really keep up to date with it is by following the casino on social media. That said, cash games will be run whenever there is enough demand in the evenings.
CASINO 36 – STOCKPORT DRESS CODE
Most casinos across the UK have a smart/casual dress code and that is the same at Casino 36. Generally, as long as you avoid wearing sportswear, caps/hats, work clothes, gym clothes or dirty clothes, you should be fine gaining entry to the casino.
FOOD & BEVERAGES
A restaurant and bar are both on hand at Casino 36 which will ensure that hunger and thirst are not going to be a worry during your night of gambling. The casino hands soft drinks to all players for free during the evening but sometimes something a little stronger is required and that is where the bar comes into play.
As for the restaurant, there is a full menu on offer here and you can expect great quality food at great quality prices. They even offer a free buffet on the last Friday of each month as part of their monthly curry night.
SPECIAL EVENTS
Due to the small size of Casino 36, you shouldn't really expect too much in terms of live entertainment. They do provide a number of events that are worth checking out though. Small promotions such as prize draws, MatchPlays and competitions such as guessing how many balls are in a jar are just a few examples.
The restaurant is another place where you can make some savings on occasion.
CASINO 36 – STOCKPORT MEMBERSHIP INFO
If you have ever been to the Casino 36 super casino in Wolverhampton, you will know that you have to be a member before you can enter. At this smaller Casino 36 however, that is not the case. Of course, being a member does allow you to take advantage of member-only special offers but it is not required for entry.
As long as you have identification if you are young looking, you can simply enter as a guest. If you have identification with you though, it is certainly a good idea to just become a member anyway – it is free after all.
ACCOMMODATION & TRANSPORTATION
There is a car park right next door to Casino 36 that visitors can use but it will incur a charge. The good news is that the casino will reimburse your parking charge should you give them the receipt.
Also, because Casino 36 is situated right in the heart of Stockport and literally just minutes away from the Merseyway Shopping Centre, reaching it by public transport will never prove difficult. The Stockport train station is a ten-minute walk away and there are numerous bus stops in close proximity to the casino.
If you are planning to stay in Stockport overnight and need somewhere to stay, there are numerous hotels that will be able to give you what you need. The Britannia Hotel, Holiday Inn Express, Travelodge and the Trivelles Mayfair are all good options.
LOCAL ATTRACTIONS
While it might be tempting to take the short 30-minute drive into the city of Manchester to find things to do, the town of Stockport does have plenty to offer. When you are done playing in the casino and want to enjoy some sights and attractions, we suggest taking a look at the following:
Fletcher Moss Botanical Garden
Bramall Hall
Peak Forest Canal
Millennium Walkway
Debdale Park
NEARBY CASINOS
Apart from Casino 36, the only other casino in Stockport at the moment is the Grosvenor Casino which is literally just down the road. That casino is newer and larger and is well worth a look but Casino 36 offers what we feel, a more personal environment.
CASINO RATING
Casino 36, Stockport - Rating
Summary
The Casino 36 in Stockport is almost the complete opposite of the other Casino 36 in Wolverhampton. Its small while the other is a super casino but this does not mean that the quality of the experience is any different. The staff are friendly, the food is great and you still have a good selection of games to enjoy.
Pros
Good atmosphere
Friendly and helpful staff
Cons
No facility carpark anymore
Not showing sporting events
BASIC INFORMATION
Casino Name: Casino 36 – Stockport
Location: Stockport, UK
Address: 36 St Petersgate, Stockport SK1 1HD, UK
Phone: +44 161 666 3636
Opening Hours: 12pm – 6am
Table Games: Yes
Slots: Yes
Dress Code: Smart Casual
Casino 36 in Stockport Licensee: Casino 36 Limited is licensed and regulated by the UK Gambling Commission (See licensee).
THE CASINO 36 IN STOCKPORT ON A MAP