Opera House Casino – Scarborough Review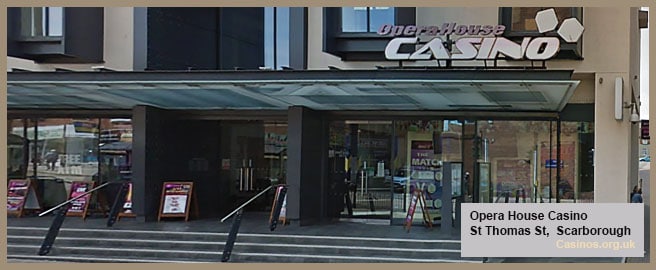 Opera House Casino Scarborough is a popular entertainment location in the seaside town of Scarborough in North-East England. The casino was completed in 2005 and is still the largest entertainment development in Scarborough for over 30 years – costing over £7,000,000.
The casino is 2,100 square metres and features a decent selection of table and electronic games. They occasionally hold tournaments and their casino membership broke a record of being the first casino to reach 5,000 members before they had even opened. This casino was also the first privately funded casino in the UK to be opened after the gambling act was amended in 2005.
The casino is open on Sundays to Thursdays from 10 am until 3 am and on Fridays to Saturdays from 10 am until 6 am.
OPERA HOUSE CASINO – SCARBOROUGH GAMES
Their selection of casino games is what makes Opera House Casino so popular. Everything you'd expect to find in the biggest casinos in the UK can be enjoyed from this seaside casino. Whether you're looking for poker, roulette, blackjack, or slot machines, there are plenty of options to choose from. In addition to the regular gaming options, their weekly Texas Hold 'em Poker Tournaments and Mahjong/Cash Poker games are popular events.
CASINO GAMING OPTIONS:
American Roulette
Blackjack
Cajun Stud Poker
Progressive Jackpots – Blackjack & Three Card Poker
Electronic Roulette Terminals
Texas Hold 'em Tournaments
Cash Poker Games
Mahjong Games

OPERA HOUSE CASINO – SCARBOROUGH DRESS CODE
No official dress code is required at Opera House Casino but they request that all guests dress in a way that is satisfactory to all casino goers. As long as you don't wear offensive clothing or beach clothes you shouldn't have any issues.
FOOD & BEVERAGES
Opera House Casino Scarborough has two bar and a restaurant available. The Stage Bar is their large and vibrant drinking location that overlooks the gaming floor and has a small lounge to relax in-between games. Their wide range of lagers, beers, ciders, wines, Champagnes, and spirits leaves very little to be desired. You can also visit the Stalls Bar for a smaller and drinks experience and where you'll find Texas Hold 'em tournaments weekly. Tcasinos are open every day from 10 am until closing. Make sure to visit the bar between 10 am – 11 pm to enjoy a pint for only £3.
If you've got food on your mind then visit the Casino Lounge or the Stalls bar to find their full menu and light menu. The light meal menu includes sandwiches and small snacks, while the full to have three-course dinner options. The Kitchen is available from 6 pm until 2 am during the week and from 4 pm until 4 am on weekends.
SPECIAL EVENTS
There are three special gaming events that are a permanent addition to the Opera House Casino, but you'll also find random promotions and bar/restaurant discounts. The three special gaming events are the Mahjong Games, Cash Poker Games, and Texas Hold 'em Tournaments.
The Mahjong games are played on Sundays to Thursdays from 8:30 pm. The cash poker games can be played every day in the evenings and Texas Hold 'em tournaments. These poker tournaments are the main gaming event at Opera House Casino with guaranteed prize pools to be won based on played turnout.
OPERA HOUSE CASINO – SCARBOROUGH MEMBERSHIP INFO
Opera House Casino offers its own membership that can be obtained from reception. Registration is free and it allows you to receive an Opera House Casino members card and access to the loyalty rewards program. You can use these reward points that you'll earn from gaming at the bar for discounts or to redeem various gaming bonuses.
ACCOMMODATION & TRANSPORTATION
Opera House Casino has its own parking available behind the casino and there are also two public parking lots within walking distance from the casino. You won't have problems finding parking, but you can also use bus service and stop directly outside the casino on St Thomas Street.
There are plenty of places to stay while visiting Scarborough. You can either stay on the north side of town or on the South-East closer to the beach. Opera House Casino's central location means its nearby to both sets of accommodation.
No. 1 Kelly Cottages
Palace Hill Hotel Scarborough
Delmont Hotel
The Grand Hotel Scarborough
Premier Inn South Bay
LOCAL ATTRACTIONS
Scarborough is most well-known as a seaside town and has many beaches to enjoy. However, the beaches aren't the only thing worth visiting in this resort town. It has plenty of classical historical attractions, cultural nuances, and plenty of countrysides to explore. Whatever you reason to visit Scarborough, you'll have plenty of places to see.
Some of the best local attractions are within walking distance from the casino, including the South Bay Beach with its iconic soft sand, amusement arcades, donkey rides, and the beautiful Grand Hotel.
Scarborough SEA LIFE Sanctuary
Scarborough Market Hall
Jurassic Scarborough at Rotunda Museum
The Harbour
Scarborough Castle
The Old Town
Peasholm Park Naval Battles
NEARBY CASINOS
Scarborough is a popular destination with a few casino options to keep tourists entertained. The Opera House Casino is one of the most reputable casinos in the town, although Gilly's casino and Grosvenor Casino Scarborough are well worth the visit. Grosvenor Casino is a popular UK casino chain that has a casino membership available throughout its casino chains. Gilly's Casino is the smallest option but one enjoyed by locals and tourists alike. They have a decent selection of electronic games including a bowling alley.
CASINO RATING
Opera House Casino, Scarborough - Rating
Summary
Scarborough is a beautiful resort town with a lot of history. Opera House Casino is the premium casino gaming location in the town and makes for a great addition to any visit. If quality games, a well-stocked bar, and a decent restaurant are what you enjoy from a casino, then make sure to pop in at Opera House Casino Scarborough for a wonderful experience.
Pros
Friendly and professional staff
Good poker tournaments
Good atmosphere
Good food and drinks
Cons
Table service needs some improvements
Too quiet on a day time
BASIC INFORMATION
Casino Name: Opera House Casino – Scarborough
Location: Scarborough, UK
Address: 56-64 St Thomas St, Scarborough YO11 1DU, UK
Phone: +44 172 335 7940
Opening Hours: 10am – 4am
Table Games: Yes
Slots: Yes
Dress Code: Smart Casual
Opera House Casino in Scarborough Licensee: Nikolas Shaw Limited Limited is licensed and regulated by the UK Gambling Commission (See licensee).
OPERA HOUSE CASINO (SCARBOROUGH) ON A MAP