Grosvenor Casino – Scarborough e-Casino Review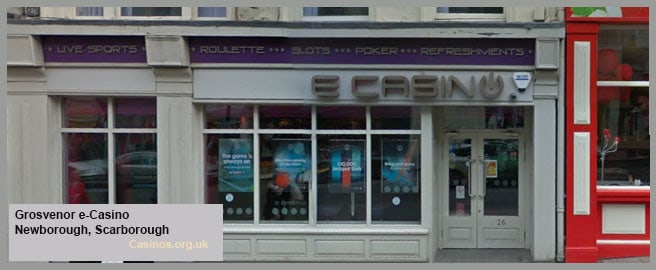 Grosvenor Casino Scarborough is a unique offering by this popular UK casino chain. Most of their casinos come with a large selection of table and electronic games, but this is an e-Casino. There are mostly electronic games available, like slots and roulette, but they do also have 3 poker tables. It's a small, yet sophisticated, gaming option in the coastal town of Scarborough – and only one of three casinos to choose from. The casino is open from 11 am until 2 am every day of the week and offers a grill restaurant and a late bar.
GROSVENOR CASINO – SCARBOROUGH e-CASINO GAMES
Grosvenor Casino Scarborough is one of the smaller Grosvenor casinos only offering a small selection of selection games as well as a few poker tables. The gaming hall is modernly designed and has been divided into 2 distinct sections. The main gaming area is filled with all the electronic games as well as the bar, while at the back you will find the poker room with their three tables.
CASINO GAMING OPTIONS:

GROSVENOR CASINO – SCARBOROUGH e-CASINO DRESS CODE
There is a casual dress code at Scarborough e-Casino and they simply ask that you wear footwear and that you don't arrive wearing swimming attire, headwear or any offensive clothing.
FOOD & BEVERAGES
There is a small grill restaurant that offers the Grosvenor classic menu with a selection of different dishes, including chicken, beef, pizzas, burgers, and desserts. They also have an impressive wine list available from the restaurant and at the bar. At the bar you'll also find all of their spirits, beers, and ciders, as well as their non-alcoholic drinks. There is a small lounge area by the bar with a few HD TVs available for sports.
SPECIAL EVENTS
Grosvenor Casino Scarborough streams all the latest sporting events from their HD TVs and their Sports Experience Package makes it a popular event. For as little as £5 you can get a bottle of beer, a panini, a packet of crisps, and £5 Freeplay for slots or roulette.
Every day there are also Grosvenor Poker Parties for £1 per person. These games are self dealt and can be organized by contacting the club beforehand. The Poker Experience Packages are also available as an optional addition to these nights and can include different things ranging from drinks and Freeplay to meals.
GROSVENOR CASINO – SCARBOROUGH e-CASINO MEMBERSHIP INFO
As with all Grosvenor Casinos, this e-casino also offers the Grosvenor One membership. It's one of the UK's largest memberships with locations in almost every city. You don't need to be a member to be able to play at the casino but it is free and will only take a few minutes of your time. You just need to speak to them at reception, they will enter your details, and then you can complete the process online. Once you've finished you will receive £30 free that can be used on any of their electronic games as well as on their online casino.
A unique feature of the Grosvenor One membership is their e-Wallet. This wallet is joined for use in their local casinos as well as on their online casino and makes it far easier to control your spending. Members can deposit money onto this card either by using the online payment options or by paying cash at Grosvenor Casino Scarborough.
Once you're a member you will also earn loyalty points that are tracked on your card. These points can be redeemed at the bar and restaurant for discounts and free drinks. There are also specials related to gaming, including free spins, bonus £, and the chance to win tickets to entertainment events throughout the UK.
ACCOMMODATION & TRANSPORTATION
Scarborough is a small resort town on England's North Sea coast and you can travel here using the A170 or A165. The casino is easy to find in the centre of town next to the Brunswick Shopping Centre. There aren't any parking bays reserved for the casino but the nearby NCP car park Scarborough Balmoral is less than 5-minutes walk from the casino. The nearest bus stop, Aberdeen Walk Stop J, is approximately 7-minutes walk from the casino.
There are plenty of accommodation options in this resort town and most and close to the casino. You have to option of staying by the northern or southern bay. The southern bay is closest to the casino and has one of the best beaches in Scarborough. Palace Hill Hotel, Blands Cliff Lodge, and Royal Hotel Scarborough are three nearby options.
LOCAL ATTRACTIONS
Scarborough is a resort town known for being one of the original seaside resorts. There is stunning scenery, historical attractions, glorious beaches, and plenty of things to do and see – people have been coming to this town for holiday for over 400 years.
The Scarborough seafront is a must-see and can be accessed from the North and South bay. There are plenty of arcades, ice cream parlours, shellfish stalls, and beach huts with delicious fish and chips. Scarborough Castle is located between the Northern and Southern Bays and is a great place to view a panoramic of the area and learn about the Viking history.
Surfing
North Bay Railway
Aplamare Water Park
Stephen Joseph Theatre
NEARBY CASINOS
There are only three casinos in this small resort town and the other two options are Opera House Casino and Gilly's Casino. Gilly's Casino is closest to Grosvenor Casino Scarborough and is located on the Scarborough Beach Front at South Bay. A small casino with mainly electronic games close to the beach. Opera House Casino is the largest casino in the town and features state-of-the-art table and electronic gaming. There is a restaurant that services food until 2 am and the casino itself stays open from 10 am until 6 am. This is definitely an option worth investigating.
GROSVENOR ONLINE CASINO GAMES
Grosvenor's Online Casino is one of its main attractions. It is linked to their Grosvenor One membership, so anyone who is a member at Grosvenor Casino Scarborough will already be registered to use their online casino. Non-members are also welcome and will just need to complete their online registration. This grants you access to their selection of online table games, slot machines, progressive jackpots, and live casino games. Grosvenor Online Casino also has a separate sports betting section with all the latest events.
The different methods of payment available are Paypal, Master Card, Maestro, Visa, and PaySafe Card. If you're a member you can deposit money directly into your online account from Grosvenor Casino Scarborough using the e-Wallet.
LIVE CASINO GAMES
There are plenty of live casino games to be played online and these offer the most realistic gaming experiences available. These games allow you to play directly with other players and real UK dealers. These dealers are streamed from different locations throughout the UK but they also have the option of choosing a game streamed directly from The Victoria Grosvenor Casino in London.
Live Roulette
Live Blackjack
Live Baccarat
Live Monopoly
Live Deal or No Deal
CASINO RATING
Grosvenor Casino, Scarborough (e-Casino) - Rating
Summary
Albeit small, Grosvenor Casino Scarborough offers the perfect holiday experience for those who enjoy electronic gaming or a hand of poker. Their bar and dining option means you won't have to leave their premises until closing and they are close to many local attractions and accommodation options. As one of three casinos in the town, this casino is one worth visiting.
Pros
Very friendly and helpful staff
Good service
Good atmosphere
BASIC INFORMATION
Casino Name: Grosvenor Casino – Scarborough (e-Casino)
Location: Scarborough, UK
Address: 26 Newborough, Scarborough YO11 1NA, UK
Phone: +44 172 334 3760
Opening Hours: 11am – 2am
Table Games: Yes
Slots: Yes
Dress Code: Smart Casual
Grosvenor e-Casino Scarborough Licensee: Grosvenor Casinos Limited is licensed and regulated by the UK Gambling Commission (See licensee).
THE GROSVENOR E-CASINO IN SCARBOROUGH ON A MAP