Grosvenor Casino Northampton Review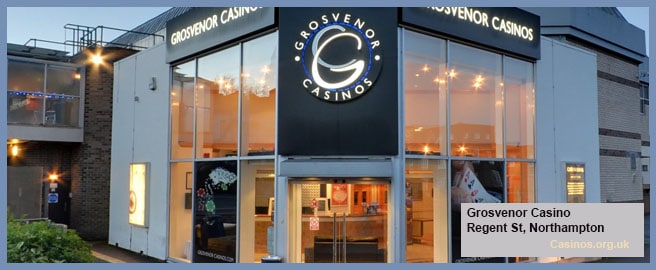 Previously known as Gala Casino Northampton, Grosvenor Casino is one of 52 Grosvenor Casinos located throughout the United Kingdom. Located on Regent Street in the heart of the city, this local casino provides games, entertainment, and a wide range of food and drink.
The casino is open 24 hours a day, 7 days a week, meaning you'll never miss out on gaming. They have a wide range of games including table games, electronic slot machines, and regular promotional games – including Wednesday Quiz Nights.
GROSVENOR CASINO NORTHAMPTON GAMES
This modern designed casino is filled with high-quality games. Upon entering, you'll have a choice between their ground floor and a second-floor gaming area.
The ground floor houses the restaurant and bar while all the gaming activities take place upstairs. The restaurant and bar are open to those under 18, but you will be required to provide proof of identity when entering the gaming area. The gaming area includes 17 table games, 42 electronic roulette posts, and over 100 slot machines.
CASINO GAMING OPTIONS:
American Roulette
Blackjack
Casino Stud Poker
Jackpot Stud Poker
Electronic Roulette

GROSVENOR CASINO NORTHAMPTON DRESS CODE
The dress code at Grosvenor Casino Northampton is smart-casual. Guests are welcome to dress comfortably but are not allowed to wear any sportswear or headwear that would block their face from the cameras. If you have a lot of tattoos that are visible, you have to make sure they are not offensive – otherwise, keep them covered up and you'll be fine.
FOOD & BEVERAGES
When it comes to food and beverages, Grosvenor Casino Northampton has a large selection to choose from. On the ground floor, you will find the entrance to the restaurant and bar. There are numerous tables to sit at and eat or you can hire the restaurant to provide catering for a nearby event.
In the restaurant, you will have the option of choosing between their Absurd Bird, Field & Fin, Barren & Stone, The Real Grill, Kitchen Bites, and The Good Pud options. The different options each focus on a different food group:
Absurd Bird offers a wide variety of chicken meals inspired by Southern American cooking.
Field & Fin is for those who prefer simply cooked beef and fish meals.
Barrel & Stone offers a collection of Italian-style pizzas made with authentic recipes.
The Real Grill specializes in classic burger meals.
Kitchen Bites are a variety of small meals and snacks that can be enjoyed at the restaurant or while gaming.
The Good Pud is the dessert section of the menu and offers a few sweet treats to end of your meal.
Apart from the large selection of food, you can also choose wines, beers, spirits, and non-alcoholic beverages from their drink's menu.
SPECIAL EVENTS
Special Events are always taking place at Grosvenor Casino Northampton. Weekly, monthly, and random events take place in their casino and can be viewed from the casino, on their website, or by following them on Twitter. The monthly quiz night is one of the most popular special events, but you can also enjoy a wide range of promotions including food discounts, slot bonuses, free drinks, free desserts, and instant prizes. However, if you want to make use of these special promotions you may need to be a member of the Grosvenor One club.
GROSVENOR CASINO NORTHAMPTON MEMBERSHIP INFO
The Grosvenor Casino chain has its own membership for those over the age of 18 called Grosvenor One. Grosvenor One is both an in-house and online casino membership that allows members to benefit in online and normal casino events.
Registering is easy and does not require any money, but it has to be done in a local casino like the Grosvenor Casino Northampton Branch. Once you have signed up in the casino you will be able to activate your online membership – which will also earn you £30 in online bonuses.
Once you've activated your membership you can use it to direct deposit or withdrawal money from your online account or you can use it to earn reward points the more you place. These reward points can be used to get free bets or for restaurant/bar discounts. Be sure to check their online membership page for the latest in-house and online membership promotions.
ACCOMMODATION & TRANSPORTATION
Located at the end of Regent Street you will find ample parking if you decide to drive here yourself.
Other than the casino's parking you might find it difficult to find parking, but there is plenty of public transport options in the area with the closest option being the bus stop on Victoria Street – a mere 5-minute walk from the casino just across The Church of The Holy Sepulchre. Apart from the local bus service, the Bounds Taxi Service is a 10-minute walk from the casino next to The Grosvenor Centre.
If you're looking for accommodation in the area, then your nearest choice is The Grafton Rooms on Francis Street. It's a short walk away from the casino and for only £60 a night, it is one of the best-priced options in the area. Park Inn by Radisson Hotel is located in the Town Centre, a 5-minute drive from the casino, and is rated 3 stars. With amenities like a pool, complimentary breakfast, and free wi-fi, this is one of the best options in Northampton.
LOCAL ATTRACTIONS
Northampton is located in the centre of England, but it isn't the most active tourist location in the country. There are numerous parks, churches, and museums to choose from all a short drive from the casino.
The Church of The Holy Sepulcher is the closest attraction to the church, located directly across Broad Street, but you can also choose between:
The Pinnacle Rock Climbing Centre
The Racecourse public facility
St Peter's Church
Abington Park Museum
West Lodge Rural Centre
NEARBY CASINOS
Grosvenor Casino Northampton is one of four casinos in Northampton and the second biggest in the area. It is the only Grosvenor Casino in the city, but this doesn't mean there aren't other places to enjoy casino games.
The Aspers Casino is the furthest away from Grosvenor Casino, located on Foundry Street in the southern part of the city, but it is also the biggest casino in the city. This extravagant casino has multiple floors, plenty of room, and top-class amenities including dining areas, bars, and live music.
Merkur Cashino
Admiral Casino Northampton
Aspers Casino
GROSVENOR ONLINE CASINO
Not only does Grosvenor Casino have brick-and-mortar facilities but also a state-of-the-art online casino. If you are already a Grosvenor Member, then it's as easy as activating your account online and benefiting from their membership bonus. However, if you aren't a Grosvenor One member you can still register online and participate from home.
Their online casino is packed with the latest games and they have all the casino categories that you'd expect to find in a traditional casino, including Slots, Progressive Jackpots, Table and Card Games, Poker, Sports Betting, and Live Casino. The most popular games on their online casino are:
Lucky Lady's Charm Deluxe
Reel King Mega
Live Roulette
Live Blackjack
Well of Wishes
Book of Ra Deluxe
20p Roulette
First Person Roulette
Live Casino Games
The Live Casino Games available online at Grosvenor Casino provide you with the perfect brick-and-mortar experience at home. There are 16 different live casino games to choose from and they are all hosted by live UK dealers 24/7. The table limits are the same as you would find in their local casinos.
Monopoly Live
Roulette Live
Blackjack Live
Baccarat Live
Deal or No Deal Live
CASINO RATING
Grosvenor Casino, Northampton - Rating
Summary
As the second-largest casino in Northampton, you can't go wrong with Grosvenor Casino Northampton. Their professional staff is available to make your experience as enjoyable as possible and their collection of casino games and food/drink options will keep you entertained for a while.
Pros
Really good food and drinks
Friendly staff
Good atmosphere
Good parking
Cabaret singer is very good
BASIC INFORMATION
Casino Name: Grosvenor Casino Northampton
Location: Northampton, UK
Address: Regent St, Northampton NN1 2LA, UK
Phone: +44 160 462 4916
Opening Hours: 24/7
Table Games: Yes
Slots: Yes
Dress Code: Smart Casual
Grosvenor Casino Licensee: Grosvenor Casinos Limited is licensed and regulated by the UK Gambling Commission (See licensee).
THE GROSVENOR CASINO IN NORTHAMPTON ON A MAP