Genting Casino – Luton Review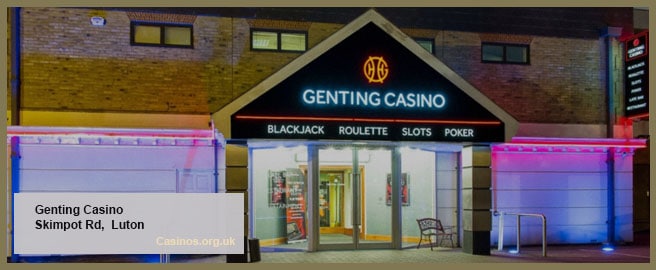 Genting Casino Luton is located just North-West of the Luton city centre. The casino used to be known as the Electric Circus Casino Luton but has since been bought over by the Genting Casino chain. Genting Casino owns many casinos throughout the UK as well as their very own Genting Online Casino.
Although this isn't one of their largest chains, Genting Casino Luton has all the typical games available at Genting Casinos, including roulette, blackjack, and plenty of slot machines. The casino is open 24 hours a day, 7 days a week, and is one of only 4 casinos in Luton.
GENTING CASINO – LUTON GAMES
Genting Casino Luton offers a wide range of table games including popular titles like roulette, poker, blackjack, and baccarat, as well as having an impressive collection of electronic games – including electronic table games, slot machines, and progressive jackpots.
CASINO GAMING OPTIONS:
American Roulette with 3 Tables. Minimum stake is £1 and the maximum is £500.
Blackjack with 3 Tables. Minimum stake is £5 and the maximum is £2,000
Prime Three Card Poker with 1 Table. Minimum stake is £5 and the maximum is £100
Mini Baccarat with 1 Table. Minimum stake is £10 and maximum is £2,000
Electronic Roulette 2 Tables with 20 Multiplayer Posts. Minimum stake is £0.10 and maximum is £200.
Genting e-Tables

Genting e-Tables combine the best of local and online casino gaming. These quality gaming posts feature HD screens and comfortable padded chairs and a wide variety of games. These tables come equipped with live casino games as well as normal electronic games like 3-5 Multi-Win Poker, Baccarat, Blackjack, and Roulette.
The progressive jackpots are all Novomatic Power Link Jackpots. There are three jackpots available which can all be won using the minimum bet. Feeling lucky? Then these progressive jackpots can earn you up to £20,000.
GENTING CASINO – LUTON DRESS CODE
Genting Casino Luton has a smart-casual dress code. No formal attire is required but you will have to dress in something better than sports clothes or a tracksuit. As long as you look presentable and aren't wearing any of Genting Casinos 'prohibited dress ware' then you shouldn't have a problem. The prohibited items include sportswear, tracksuits, your work clothes from the day, any offensive clothing, and any form of the headwear that would obstruct the CCTV.
FOOD & BEVERAGES
Genting Casino Luton has a Late Bar which is available 24/7. You won't be able to get a 4-course meal, but there are light snacks available as well as their fully-equipped bar with everything from beers to sparkling wine.
SPECIAL EVENTS
There is always a special event or two taking place at Genting Casino Luton. These events change regularly so if you are interested to make sure to check out their 'What's on' page for the latest special events. Currently there is a slots bonus event, the moon festival prize draw, and a few gaming tournaments.
The slots event takes place on Mondays to Thursdays at 8 pm and 11 pm. This special event is open to all Genting Casino Luton guests and you will automatically be involved if you are playing one of their slot machines during the event times. Twice a day, at the above-mentioned times, a random slot machine set is drawn and they are awarded a random prize. The jackpot is a £100 slots free play.
The Moon Festival is another open-to-the-public event and there is no entry cost either. It is a prize draw that takes place on the final day of the Moon Festival. To get a ticket all you have to do is redeem your free ticket once a day at the Rewards Kiosk. The prizes range from £100 to £1,000.
Finally, you can also enjoy one of Genting Casino Luton's gaming tournaments. These tournaments are available every day of the week, with different games available on different nights. There are bonus prizes of up to £300 cash to be won. You can choose between electronic roulette on Mondays and Tuesdays, slots on Wednesdays and Thursdays, and baccarat on Sundays.
GENTING CASINO – LUTON MEMBERSHIP INFO
Genting Casino Luton also offers the Genting Casino Membership available at all of their local casinos. This membership is optional and does not cost anything, but registering is definitely to your advantage. There are many members-only promotions on offer from Genting Casino Luton, including discounts, bonuses, and instant prizes. Registration must first be completed online and thereafter you can complete it in any local Genting Casino.
ACCOMMODATION & TRANSPORTATION
Luton is a large town just North-West of London. If you're travelling from London you will travel along the M1; while if you're travelling from the North you will need to get on to the A5183. Both of these roads will lead you to Luton from which you will head towards the casino which is in between the Caddington Golf Club and the Luton Hospital. There are a few buses stops close to the casino, with the one located in Cradock Road just a few minutes walk away. Luton airport is on the other side of town and will take you approximately 15-minutes to drive to the casino.
Luton isn't a bustling tourist destination but they have plenty of accommodation options in the city centre and the surrounding suburbs. If you plan on staying close to Genting Casino Luton, you have two reasonably-priced choices – the Premier Inn Dunstable Luton and Travelodge Luton. If you don't mind travelling by car then you can stay at Huku Kwetu Hotel, Cozy B&B, and Holiday Inn Express Luton Airport.
LOCAL ATTRACTIONS
Luton is still categorized as a town and is one of the most populous towns in the UK. Although the area often gets out shadowed by London to its south, Luton still has plenty of attractions that make it a worthwhile tourist destination. If you're looking for things to do while visiting the casino, look no further than the Wardown House Museum, Stockwood Park, and Wardown Park.
Stockwood Discovery Centre
Stockwood Park – 100 Hectare Park
Wardown Park
Wardown Park Museum
Mossman Collection
NEARBY CASINOS
There are only 6 casinos, Luton, with 3 of them located in the town centre and the rest of them located along its western border. The four main casinos in the Luton are Genting Casino Luton, Grosvenor Casino Luton, Admiral Casino Luton, and Merkur Cashino. These four casinos are all part of UK casinos chains that have branches throughout the UK.
The largest of these casinos are Grosvenor Casino Luton and Genting Casino Luton, but the other options aren't much smaller, all offering a collection of table and electronic games.
Admiral Casino Luton
Merkur Cashino Luton Central
Merkur Casino Luton Dunstable
Ladbrokes Dunstable Houghton Regis
GENTING ONLINE CASINO GAMES
The Genting Casino chain is one of the few UK-based casino chains that offers both local casinos and an online casino. Their online casino has recently been remodelled and was designed to create a simple, yet elegant, online gaming experience. All your favourite casino games can be found at this online casino as well as many live dealer casino games featuring real UK dealers.
Registering for the online casino is easy and does not require a membership. Visit their online website and register to immediately gain access to all their games as well as a £30 100% match welcome bonus.
Their online casino is divided into three main gaming categories: casino, live casino, and sports. The casino section is where you'll find the majority of their online casino games featuring both table games, slot machines, and progressive jackpots. If you're interested in sports betting you can visit their sports tab to find all the latest sporting action.
Currently, the most popular casino games available are:
Starburst
Book of Ra Deluxe
Lucky Lady's Charm Deluxe
Pyramidion
The Wish Master
A Heart of Egypt
Jungle Spirit
Butterfly Staxx 2
Super Lucky Charms
LIVE CASINO GAMES
The live casino section is where you'll find real UK dealers and the most realistic game options available. All of these casino games can be found in their local Genting casinos and all of them feature the same betting limits. These games are hosted from different locations throughout the UK but there are also the unique, 'live from', casino games that are hosted directly from one of Genting's UK casinos. Currently there are 'Live from Edingburgh', 'Live from Birmingham', and 'Live From Manchester' options.
Roulette Live Crockfords London
Lightning Dice
Side Bet City
Super Sic Bo Live
Deal or No Deal Live
Blackjack Live
American Roulette Live
Speed Roulette
CASINO RATING
Genting Casino, Luton - Rating
Summary
Luton isn't exactly known as a casino gaming capital of the UK, but Genting Casino doesn't use this as an excuse. Genting Casino Luton is still a top-class Genting Casino and offers one of the best gaming experiences in the city. If you're interested in table games, electronic games, and a nice bar, then Genting Casino Luton should be first on your list when visiting this city.
Pros
Good service
Nice atmosphere
Very friendly and helpful staff
Cons
Small casino, overcrowded sometimes
BASIC INFORMATION
Casino Name: Genting Casino – Luton
Location: Luton, UK
Address: Skimpot Rd, Luton LU4 0JB, UK
Phone: +44 158 259 1148
Opening Hours: 24 / 7
Table Games: Yes
Slots: Yes
Dress Code: Smart Casual
Genting Casino – Chinatown Licensee: Genting Casinos UK Limited is licensed and regulated by the UK Gambling Commission (See licensee).
THE GENTING CASINO IN LUTON ON A MAP