Grosvenor Casino – St Giles Casino Review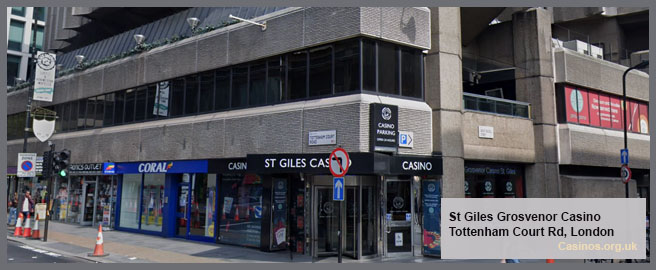 Grosvenor Casino St Giles is located on the main road in Tottenham city. This is a bustling part of London and a great place to start your visit. The casino provides table games and slot machines as well as a place to relax, watch TV, and order a drink. Gamers visiting this Grosvenor chain casino can make use of the Grosvenor One membership to access different offers and promotions that are only accessible to members. The casino is open 24/7 and has TV facilities available.
GROSVENOR CASINO – ST GILES CASINO GAMES
Grosvenor Casino St Giles offers the normal combination of Grosvenor Casino table games – roulette, blackjack, baccarat, and poker – as well as the unique electronic 'sabre' roulette post. This high-quality roulette post has unique options to play with live dealers or on automated wheels. The slot machines are plentiful and there are also a number of progressive jackpot slots available to earn some larger payouts.
CASINO GAMING OPTIONS:
American Roulette – 5 Table [Minimum bet of GBP 0.50 and a maximum bet of GBP 500]
Blackjack – 2 Tables [Minimum bet of GBP 1 and a maximum bet of GBP 1000]
Three-Card – 2 Tables [Minimum bet of GBP 5 and a maximum bet of GBP 500]
Punto Banco – 1 Table [Minimum bet of GBP 5 and a maximum bet of GBP 5000]
Electronic 'Sabre' Roulette Post – 39 Posts

The electronic 'sabre' roulette posts feature two live roulette games and two automated wheels.
GROSVENOR CASINO – ST GILES CASINO DRESS CODE
No formal attire is required to visit any Grosvenor Casino, all you will need is smart casual wear that isn't offensive to other people. Remember, sportswear, tracksuits, and your work clothes do not count as 'smart casual' and should be left at home along with any sleeveless shirts and headwear.
FOOD & BEVERAGES
There are a bar and small restaurant which features a light meal menu. All the alcoholic and non-alcoholic drinks you'd expect to find at a normal bar can be purchased here. They serve a variety of beers, ciders, wines, spirits, and they also have a cocktail menu with virgin options. Meals can be ordered from the menu which includes baked goods, dumplings, buns, soups, noodles, and desserts available. These meals can be enjoyed in the small lounge area which houses their HD TVs playing the latest sports.
SPECIAL EVENTS
Grosvenor Casino St Giles does not have any cash poker or tournaments like some of the other Grosvenor Casinos in London, but their Grosvenor One membership specials are all still applicable, including discounts, free items, and bonus rewards. Make sure to check out their latest members-only special events when visiting this casino.
If you're a boxing, football, or rugby fan you can pull through for any of the major events and they can be viewed from their HD TVs in the lounge area.
GROSVENOR CASINO – ST GILES CASINO MEMBERSHIP INFO
Grosvenor One membership is an option free membership that can be obtained from any of the local Grosvenor Casinos. All you have to do is ask at the reception of Grosvenor Casino St Giles, show your identification, and register. Once the first step is completed you can finish the online sign-up which will activate your Grosvenor One wallet as well as your online casino welcome bonuses – including a £30 gift and free spins to be used on Cleopatra slots.
ACCOMMODATION & TRANSPORTATION
Grosvenor Casino St Giles is located in Tottenham in central London. There are plenty of public transport options and it is most likely the easiest way to get around the city. If you do happen to be driving your own car, you will not be able to find private parking at the casino. There are, however, parking spots available along Tottenham Court Road. To get here you can travel onto the A40 and then the A501 until you reach the casino's street. The nearest bus stop is just a short walk up Tottenham Court Road.
Tottenham has a lot of accommodation options within walking distance from the casino. These central hotels will ensure you are close to all the casinos and public attractions.
St Giles London Hotel – 3 Star
The Cheshire Hotel – 3 Star
Radisson Blu Edwardian Hotel – 3-Star Hotel
The Bloomsbury Hotel – 4-Star
LOCAL ATTRACTIONS
This area of London is centrally situated making it easy to travel between the many local attractions in the area. In Tottenham and its neighbouring suburbs, you'll find Big Ben, Hyde Park, Maddam Tussauds Wax Museum, and The London Eye. Apart from these obvious choices, you can visit the Thames River and experience the different aquatic activities they have available like boat rides and the London Aquarium.
NEARBY CASINOS
Grosvenor Casino St Giles is in an area of London that is filled with casinos. Grosvenor Casino has a few casinos in the area, including Grosvenor Casino Russel Square, The Barracuda Grosvenor Casino, and Grosvenor Victoria Casino & The Poker Room. These Grosvenor Casinos offer the Grosvenor One membership and offer roulette, blackjack, and poker table games. There is also the Genting Casino chain with their nearby Genting Casino Crockfords, The Colony Club, and Genting Casino Chinatown.
Lola's Underground Casino
Merkur Cashino
GROSVENOR ONLINE CASINO GAMES
Grosvenor's online casino is a unique gaming experience because they try to integrate both their local UK casinos and their online casino in one seamless experience. This is accomplished with their Grosvenor One membership and e-Wallet. This wallet can be topped up in their local casinos as well as used in the various electronic gaming stations. No more hassle of having to upload money specifically for online gaming, now everything can happen with one wallet.
The games on Grosvenor's Online Casino are also everything you'll need, including table games and slot machines. The table games available are roulette, blackjack, and poker. Slot machines with progressive jackpots are also available. Popular slot machine titles are available.
Lucky Lady's Charm Deluxe
Well of Wishes
Dolphin's Pearl Deluxe
Pyramidion
Reel King Mega
Kingmaker Megaways
Rainbow Riches Megaways
LIVE CASINO GAMES
Live casino games are also available on Grosvenor's online casino and they feature real UK dealers. No more playing with a computer, these live casino games make you feel like you're in a casino. They have all the popular table games available in live casino form and they feature the same table limits.
Monopoly Live
Roulette Live
Perfect Blackjack
Deal or No Deal Live
Baccarat Live
CASINO RATING
Grosvenor Casino – St Giles Casino, London - Rating
Summary
This is the only Grosvenor Casino in the Tottenham area but one of a few in the central London area. This Grosvenor Casino has everything you'd find throughout their chain with a bar, table games, and slot machines. Make sure to sign up for the Grosvenor One membership if you want to take advantage of all its benefits.
Pros
Very friendly and helpful staff
Good service
Not overcrowded
Nice location
Cons
Limited parking spaces in the neighbourhood
No baccarat table
BASIC INFORMATION
Casino Name: Grosvenor Casino – St Giles
Location: London, UK
Address: 262 Tottenham Court Rd, Bloomsbury, London W1T 7RG, UK
Phone: +44 207 299 7600
Opening Hours: 24 / 7
Table Games: Yes
Slots: Yes
Dress Code: Smart Casual
Grosvenor Casino – St Giles Licensee: Grosvenor Casinos Limited Limited is licensed and regulated by the UK Gambling Commission (See licensee).
THE GROSVENOR CASINO – ST GILES CASINO IN LONDON ON A MAP