Genting Casino – Chinatown London Review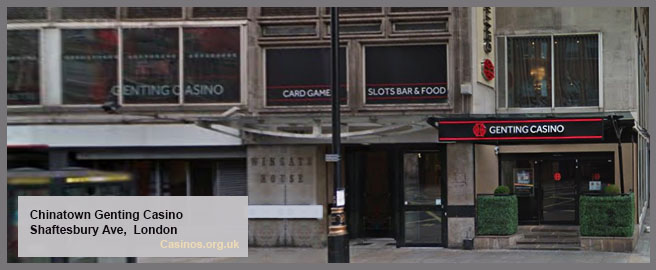 This Genting Casino is located in the London Chinatown close to many popular tourist attractions as well as other popular casinos. Genting Casinos owns multiple casinos throughout the UK, including four casinos in this area of London. London is home to some of the most prestigious casinos in London and Genting Casinos definitely makes sure to provide a quality gaming experience at all of their branches.
This casino is open 24/7 and provides a relaxed gaming environment compared to some of the most formal Genting Casinos in this area of London. The casino is open to the public, as long as you're over the age of 18, and has a wide range of gaming and dining specials.
GENTING CASINO – CHINATOWN LONDON GAMES
Genting Casino Chinatown London has all the games you'd expect to find in a quality casino, including table games and a large selection of slot machines. The table games are where most of the action goes down with plenty of Baccarat, Roulette, Poker, and Blackjack games to choose from.
Slot machines make up the majority of the games at the casino and they also offer progressive jackpots, including a £10,000 jackpot that is still growing.
CASINO GAMING OPTIONS:
American Roulette – 4 Tables [£1 – £200]
Blackjack – 4 Tables [£10 – £2,000]
Poker
Squeeze Baccarat
Baccarat – 5 Tables [£25 – £10,000]
Ur Way Egalite [£1 – £110]
Electronic Roulette – 1 Table with 6 multiplayer posts
Genting e-Tables

The Genting e-Tables are a unique addition to many local Genting Casinos. These luxury gaming stations are a great place for someone looking to sample different electronic games from the same game. These terminals come equipped with HD screens and comfortable armrest chairs. There are many games available including double spin roulette, 3-5 Multi-win poker, baccarat, as well as live dealer options – the same ones you'd find at Genting Online Casino.
GENTING CASINO – CHINATOWN LONDON DRESS CODE
Genting Casino Chinatown London has a smart-casual dress code meaning you won't have to dress up especially for the occasion. Although it's only smart-casual, this doesn't mean you can arrive wearing your favourite sports clothes or a sleeveless vest. Guests are asked not to come dressed in their work clothes, tracksuits, or sportswear. Offensive clothing should also be left at home to avoid disappointment.
FOOD & BEVERAGES
Genting Casino Chinatown London has a bar in the gaming area but if you're looking for something to eat you can head down to their restaurant. This restaurant is open 24/7 and is open to the general public. The restaurant provides an all-day menu that their Chef-prepared daily. There are also food specials available 5 nights of the week including a variety of traditional Chinese meals. The bar has all the alcoholic and non-alcoholic beverages you'll need, including an impressive wine list.
SPECIAL EVENTS
Genting Casino Chinatown London has a 'What's On' page on their website that regularly updates with their latest special events. These special events are usually focused towards members, but you'll also find different ones available to non-members, including their current "Slots Seat" special event. This event is open from 4pm – 5pm & 9pm – 10pm every day. People who are signed up for this event stand the chance of winning great prizes twice a day when a random seat number is drawn.
In addition to these random special events, their daily Genting Nights are available for all newcomers to the casino. For a small fee, you will be able to get a welcome drink, a snack, and learn how to place your favourite casino game in a non-gambling situation. Once you are satisfied with your training you can get a few bonus chips to use on your chosen game.
GENTING CASINO – CHINATOWN LONDON MEMBERSHIP INFO
The Genting Membership can be obtained by first registering online and then completing your registration at any one of Genting's local casinos. The online registration is simple and requires a 4-step process including e-mail verification, basic identity information, and your address.
Registering for the membership is free and will allow you to skip the queue at any local casino, as well as earning you access to the many members-only special events that Genting Casinos host each year. These membership benefits include reward points that can be used in the casino, restaurant, or bar; discounts; and free chips.
ACCOMMODATION & TRANSPORTATION
Genting Casino Chinatown London does not have its own parking available, so those travelling by their own car will have to use the public parking available on the street or just down the road in Q-Park Chinatown. Q-Park is a UK underground parking service that is available in the heart of Chinatown London. There are over 200 parking spots available and they have a fixed rate of £8 per hour up to a maximum of £50 for 24 hours. Once you park you will receive a contactless card that allows you to skip having to pay at a pay station, simply swipe your card upon exit and the transaction will automatically be handled.
There are plenty of accommodation options in this area of London. The closest option to the casino is The Piccadilly London West End, a 4-star hotel located a short walk away from the casino. If you're looking for a more upmarket option you can consider the W London on Leicester Square which is close to the casino and offers 5-star service.
LOCAL ATTRACTIONS
Chinatown is just next to St. James Park and is close to all the most famous attractions in London. With just a 10-minute drive you will be able to reach popular locations like the London Eye, Buckingham Palace, The National Gallery, and Hyde Park. These are only some of the options in the area that can keep you busy on your visit to the city of London.
Big Ben
Hyde Park
Buckingham Palace
St James Park
Gillian Lynne Theatre
Madame Tussauds London
Westminster Abbey
NEARBY CASINOS
The City of London is filled with casinos and all of them are within driving distance from Genting Casino Chinatown London. Depending on the type of casino you're looking for, you'll have a choice between regular casinos – like Genting Casino Chinatown and The Hippodrome Casino London – or more luxurious members-only casinos – like Crown London Aspinalls and The Ritz Club. These casinos all offer quality gaming, but the significant difference will be the type of gaming experience you're looking for. Regular casinos offer a wide selection of slot machines and generally only require guests to dress smart-casual, while members-only casinos mainly offer table games are require formal evening wear.
GENTING ONLINE CASINO GAMES
The Genting Casino chain offers its customers an online gaming experience in addition to their many local casinos. This online casino is fully equipped with the latest in online gaming, including progressive jackpots, slot machines, table games, and live table games. These online games are everything you'd expect to find in their local casinos.
You can register for their online casino on the homepage and immediately access all of their different games as well as their 100% welcome bonus for any first deposits between £20 and £100. Their online casino has recently undergone modernization and is very stylish and easy-to-use. From the home page, you'll find the 'casino', 'live casino', and 'sports' tabs – the three main gaming categories available.
The home page also lists their newest and most popular games. The 'New Games' category currently offers:
Roulette Live Crockfords
Lightning Dice
Side Bet City
Super Sic Bo
Deal or no Deal Live
While the 'Popular Games' category currently offers:
Genting Live Game Polly
Roulette Live Birmingham
Dream Catcher
Three-Card Poker Live
Football Studio
CASINO RATING
Genting Casino Chinatown, London - Rating
Summary
When visiting London, you won't need to travel far to get to Genting Casino Chinatown. This casino offers everything you'd need to satisfy your needs. Whether you're a member or not, this is a great place to play table games, slot machines, or just enjoy a bite to eat.
Pros
Good atmosphere
Good food and drinks
Good service
Helpful and friendly staff
Cons
Membership is required to enter
Relatively small casino
BASIC INFORMATION
Casino Name: Genting Casino – Chinatown London
Location: London, UK
Address: 93, 107 Shaftesbury Ave, Soho, London W1D 5DY, UK
Phone: +44 207 494 3020
Opening Hours: 24 / 7
Table Games: Yes
Slots: Yes
Dress Code: Smart Casual
Genting Casino – Chinatown Licensee: Genting Casinos UK Limited is licensed and regulated by the UK Gambling Commission (See licensee).
THE GENTING CASINO CHINATOWN IN LONDON ON A MAP