Grosvenor Casino – Leicester Review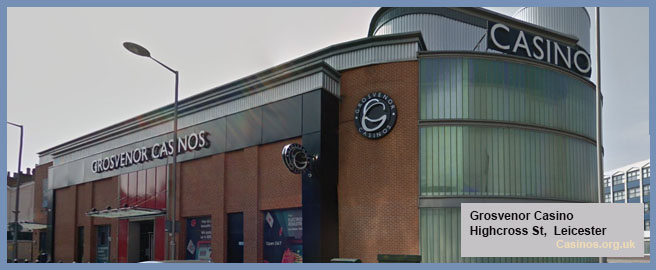 Grosvenor Casino Leicester has been a casino premise in Leicester for quite a while but was previously known as the Gala Casino Leicester. This casino is now part of the Grosvenor UK Casino chain which has casinos throughout the UK. You will find this casino to be one of the most fully equipped casinos in Leicester with a selection of table games, slot machines, and restaurant & bar. Grosvenor Casino Leicester is open 24/7.
GROSVENOR CASINO – LEICESTER GAMES
At Grosvenor Casino Leicester you will find a selection of table games including roulette, blackjack, and poker, as well as a large selection of slot machines and a few electronic roulette posts. These games are all located on their main gaming floor which is divided into the electronic and table gaming sections.
Apart from the regular casino games, you'll also find a brand new progressive blackjack side bet as well as regular cash poker games.
CASINO GAMING OPTIONS:
American Roulette – 11 Tables [£0.25 – £200]
Electronic Roulette – 98 Posts [£0.10 – £100]
Blackjack – 9 Tables [£1 – £500]
Jackpot Stud Poker – 2 Tables [£1]
Casino Stud Poker – 2 Tables [£2 – £50]
Card Poker – 2 Tables [£5 – £50]
Progressive Jackpot Slot Machines – 20 Machines [Up to £4,000 Jackpot]

GROSVENOR CASINO – LEICESTER DRESS CODE
You are not required to dress formally and smart-casual attire is acceptable. There are a few items that Grosvenor Casino Leicester does not allow to ensure the safety of its members and that everyone enjoys themselves. To prevent making other people uncomfortable, please refrain from wearing any vulgar/offensive clothing and if you have any offensive tattoos you are requested to please cover them up before arriving at the casino.
Headwear is also not allowed as it prevents the CCTV from getting a proper view of your face which is a requirement in UK casinos. Finally, smart-casual attire does not include sleeveless shirts, work clothes, sportswear, or tracksuits.
FOOD & BEVERAGES
There are a restaurant and bar available at Grosvenor Casino Leicester with a dining and lounging area available. In the lounge area, you will find the casino bar and a few HD TVs that are always showing the latest sporting events. The bar has an extensive list of drinks to choose from including soft drinks, beers, ciders, wine, sparkling wine, and spirits. Members buying from the bar will sometimes receive discounts and free items.
The restaurant offers a large enough menu so that you won't have to travel elsewhere for food. You will find different categories available including The Absurd Bird, Field & Fin, Barrel & Stone, The Real Grill, Kitchen Bites, and The Good Pud. These different categories each offer a different food type with chicken, fish, pizza, burgers, light meals, and tasty desserts all on offer. There is also a kids menu available should you decide to bring along the little ones.
SPECIAL EVENTS
Grosvenor Casino Leicester has a few special events that take place daily as well as more unique events that can be viewed from reception or their online website. The daily events include their Ace, King, Suited new progressive jackpot side bet and their daily Poker Cash Games. These two events are quite popular and allow gamers to win more than they usually would from these two games.
The Ace, King, Suited side bet is a progressive jackpot side bet that is available for as little as £1. There are different ways to win from this bet but all you'll need is an Ace to start winning. To win the jackpot you have to be dealt an Ace, King, suited.
The Poker Cash Games have their own schedule that is available online. There are three games that take place every night. During the week and on weekends the games start at 19:00 and end at 08:00, while on Sundays the cash poker games start slightly earlier at 18:00 and end at the same time. These games all have the same betting requirements with stakes starting at £20 and ending at £200. The blinds start at 50p and end at £1.
GROSVENOR CASINO – LEICESTER MEMBERSHIP INFO
Grosvenor Casino Leicester is part of the Grosvenor Casino chain and also offers the Grosvenor One membership available at all Grosvenor Casinos. Registration is free and requires you to first sign-up at the Grosvenor Casino Leicester before you complete the registration online. Once you have completed the registration online you will immediately earn a few bonuses for both their online casino and their local casinos, including a £30 welcome bonus and free spins on the Cleopatra online slots. Local casino visitors will receive discounts, immediate access to the casino, access to any members-only special events that occur, and £5 free if they bet over £25 on Sportsbook in a week.
ACCOMMODATION & TRANSPORTATION
Leicester is a large city with bus, train, and aeroplane transportation available. If you arrive by bus you can visit either the Causeway Lane or St Nicholas Circle bus stops which are both covered and are a 5-minute walk from Grosvenor Casino Leicester. Guests driving to the casino will need to get into the city centre onto Vaughan Way, which can be reached from the A607, A594, or A47. There isn't private casino parking available but the public parking lot just behind the casino is available 24/7.
Grosvenor Casino Leicester is close to a few popular accommodation options in the city all within 5-minutes' drive from the casino. Most of these options are within the same price range, with a few more luxurious options available:
Showcase Hotel Apartments – 2 Star
Travelodge Leicester Central – 2 Star
Showcase Apartments – High Cross – 2 Star
The Villare Hotel – 4 Star
St. Martins Lodge – 4 Star
LOCAL ATTRACTIONS
Leicester is considered by many as the birthplace of tourism, a place with many attractions to choose from. Cultural, historical, and natural attractions can all be found with many of them located close to the Grosvenor Casino Leicester in the city centre. The closest attractions to the casino are the Castle Park Gardens with picturesque walks along the River Soar, the New Walk Museum and Art Gallery, and the Pheonix Cinema and Art Centre. If you're willing to travel a few minutes further then you will reach the Mini Statue of Liberty, King Power Stadium, and the National Gas Museum Trust.
Annual Pride Parade
Largest Caribbean Carnival in the UK
Longest Running Comedy Festival in Europe
The National Space Centre
Golden Mile
Leicester Cathedral
NEARBY CASINOS
Grosvenor Casino Leicester is the only Grosvenor Casino in Leicester but it is not the only casino worth visiting when in the city. Close to Grosvenor Casino Leicester, you will find the Genting Casino Leicester which is part of another popular UK casino chain. The Genting Casino Leicester is fully-equipped and has one of the largest collections of table games in the city. This casino is located in the city centre less than 5-minutes' drive away from the Grosvenor Casino.
GROSVENOR ONLINE CASINO GAMES
The Grosvenor Online casino offers a unique gaming experience for those familiar with traditional brick-and-mortar casinos. By visiting the Grosvenor Casino website you will be able to find their various local branches as well as have direct access to their online casino games. Currently, Grosvenor Online casino has a collection of table games, slot machines, and live casino games.
Creating an account is easy and can be done by clicking 'join' on their website. If you are already a Grosvenor One member you should know that your membership applies to both the local casinos and the online casino. This membership allows you to deposit and withdrawal money straight into/from the online casino while at Grosvenor Casino Leicester
The most popular games at Grosvenor Online Casino are:
Reel King Mega
Live Roulette
Live Blackjack
Well of Wishes
Book of Ra Deluxe
20p Roulette
First Person Roulette
Book of Ra: Temple of Gold
Cleopatra online Slots
Dragon's Luck
LIVE CASINO GAMES
Grosvenor online casino has a live casino game category which includes various table games with real UK dealers. Not only will you find Live Roulette, Blackjack, and Baccarat, but also popular titles such as Deal or No Deal Live, Foxwood's Roulette, and Monopoly Live.
CASINO RATING
Grosvenor Casino, Leicester - Rating
Summary
Whether you're in Leicester for holiday or just passing through, if you love casino games then you need to consider the Grosvenor Casino Leicester. It is one of the best casinos in the city and has more than enough food, drinks, and games to keep you entertained for hours on end. Make sure to stop at one of the many tourist attractions which are a few minutes away from this top-quality Leicester casino.
Pros
Good relaxed atmosphere
Friendly and helpful staff
Good number of tables
Good food
Cons
Busy parking
You have to register a car to avoid getting a parking ticket
On some nights tables are crowded
BASIC INFORMATION
Casino Name: Grosvenor Casino – Leicester
Location: Leicester, UK
Address: 90 Highcross St, Leicester LE1 4NN, UK
Phone: +44 148 242 8060
Opening Hours: 24 / 7
Table Games: Yes
Slots: Yes
Dress Code: Smart Casual
Grosvenor Casino Licensee:Grosvenor Casinos Limited Limited is licensed and regulated by the UK Gambling Commission (See licensee).
THE GROSVENOR CASINO IN LEICESTER ON A MAP