Genting Casino – Leicester Review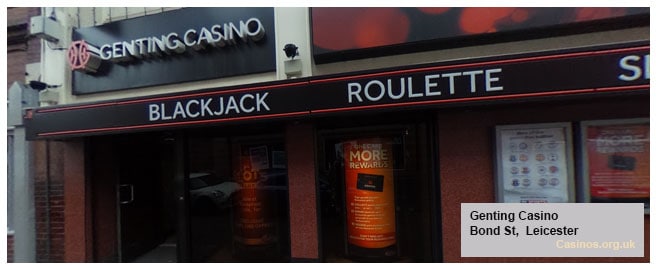 In the heart of Leicester City in central England, you will find Genting Casino Leicester. This casino is part of the Genting Casino chain which operates top-class casinos throughout the UK. Genting Casino Leicester has table and electronic games available, as well as a membership, and other amenities such as a bar and the latest live sporting action.
If you're visiting Leicester looking for a quality casino, then this is one of four casinos in the city center. It is near to the other casinos and also within driving distance from many popular tourist attractions in the city.
GENTING CASINO– LEICESTER GAMES
Genting Casino Leicester was originally known as the Stanley Casino Leicester and has since undergone a renovation which modernized the gaming area and introduced new gaming tables and all the most modern electronic games. You'll be able to find a collection 9 table games, including 2 tables with 20 electronic roulette posts, as well as plenty of slot machines. The game limits are set per table but higher limits are available if you contact management.
CASINO GAMING OPTIONS:
American Roulette – 4 Tables [£1 – £100]
Blackjack – 2 Tables [£3 – £500]
Blackjack Aces – 1 Table [£1 bets only]
Electronic Roulette – 2 Tables / 20 Posts [£0.10 – £100]
Slot Machines
Genting e-Tables
The blackjack tables are all automatically shuffled but if you'd prefer you can pay a £25 to have them hand shuffle the cards for your table. Blackjack is also where you'll find the popular Blackjack Aces side bet on one table. This side bet is available for £1 and has a progressive 'Mega' jackpot that is currently over £100.000 and rising. There are multiple ways to earn from this side bet and all you need to do is get dealt an Ace with your first card to start winning. Other Genting Bonus side bets are Pairs, Super 3, and Ultimate 3 [The Ultimate 3 side bet is not available if the deck is being manually shuffled].

Genting e-Tables are also available for those interested in playing a large selection of electronic games from the comfort of a high-definition terminal with armchair. These e-Tables also have live dealer options with 3-5 multi-win poker, baccarat, roulette, and blackjack.
If you prefer big jackpots, then the Link Jackpots available at Genting Casino Leicester are definitely up your alley. They feature the latest Novomatic Power Link which has the added excitement of progressive jackpots linked throughout Genting Casino with a grand jackpot of up to £5,000.
GENTING CASINO – LEICESTER DRESS CODE
Smart-casual is the dress code for Genting Casino Leicester. This is the standard dress code for most quality casinos in the UK and allows gamers to dress as they please as long as they don't look presentable. Smart shorts and t-shirts are allowed but nothing that resembles swimwear, sleeveless vests, or sportswear. Please remember no headwear is allowed inside the casino as this prevents the CCTV from identifying you.
FOOD & BEVERAGES
The Late Bar is the on-site food and beverage option with waiters serving gamers from their table or from the comfortable lounge area which also houses their various HD TVs streaming the latest sporting events.
This is a competitively priced bars with popular drinks like a pint of Stella going for £4.10 and Becks going for £3.50. These draughts are properly served at an extra cold temperature that you desire. Apart from beers and ciders, the Late Bar also has a wine list and a large selection of spirits including Grey Goose Vodka, Bombay Saphire, Captain Morgan Rum, Remy Martin XO, and many more. Cocktails and coffees are also available.
If you're looking for something to eat you can check out the Late Bar's menu. There aren't any three-course meals available but there are plenty of light meals to keep you satisfied while at the casino. If you'd like to purchase one of the various gaming packages available your night will begin with a complimentary drink and a snack from the bar for as little as £14.
SPECIAL EVENTS
Genting Casino Leicester is always updating it's "What's On" list with their latest special events. From live TV action to gaming events and discounts, there's always something to improve your evening. All sporting events, including the upcoming Rugby World Cup, will be shown from their HD TVs located in their bar lounge.
If you're looking for something more gaming orientated then you should look for their special gaming packages available every day. These packages are perfect for new gamers, allowing you to take advantage of discounted rates and a free tutorial. There are two packages available, the Big Deal Package and the Jackpot Package. The Big Deal package is available for £14 and entitles you to a welcome drink, a learning experience for blackjack or roulette, and a £20 Spin to Win Voucher for roulette or a £5 Free Play voucher for blackjack. The Jackpot Package includes a delicious bar snack for only an extra £4.
GENTING CASINO– LEICESTER MEMBERSHIP INFO
Genting Casino Leicester offers a free casino membership. The membership allows gamers to earn points based on how much they play which can then be redeemed for bar discounts as well as access to promotional members-only events and the ability to skip the queue at the door. Registration is completed online and can be done before your first visit.
ACCOMMODATION & TRANSPORTATION
Genting Casino Leicester is located on 17 East Bond Street in central Leicester. There are bus stops close to the casino which is both step-free and offers dropped kerbs making it easily accessible for wheelchair users. There is a public car park available in front of the casino if you choose to drive. You can travel over the A563 into Central Leicester where you drive to Vaughan Way and turn onto East Bond Street.
The Leicester train station is in the city centre a 7-minute drive from the casino with taxis and a bus stop available. Leicester Airport is another option for those travelling from further away. The airport has a bus, taxi, and rental car services available but is slightly further away with a 20-minute drive required.
There are plenty of accommodation options less than 5 minutes away from the casino, including:
Leicester Serviced Apartments
Highcross House Hotel
Travelodge Leicester Central
The Village Hotel LTD
St Martin's Lodge
LOCAL ATTRACTIONS
Leicester has many local attractions that make it one of the leading tourism destinations in the UK. Often considered the birthplace of tourism, Leicester is home to many popular attractions including the longest-running comedy festival in Europe. Apart from comedy, you'll also be able to visit the annual Pride Parade, the Caribbean Carnival, and the hometown of Sir David and Lord Richard Attenborough.
If you're looking for an Indian cultural experience then you should visit the Golden Mile which is home to many authentic Indian restaurants and shops that make for a great cultural experience. Other attractions include:
The National Space Centre
Molden Mile Indian Restaurants and Shops
King Power Stadium home of Leicester Football Club
Leicester Cathedral
Grand Union Canal
Leicester Market
NEARBY CASINOS
There are 5 casinos located in Leicester with the only two of them in the city centre. Genting Casino Leicester and Grosvenor Casino Leicester are the only two casinos in the city centre and they are the most upmarket casinos in the city. Grosvenor Casino is another well-known UK casino chain that offers table games, electronic games, a membership, and an online casino.
Maverick Casino
Acoms Fun Casino
Admiral Casino Coalville
GENTING ONLINE CASINO GAMES
Genting Casino doesn't stop with their brick-and-mortar casinos, you can also visit their online website to play casino games from their online casino. Their online casino includes table games, slot machines, and live casino games for those who prefer to play with live UK dealers. The gaming categories are divided into jackpots, roulette, blackjack, video poker, and slots. The most played list features popular games from all of these categories.
Roulette Live from Mayfair
Lightning Roulette
Starburst
Narcos Video Slot
Gonzos Quest
Return of Kong
Dead Alive II
Ozwin's Jackpot
Speed Roulette
Valley of the Gods
LIVE CASINO GAMES
Live Casino games available at Genting Casino include roulette, blackjack, monopoly, deal or no deal, sic bo, and craps. These games are listed according to the popularity and are all hosted by real UK dealers. Most of the games are hosted at private locations, but a few of these live games are hosted directly from certain Genting Casinos in the UK like Roulette from Edinburg, Roulette from Birmingham, and Roulette from Manchester.
CASINO RATING
Genting Casino, Leicester - Rating
Summary
Genting Casino Leicester is all you'll need to enjoy a proper casino experience while in Leicester. Their fully-stocked bar means you'll never go thirsty or hungry while playing their large selection of table and electronic games.
Pros
Nice friendly atmosphere
Friendly staff
Good food
Feels like a safe place
BASIC INFORMATION
Casino Name: Genting Casino – Leicester
Location: Leicester, UK
Address: 17-19 E Bond St, Leicester LE1 4SU, UK
Phone: +44 116 262 5036
Opening Hours: 11am – 6am
Table Games: Yes
Slots: Yes
Dress Code: Smart Casual
Genting Casinos Licensee: Genting Casinos UK Limited is licensed and regulated by the UK Gambling Commission (See licensee).
THE GENTING CASINO IN LEICESTER ON A MAP