Napoleons Casino & Restaurant – Hull Review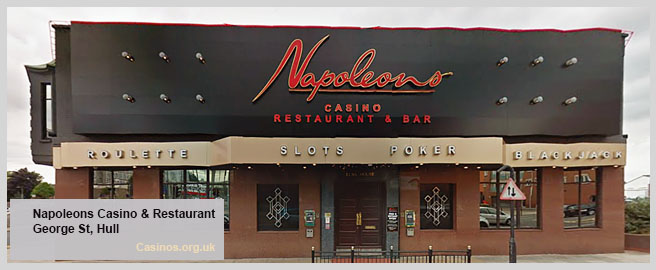 Overlooking the River Hull on 193 – 203 George Street is Napoleons Casino & Restaurant which is probably the best casino experience in the city. We say probably because there is the Grosvenor Casino in Hull which does run it close for that title.
From being greeted by friendly and smiling staff, to being able to enjoy regular live entertainment, the experience at Napoleon's is certainly one of the best around. All the major casino games are available including a lively poker room that hosts daily cash games.
Napoleons Casino & Restaurant is open from 2 pm Monday to Friday, from 4 pm on Saturday and 6 pm on Sunday and will close at 6 am all week long. As well as a good variety and number of gaming options, you will also be able to enjoy a fine dining experience in the in-house restaurant as well as two lively bars.
NAPOLEONS CASINO & RESTAURANT – HULL GAMES
As you might expect, the centre of the gaming floor is where you will find the classic table games and here you will be able to enjoy American Roulette, Blackjack and Three Card Poker. In total there are 10 gaming tables which will all have varying betting limits.
There's also a fair few roulette terminals dotted around the casino and these will give you a low-risk gambling experience that could leave you walking out of the casino with a good amount of profit in your pocket.
The area where the two bars are located on the gaming floor is where you will find the majority of the casino's slot machines. These will provide jackpots of up to £10,000 and are modern video slots that offer fun, thrills and the potential for big wins.
CASINO GAMING OPTIONS:

Cash poker games are also run daily at Napoleons in their dedicated poker room while tournaments are held on Tuesdays, Fridays and Sundays. They even run a special ladies-only poker tournament on the first Wednesday each month and hand out a free glass of champagne and some snacks to help encourage more women to learn and play the game.
NAPOLEONS CASINO & RESTAURANT – HULL DRESS CODE
The majority of casinos in the UK adopt a smart casual dress code and that is no different at Napoleons Casino & Restaurant. This does not mean you have to dress like you are going to a wedding but you should at least look presentable when attempting to gain entry.
Football shirts, caps, offensive tattoos and T-shirts, and sportswear will be refused. Trainers, jeans and T-shirts, on the other hand, will be allowed as long as smart looking.
FOOD & BEVERAGES
A common theme that you will find throughout the Napoleons brand is their dedication to providing a premium quality dining experience from within their casinos. At their Hull venue, the restaurant covers two floors with the upper floor looking directly over the gaming floor.
Affordable but to a very good standard, the menu on offer is tailored to suit a variety of tastes. Open between 6 pm and 10 pm Monday to Saturday and between 1 pm and 9 pm on Sundays, you can enjoy everything from burgers, grills and mains to a full three-course meal. Vegetarian, Vegan and Gluten-Free alternatives are also readily available.
Additionally, there are two bars at Napoleons. These are situated right next to each other rather oddly but still, they offer guests the ability to take the weight off their feet, chat with friends or simply take stock of their performance on the gaming floor.
SPECIAL EVENTS
Napoleons Casino & Restaurant prides itself on the overall experience of its guests rather than just the gaming that their casino offers. A big part of this is the entertainment that they provide aside from that gaming and this includes live entertainment weekly each Friday and monthly quiz nights.
As for special promotions, there is always some kind of deal or discount in the restaurant and the best way to keep tabs of these is to follow the casino on social media.
NAPOLEONS CASINO & RESTAURANT – HULL MEMBERSHIP INFO
As long as you are over 18-years old and can prove it upon request, you will be permitted to enter Napoleons Casino. Membership is not required but we always recommend this for all casinos as it is free and will bring certain benefits.
While there is no rewards scheme right now included as part of the membership to Napoleons, there are still some good benefits. You will be privy to some promotions, bonuses and discounts that non-members will not be.
In order to register for membership, you have two options. You can simply bring photographic identification such as a passport or driving license to the casino and have it done there or you can start the process online at their website by printing and filling out the form.
ACCOMMODATION & TRANSPORTATION
Napoleons Casino & Restaurant is directly off the A165 if you are coming in by car and there is plenty of free parking provided by the casino around the corner on Wincolmlee. Additionally, your best bet for public transport is to use the bus on the 9A, 10 and 220 bus routes. Each will stop directly at the casino.
The Kingston Theatre and The Crossings represent the most convenient hotels for accommodation near the casino but there are plenty more options throughout the city.
LOCAL ATTRACTIONS
A port city in the UK, Hull goes right back to 1292 and is therefore crammed full of history and architecture for you to explore when not in the casino. It might not be one of the exciting cities in the world but you will be surprised at the quality of the hidden gems that you can find here when sightseeing.
How about taking a look at the Humber Bridge, the world's second longest suspension bridge or the Deep, the world's deepest submarium? As well as those two excellent attractions, you could take in one of the many interesting museums in the city.
Wilberforce House
Hull Maritime Museum and the Museum Quarter
The Hull and East Riding Museum
Humber Bridge
Holy Trinity Church
NEARBY CASINOS
There is just one other casino in Hull if you were looking to widen your experience of land-based casinos and that is the Grosvenor Casino in the city. Similar in size to the Napoleons Casino & Restaurant in terms of gaming floor and also offering a poker room, this would make a good alternative casino to visit. It does not have a restaurant though, so Napoleons might offer a better all-around experience.
Alternatively, you could also travel to Leeds and Sheffield, two nearby cities that also have three casinos apiece.
CASINO RATING
Napoleons Casino & Restaurant, Hull - Rating
Summary
There might only be a handful of Napoleons Casinos & Restaurants in the UK but they really are providing visitors with an exceptional night out. Not only via their diverse mix of classic table games, slots and electronic roulette terminals but also due to their impressive restaurant, two bars and the regular entertainment that they host.
If you have yet to try out Napoleons in Hull, you really are missing out on a good night that does not have to cost much and will live long in the memory.
Pros
Great food and drinks
Very friendly and helpful staff
Great atmosphere
Very good service
Cons
Trying to enter with a non-members could take more time than expected
Overcrowded at some nights
BASIC INFORMATION
Casino Name: Napoleons Casino & Restaurant – Hull
Location: Hull, UK
Address: 193 George St, Hull HU1 3BS, UK
Phone: +44 148 222 1133
Opening Hours: 2PM – 6AM
Table Games: Yes
Slots: Yes
Dress Code: Smart Casual
Napoleons Casino & Restaurant Licensee: The A&S Leisure Group is licensed and regulated by the UK Gambling Commission (See licensee).
THE NAPOLEONS CASINO & RESTAURANT IN HULL ON A MAP