Grosvenor Casino – Hull Review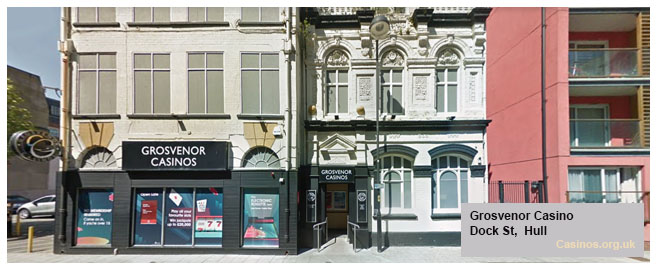 Grosvenor Casino Hull, part of the Grosvenor Casino Chain, used to be known as the Gala Casino. This casino is a medium-sized casino in the city of Hull and the only one of the Grosvenor Chain in the city.
The casino is located on Dock Street in the city center. It's close to the Humber River and is close to many of the cities popular tourist attractions – just opposite the historic Queens Gardens. You'll find a collection of table and electronic games as well as various poker tournaments and promotional events. They don't only offer casino games, but also a bar, poker room, and access to the latest live Sky Sports viewings.
GROSVENOR CASINO – HULL GAMES
Grosvenor Casino Hull has updated its premises since changing from the original Gala Casino, but the size of the casino is still the same. However, you will find the addition of a new poker room which hosts various poker tournaments throughout the year. Poker tournaments and daily cash games can be enjoyed in this area.
In addition to the poker room, you'll also find a few 3-card poker, casino stud poker, and jackpot stud poker tables on the main floor, as well as American roulette, blackjack, electronic roulette, and a decent collection of the latest slot machine titles.
CASINO GAMING OPTIONS:
American Roulette
Casino Stud Poker
Jackpot Stud Poker
Electronic Roulette

The poker games are divided between the poker room and the main gaming floor. The poker tournament schedule is updated when a new event is hosted, but regular cash games take place every day from 20:00 until 05:00. The games have a minimum stake of £20 and a maximum of £200. These are rake games with only 2 tables available.
GROSVENOR CASINO – HULL DRESS CODE
Grosvenor Casinos wants its guests to be comfortable and only requires a smart-casual dress code – no fancy dress required. The only requirement is that guests refrain from wearing certain items including headwear, sportswear, tracksuits, and vests.
FOOD & BEVERAGES
Grosvenor Casino Hull has its own bar that offers drinks and bar snacks. It isn't a restaurant, but there's enough food available to keep you satisfied. Their main speciality is their drinks menu with a selection of beers, ciders, wines, and spirits. Grosvenor Casino Hull bar also has various specials available to members-only including discounts and free items from the menu. If you're a member you'll also be entitled to free soft drinks and hot drinks while playing.
SPECIAL EVENTS
Special events are what make the Grosvenor Casino chain so popular to gamers – there is always something to keep you entertained. Depending on whether you're a member or not you will be entitled to different special events. There are a few special events that are available to the public, including poker tournaments, cash poker games, progressive stud poker jackpots, blackjack progressive jackpots, and electronic roulette promotions.
Members are entitled to more special events and promotions, all of which can be viewed from the membership page on their website. These special events include discounts from the bar, free items, and other special gaming rewards. Currently, members can enjoy £20 slot bonuses, free desserts, free soft drinks, instant prizes in poker, and hot seat prizes. All of these events are available for a limited time only before new events replace them – so make sure you get involved while they're available.
GROSVENOR CASINO – HULL MEMBERSHIP INFO
Grosvenor One is the official membership of all Grosvenor Casinos. This is a unique membership opportunity as it allows gamers to become a member of both their online and brick-and-mortar casinos. Registering for the membership is easy and must be done at one of their local casinos. The registration is entirely free and you'll immediately receive a £30 welcome bonus on your first online login. Make sure you come with a valid ID because it will be required for registration.
This membership is very beneficial as it allows you to enjoy various online and local casino promotions including discounts, bonuses, free spins, and instant prizes. Not only that, but the Grosvenor One membership also allows gamers to directly deposit or withdraw money to/from their online accounts from any Grosvenor Casino throughout the UK.
ACCOMMODATION & TRANSPORTATION
Hull is one of the smaller major cities in England located East of Leeds in Northern England. Travelling here can be done via train or from the major M62 road that arrives from Leeds. There is also a harbour which can be used to travel to Hull via boat from the UK and even some European countries. Once in Hull, you'll need to get on the A165 before entering the city centre. Here you will find the Grosvenor Casino Hull directly opposite the famous Queen's Gardens and the Plaque Commemorating Robinson Crusoe.
If you're travelling with your own transportation you will be pleased to find private casino parking that is available every day from 7 pm until 7 am. During off-peak times the parking is still available but it is not privately used by the casino and might be busy. Alternatively, you can use the nearby Queen's Gardens bus stop which is a short walk away from the casino.
Hull isn't the largest city but they do have a considerable amount of hotels due to the high number of tourists that travel through here each year. In the city centre you have a few options within 5 minutes' drive from the casino:
Burlington Tavern & Hotel – 3 Star
The Kingston Theatre Hotel – 3 Star
The White Hard Hotel – 3 Star
Holiday Inn Express Hull City Centre – 3 Star
LOCAL ATTRACTIONS
Hull started in the 12th century as a small port city started by Monks and slowly grew into an important thoroughfare. It isn't the most famous tourist destination in the UK but there's definitely more than enough to keep you active during your break from the casino. Opposite the casino, you will find the Queens Gardens which has beautiful walks and also houses the Robinson Crusoe Memorial Plaque. Hull is also known as the city of culture and has a few popular spots to check out.
Old Beverley Gate – the site that started the English Civil Wars in 1962.
Free Museums – Including Ferens Art Gallery, Hull & East Riding Museum, and Wilberforce House.
Queens Gardens
Humber Suspension Bridge
NEARBY CASINOS
Don't let its size fool you, Hull is home to quite a large collection of casinos including many popular UK casino chains like Grosvenor Casinos, Admiral Casinos, and Merkur Cashinos. There are currently 14 casinos located in the city spread between the city centre and surrounding suburbs.
The main location for casino activity is in the city centre where 7 of the 14 casinos can be found. Here you will find two Admiral Casinos, 3 Merkur Cashinos, the Grosvenor Casino Hull, and also the Napoleons Casino.
GROSVENOR ONLINE CASINO GAMES
The Grosvenor Casino chain doesn't stop with regular casinos, they also have a fully-equipped online casino that can be accessed from their website. Here you will find information about their local casinos, how to register, and all the different online gaming categories including table games, electronic games, live games, and sportsbook. Most of the online games are slots, but Grosvenor Casino also offers many table and live games to recreate the perfect casino experience.
The Grosvenor One casino membership also applies to the online casino and you'll find many online exclusive promotions including a welcome bonus, free spins, and £5 every week if you bet £25 on Sportsbook.
Various online payment methods are accepted, including PayPal, VISA, MasterCard, Maestro, and PaySafe Card. Grosvenor Online Casino is also regulated by The UK Gambling Commission and tries to ensure responsible gaming for all its member by preventing gambling addiction and underage gambling – all online gamers must be over the legal UK gambling age of 18.
The online games are divided into the following categories:
Live Casino
Slots & Games
Jackpots
Table & Card
Poker
Sport
LIVE CASINO GAMES
A good online casino needs to have the latest live casino games to be popular and Grosvenor Online Casino has 16 different live tables to choose from. The live casino games include various table games like Blackjack, Baccarat, and Roulette, but they also have a few unique additions including Deal or No Deal, Monopoly, and Vegas-Style (Foxwoods) Roulette which is hosted directly from the USA.
CASINO RATING
Grosvenor Casino, Hull - Raiting
Summary
A fully-equipped local casino, food, drinks, live sporting entertainment, and the ability to control both your online and local casino memberships with one account makes Grosvenor Casino Hull one of the leading casinos in the city. This casino is nothing short of the high-quality casino you should expect from any Grosvenor Casino in the UK and is a great place to enjoy a few games while in the city. It is also nearby to many other popular Hull casinos, making it an easy place to start your gaming adventure.
Pros
Very friendly and helpful staff
Good atmosphere
Good food
Cons
Small selection of slots
Small card room
BASIC INFORMATION
Casino Name: Grosvenor Casino – Hull
Location: Hull, UK
Address: 15-16 Dock St, Hull HU1 3DL, UK
Phone: +44 148 242 8060
Opening Hours: 12pm – 6am
Table Games: Yes
Slots: Yes
Dress Code: Smart Casual
Grosvenor Casino Licensee:Grosvenor Casinos Limited Limited is licensed and regulated by the UK Gambling Commission (See licensee).
THE GROSVENOR CASINO IN HULL ON A MAP