Genting Casino – Manchester Review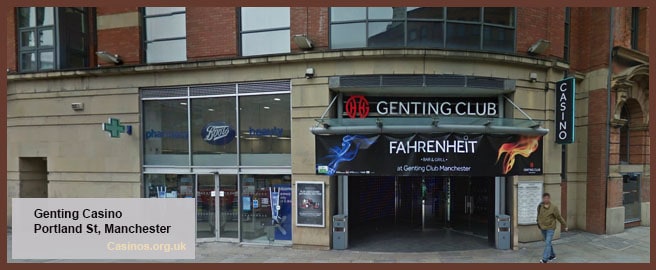 Genting Casino Manchester, previously known as The Circus Casino, is one of two Genting Casinos in the city of Manchester. Manchester is one of the most heavily populated cities in England with plenty of local attractions, casinos, and accommodation options to choose from. The casino is open 24/7 and is located in the heart of Manchester in-between the Manchester Art Gallery and Palace Theatre.
This is one of Genting Casinos largest branches and features popular games like roulette, blackjack, poker, baccarat, and electronic games. The membership available at Genting Casino Manchester is optional and does not cost any money. Guests visiting Genting Casino for the first time can make use of the membership and their 'Genting Nights' specials to make the most out of their gaming experience.
GENTING CASINO – MANCHESTER GAMES
Genting Casino Manchester is one of the largest Genting Casinos in the UK and one of the largest casinos in Manchester. Genting Casino offers all the most popular table game titles like American roulette, blackjack, three card poker, and baccarat, as well as offering a fully-stocked electronic gaming section complete with electronic gaming posts, slot machines, and link jackpots.
CASINO GAMING OPTIONS:
American Roulette – 8 Tabless [£1 – £200]
Blackjack – 8 Tables [£3 – £1,000]
Poker – 2 Tables [£3 – £100]
Electronic Roulette – 30 Posts [£0.10 – £100]
Baccarat – 6 Tables [£5 – £3,000]
Novomatic Magic Progressive Jackpots
Genting e-Tables

GENTING CASINO – MANCHESTER DRESS CODE
Guests visiting Genting Casino Manchester will not need to dress formally as smart-casual attire is accepted. As long as you arrive dressed reasonably and not wearing anything offensive to other players you won't be denied access. Make sure you leave your favourite sports clothes and headwear at home.
FOOD & BEVERAGES
The Fahrenheit Bar available at Genting Casino Manchester isn't going to provide you with full meals, but they have all the alcoholic and non-alcoholic drinks you'd expect as well as a light meal menu which is available throughout the day. Order from the bar and enjoy your drink in the lounge while watching HD TV or order from a waiter while gaming.
SPECIAL EVENTS
There's always a special event taking place at Genting Casino Manchester, ranging from gaming events to specials at the bar. If you're visiting a Genting Casino and went to benefit from the most special events then you should definitely consider becoming a member. Although there are many non-member special events, most of the promotional events and bonuses are available exclusively to members. Considering the membership is free and can be done before visiting the casino, it's a no brainer.
Fizz Friday, Fortune 8, and Genting Casino Manchester Cocktail Master Class are the three main events currently taking place. Fizz Friday is just a promotional event at the bar that takes place every Friday. Their Fahrenheit Bar serves prosecco for only £15 from 5 pm until 9 pm. The Cocktail Master Class is another bar event but this time you'll be learning how to make cocktails. Join their talented mixologists to learn a variety of tips. Choose from their different packages to receive one-hour tuition, two free cocktails, and a shooter.
If you're looking for gaming events then the Fortune 8 special event is for you. This special baccarat event offers a minimum jackpot of £2,000 and is a great way to rack up some extra coin on your night out. The more consecutive banks you have, the higher the payout you'll receive. 12 Banks will earn you the maximum payout but there are other prizes to be won at 8, 9, and 11 Banks.
GENTING CASINO – MANCHESTER MEMBERSHIP INFO
Genting Casino Manchester offers the same membership available at all of Genting's UK Casinos. For no fee, you can sign up and receive access to all the latest members-only events. If you're interested in earning reward points, discounts, and instant prizes, then the Genting Membership is a great option. Registration is simple, all you have to do is go online, register, and complete the process at any one of their local casinos – it's that simple.
ACCOMMODATION & TRANSPORTATION
Located in the centre of Manchester, Genting Casino Manchester is quite easy to travel to but finding your own parking might be difficult. There is no casino parking available but the public car parks available in the city centre should be enough. It's also important to know that there isn't a designated 'drop-and-go' area by the casino which means you will have to stop a little bit further down the road and walk.
There are also public transport options in the area with a nearby bus stop located just down the road on New Elm Road.
If you're travelling from quite far you could also visit Manchester Airport. This is one of the largest airports in the UK and has plenty of domestic flight options. The casino is located a 20-minute drive away from the casino in the South of Manchester but there are bus, taxi, and car rental services to choose from.
Manchester City Centre is filled with accommodation options of different price ranges. Depending on what you're looking for, the following hotels are close to the casino:
Radisson Blu Manchester – 5-star Hotel
The Midland – 4 –star Hotel
Hotel Gotham – 5-star Hotel
Mercure Manchester Piccadilly – 4-star Hotel
LOCAL ATTRACTIONS
Manchester is one of Englands largest and most well-known cities and has plenty of tourist attractions. If you're visiting Genting Casino Manchester you are in luck, this casino is located close to most of these local attractions with options like Old Trafford, Etihad Stadium, The Lowry, and the National Football Museum all a short drive away from the casino.
Castlefield is a beautiful natural location in the city boasted as an 'Urban Heritage Park'. This is an excellent place to begin exploring Manchester with old canals, restored Victorian houses, and even a reconstructed Roman fort.
Museum of Science and Industry
Manchester Cathedral
National Football Museum
Chetham's Library
NEARBY CASINOS
Manchester is filled with casinos, especially in the city centre. Genting Casino Manchester is located near many of the most popular gaming spots in Manchester, including Grosvenor Casino Manchester, Manchester 235, and the Admiral Casino Manchester. There are 6 casinos in the city centre and a further 5 casinos in the greater Manchester area. You'll also find other casinos in the nearby town of Stockton with another 4 options to choose from.
The other Genting Casino in Manchester, Genting Casino Salford, is located along the Inwell River in Northern Manchester and is one of the furthest casinos from Genting Casino Manchester. Here you will be able to use your Genting Reward Points and play a variety of table and slot games.
365Play
Admiral Casino Manchester
Admiral Casino Salford Shopping Centre
Grosvenor Casino Manchester Bury New Road
GENTING ONLINE CASINO GAMES
Genting Casino Manchester doesn't only offer its clientele a top-class local casino, but their Genting Online casino is available for all casino enthusiasts. This online casino offers gamers experience as close to a traditional casino as possible, with a wide variety of games and even live dealers. The games available at Genting Online Casino are exactly as you'd expect to find in Genting Casino Manchester, with table games, slot machines, and plenty of progressive jackpots to choose from.
Registration is simple and can be done online within minutes. As soon as you've registered you will be able to make your first deposit and earn your 100% match welcome bonus of up to £30.
All of their online games are divided between the 'casino', 'live casino', and 'sports' categories with some of the latest and most popular casino games available.
Live Roulette from Crockfords
Dream Catcher
Baccarat No Commission
Three Card Poker
Football Studio – Sportsbook
LIVE CASINO GAMES
If you prefer playing with real people then Genting Online Casino is a great choice. Their live casino games feature real UK dealers and they have over 30 live games to choose from. The most popular of these games are listed first and currently includes:
Exclusive Roulette Live From Manchester
Lightning Roulette
Free Bet Blackjack
Genting Live Blackjack
Monopoly Live
Baccarat Live
Ultimate Texas Hold 'em Live
You will notice that some of the live games simple say 'live' while others say 'live from…'. The regular live games are hosted from undisclosed locations throughout the UK but still feature the same live UK dealers. The 'live from' games, however, offer a unique live casino experience because they are hosted directly from various Genting Casinos in the UK. For example, if you play on the Roulette Live From Birmingham game you will be joining an actual roulette game being played from Genting Casino Birmingham. These games are often on the 'most popular' live casino game list.
CASINO RATING
Genting Casino, Manchester - Rating
Summary
Genting Casino Manchester is one of two Genting Casinos in the city but this branch has been a casino gaming location in the city for many years prior. Its central location and gaming options are popular among gamers visiting Manchester. Their Genting Membership is also a great way to benefit from Genting Rewards whenever you travel to any Genting Casino in the UK.
Pros
Good selection of games
Nice atmosphere
Friendly and helpful staff
Good food and drinks
BASIC INFORMATION
Casino Name: Genting Casino – Manchester
Location: Manchester, UK
Address: 110 Portland St, Manchester M1 4RL, UK
Phone: +44 161 228 0077
Opening Hours: 24 / 7
Table Games: Yes
Slots: Yes
Dress Code: Smart Casual
Genting Casino Licensee: Genting Casinos UK Limited is licensed and regulated by the UK Gambling Commission (See licensee).
THE GENTING CASINO IN MANCHESTER ON A MAP