Genting Casino – York Place Review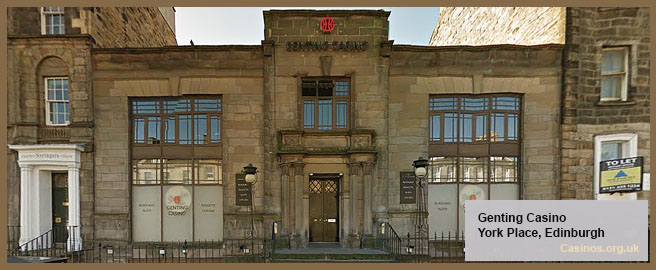 With more than 40 venues, Genting is one of the largest chains of casinos in the UK. There are two Genting Casinos in Edinburgh with this one at 5b York Place being one of them. As the smallest casino in the city, you might be tempted to try out the other Genting or the Grosvenor Casino but size is not always everything when it comes to a casino experience.
Offering a friendly yet lively atmosphere, a good selection of gaming options and a thriving late bar, you still do have everything that you might need from a night out at a casino.
Open from 2 pm to 6 am all week long, you will be able to enjoy all of the popular table games such as roulette, blackjack, 3-card poker and baccarat. Additionally, there is a good selection of slot machines and electronic roulette terminals to choose from.
GENTING CASINO – YORK PLACE GAMES
You will find 9 gaming tables in total on the floor at this Genting Casino and while that is not nearly as many as the other Genting Casino in Edinburgh, it will still be more than enough to keep you entertained. Those tables include firm favourites such as Roulette and Blackjack while you can also experience something a little different at the Baccarat and 3-Card Poker tables.
Dotted around the casino are numerous roulette machines and slot machines. The latter will either give you the potential to scoop a jackpot of £10k or even better a progressive jackpot that could be much higher.
CASINO GAMING OPTIONS:
A little disappointing is the fact that there is no dedicated poker room at the Genting Casino in York Place. This means no cash games or tournaments and this has to be due to the size of the casino being quite small.

Both of the other casinos in Edinburgh have poker rooms so we suggest going to the Genting Casino at Fountain Park or the local Grosvenor Casino if you wanted to enjoy some poker action.
GENTING CASINO – YORK PLACE DRESS CODE
As with all other Genting Casinos, there is a smart/casual dress code that needs to be adhered to. This dress code is quite relaxed but you will not be permitted to wear sportswear, open-toed footwear, caps, hats or backpacks when trying to gain entry.
Jeans and trainers are fine as long as clean and you will also be allowed to wear T-shirts as long as there is nothing offensive written or displayed on them.
FOOD & BEVERAGES
Unfortunately, unlike the majority of Genting Casinos that have a Fahrenheit Restaurant, this is not the case here. Floor space has again meant that a dedicated restaurant would have to be sacrificed but this does not mean that you will have to go hungry and thirsty.
The Late Bar is on hand to provide light meals, snacks and a good selection of alcoholic and non-alcoholic refreshments and is open until 5.30 am each day. There are plenty of restaurants outside of the casino too such as the Dome and the Devil's Advocate which could make for a good alternative eating option.
SPECIAL EVENTS
To stay well on top of the promotions that the Genting Casino in York Place runs, we suggest following their social media profiles. The casino regularly hosts events such as Roulette tournaments, offers deals on their food and drink menu and will member-only promotions for those that have taken the time to sign up for membership.
GENTING CASINO – YORK PLACE MEMBERSHIP INFO
As with any other Genting Casino, there is no requirement to become a member. Anyone as long as they can prove are above the 18-year minimum age for drinking and gambling, can sign in as a guest.
Memberships is certainly worth getting however, as you you will earn reward points for every bet that you place. These can then be traded in for drinks, food or even free bets on the casino floor. Just bring along a passport or driver's license and you can apply for free membership.
ACCOMMODATION & TRANSPORTATION
There is no dedicated parking at the Genting Casino on York Place but there is ample street parking around the venue which can be used from 6.30 pm onwards.
The closest train station to the casino is the Edinburgh Waverly and it will take less than ten minutes to get to the casino when walking. A bus stop on York Place also sees many major bus routes stopping which is another option for making your way to the casino.
A Travelodge is just a few minutes' walk if you are looking for budget accommodation while you could also consider the Balmoral Hotel if you wanted a higher standard of accommodation.
LOCAL ATTRACTIONS
As a bustling capital city, Edinburgh is full of some many other delights on top of the Genting Casino at York Place. The national zoo can be found just a stone's throw away from the casino while you can also take in some of the history and architecture that the city provides at every turn.
Here are just some of the attractions that you can see in Edinburgh:
Edinburgh Old Town
Arthur's Seat
Princes Street
The Scottish Whiskey Experience
Scottish National Gallery
NEARBY CASINOS
If you like to experience different casinos rather than just sticking to one, you will be happy to know that there are two more casinos in Edinburgh that you can check out. The first is another Genting Casino which can be found in Fountain Park while you could also opt to go and take a look at the Grosvenor Casino in the city.
GENTING ONLINE CASINO GAMES
While we suggest that all of you should ensure that you have experienced what Genting has to offer in their land based casinos, they also provide top quality gaming options at their online casino too.
Full of enjoyable slot games, progressive jackpot slots that can pay out millions, video poker games and of course, dozens of table games, the Genting Casino is one of the best online casinos in the UK.
Regulated by the UK Gambling Commission, the online casino also offers a sportsbook, live dealer games and plenty of regular deposit bonuses that will give you even more value for your money.
Check out slots such as the following at Genting Casino in York Place:
King Kong Cash
Mega Joker
Wish Upon a Jackpot
Raging Rhino
Cleopatra
PLAY THE LIVE DEALER SUITE ONLINE AT GENTING
If you're new to online casinos and are a little put off by the fact that they are software-based, you should at least think about trying the live dealer games at the Genting online casino. These offer something that could be classed as a mix between online and offline gambling.
You still use your device to place your bets and watch the games but the table games that you play are actually real and are being played live right in front of a webcam. Some are even being transmitted from Genting casinos up and down the UK.
Just some of the live dealer games at the online casino from Genting are below:
Roulette Live from Mayfair
Genting Live Baccarat
Super Sic Bo
Genting Live Blackjack
Lightning Dice
CASINO RATING
Genting Casino York Place, Edinburgh - Rating
Summary
If you wanted a larger casino with a dedicated restaurant, poker room and a larger collection of games, there are better options in Edinburgh. That said, for a more personal and relaxing experience at the gaming tables, the Genting Casino on York Place is still a very good option.
Cozy with friendly and helpful staff, there is a good time to be had here despite it being the smallest casino in the city.
Pros
Good atmosphere
Helpful and attentive staff
Cons
Average service
Very small casino
BASIC INFORMATION
Casino Name: Genting Casino – York Place
Location: Edinburgh, UK
Address: 5B York Pl, Edinburgh EH1 3EB, UK
Phone: +44 131 624 2121
Opening Hours: 2PM – 6AM
Table Games: Yes
Slots: Yes
Dress Code: Smart Casual
Genting Casino Licensee: Genting Casinos UK Limited is licensed and regulated by the UK Gambling Commission (See licensee).
THE GENTING CASINO YORK PLACE IN EDINGBURGH ON A MAP