Rainbow Casino – Bristol Review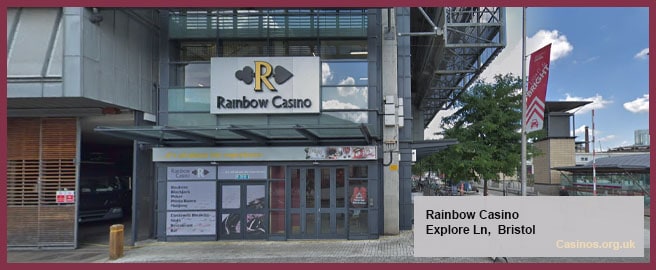 Rainbow Casino Bristol is one of 6 casinos in Bristol and one of three in the city centre. Rainbow Casino is a UK casino chain with 5 different casinos located throughout the UK. The Bristol branch is located in a popular area of the city with Harbourside access. There's plenty of alternative entertainment in the area as well as plenty of accommodation options near to the casino.
The casino has plenty of facilities to choose from, including a restaurant & bar, poker room, live sports entertainment, function room, free parking, and disabled facilities – making it one of the most fully-equipped casinos in Bristol. Not only are the facilities top quality, but a collection of electronic and table games will satisfy even the most enthusiastic gamer. The casino is open 24/7 and only closes on certain public holidays.
RAINBOW CASINO – BRISTOL GAMES
Rainbow Casino Bristol pulls out all the stops to provide its customers with a wide range of casino games to choose from. Their gaming area is separated into the electronic gaming section and the table gaming section, with games like electronic slots, roulette, baccarat, poker, and more.
Not only do they have regular poker games but also a cash game poker schedule that can be viewed from their website or at reception. Here you will also find the 'Bad Beat Poker Jackpot' that is currently standing at over £100,000.
CASINO GAMING OPTIONS:
American Roulette
Blackjack
Three Card Poker
Five Card Poker
Cash Poker Games
Punto Banco Baccarat
Electronic Roulette
Tombola Roulette
Mah Jong

The cash poker games follow a fixed schedule for 2019 with games opening from Monday to Friday from 5 pm until 6 am and on Saturdays & Sundays from 3 pm until 6 am. Each game is capped at £5. Depending on which day you go you'll experience different rakes. For the first two hours on Mondays to Thursdays, the poker games are rake free. On Sundays, to Wednesdays, there is a standard 5% rake and on Thursdays – Saturdays there is a 10% rake.
RAINBOW CASINO – BRISTOL DRESS CODE
All Rainbow Casinos in the UK follow the same smart-casual dress code. Generally, most UK casinos conform to this and you won't be required to wear fancy clothes like a suit and tie. As long as you look smart, you can wear what you like, with the exception of their list of prohibited dress items, such as flip flops, headwear, sportswear, tracksuits, and offensive words/images.
FOOD & BEVERAGES
Rainbow Casino Bristol has a private bar inside the casino but if you're looking for a more sophisticated dining experience you can choose the Millenium Bar which is located next door. In association with Rainbow Casino Bristol, members can get different specials and discounts that can be used at this bar. Their menu includes light meals, snacks, and an impressive cocktail and wine list. The current promotions are 2-4-1 cocktails all day, £3 drink specials, and free chicken wings or nachos every Sunday.
SPECIAL EVENTS
The special events at Rainbow Casino Bristol change regularly, with the most popular special event at the moment being the upcoming Rainbow Poker Super Cup. This is a tournament with a grand prize of £15,000. Buy-in is £100 and each player will start with a 25,000 starting stack. The minimum blind is 30 and players have unlimited re-entries.
Their Riverview Suit is a special conference/business/celebration area that can be rented out all year round. The area is spacious with tables and seating available as well as its own dedicated bar. The room also comes with optional extras such as a large projector screen, complimentary wi-fi, and staging. The maximum capacity of the Riverview Suite is 100 people.
Last but not least, all Rainbow Casinos offer their unique part packages. These packages are perfect for those celebrating a birthday or special occasion. Choose between The Rainbow Experience, Roulette Experience, Poker Experience, and Food & Drink Packages.
RAINBOW CASINO – BRISTOL MEMBERSHIP INFO
The Rainbow Casino chain has an optional membership that can be obtained when visiting any of their local casinos. Rainbow Casino Bristol is one of their larger branches in the UK and a great place to try out their membership. Although you are not required to register before entering, membership is free and it entitles you to over £90 worth of welcome vouchers to be used in the casino, bar, and restaurant. In addition to this welcome bonus, members are also rewarded with members-only promotions and exclusive offers – ensuring that you're always getting the most out of your casino visit.
Registration is quick and simple and the first process is completed online. Once you've completed the online form you'll need to provide a valid form of identification, driver's licences are acceptable, and proof of address once at the casino. In order to become a member, you have to be over the age of 18.
ACCOMMODATION & TRANSPORTATION
Rainbow Casino Bristol is in the city centre close to Queen's Square. This part of the city is quite busy and finding parking is sometimes difficult, however, the private parking available at Rainbow Casino Bristol is reserved for customers-only and ensures you'll always have a place to park nearby.
The taxi and bus services in the area are also viable options with the nearest bus stop located one street away on Anchor Road. If you're travelling to Bristol by train, there are numerous train stops to choose from, with Bedminster and Bristol Temple Meads being the closest stops to the casino, but they will still require a 10-minute drive.
Bristol is filled with differently priced accommodation options. Starting in the city centre, you'll find many options within driving distance of the casino. Depending on your price range, you can consider the following hotels:
Hotel Ibis Bristol Centre [3-star hotel]
Travelodge Bristol Central [3-star hotel]
Bristol Marriott Royal Hotel [4-star hotel]
March House Serviced Apartments [5-star hotel]
LOCAL ATTRACTIONS
Bristol is a city famous for its many different ways to stay entertained. This vibrant city is very popular among youths and has often won the 'best city in the UK' award. You'll find old buildings, maritime history, the British countryside, and also some of the world's most famous graffiti. This is an area that you'll struggle to get bored in.
Heading to the North-West of Bristol will put you along the River Severn and the Bristol Harbour. This area is filled with tourist sites, including some of the most famous ones in Bristol:
We The Curious – Science Centre
Bristol Cathedral
M Shed Art Space – with original Banksy graffiti works
Bristol Aquarium
As well as these local attractions, the Brunel's SS Great Britain is a legendary ship build in 1843. It is currently docked in Bristol and is a floating museum with tours and climbs up the tall rigging – if you're not afraid of heights.
NEARBY CASINOS
Rainbow Casino Bristol is in the centre of Bristol close to Queen's Square where most of the casinos in the city are located. In the area around Queen's Square you will find 3 other casinos, namely:
CASINO RATING
Rainbow Casino, Bristol - Rating
Summary
Although it isn't the largest casino in Bristol, Rainbow Casino Bristol is a popular UK casino chain that makes sure customers have everything they need. Their collection of slot machines, table games, and electronic games are all modern and up-to-date with the latest casino gaming trends. Next time you're in the Bristol area be sure to check out this local gaming hotspot.
Pros
Staff are very friendly and helpful
Free soft drinks
Free parking
Great selection of machines
Good food
BASIC INFORMATION
Casino Name: Rainbow Casino – Bristol
Location: Bristol, UK
Address: Explore Ln, Bristol BS1 5TY, UK
Phone: +44 117 906 9970
Opening Hours: 24 / 7
Table Games: Yes
Slots: Yes
Dress Code: Smart Casual
Rainbow Casino Licensee:Genting Casinos UK Limited is licensed and regulated by the UK Gambling Commission (See licensee).
THE RAINBOW CASINO IN BRISTOL ON A MAP