Genting Casino – Bristol Review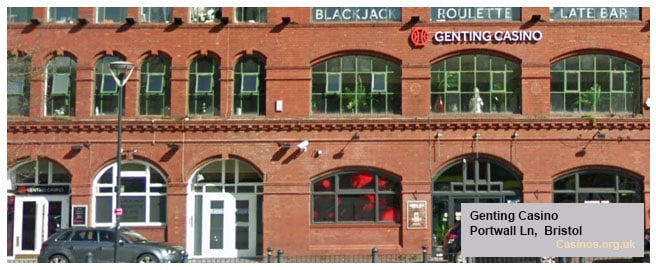 Another quality casino brought to you by the Genting Casino Chain, Genting Casino Bristol is the only one located in Bristol. There are other casinos to choose from, but this casino has everything you'll need to keep entertained – including special events, a bar serving food and drinks, and one of the largest collections of table and slot games in the city.
GENTING CASINO – BRISTOL GAMES
At any Genting Casino, you will find high-quality casino games. Genting Casino Bristol is one of the smaller Genting Casinos, but they still make sure to include all the most popular games, including roulette, blackjack, poker, baccarat, and plenty of slot machines. These games can be enjoyed on the single floor gaming area, which is where you will also be able to access the Late Bar.
CASINO GAMING OPTIONS:
American Roulette – 4 Tables [Min stake: £1; Max Stake: £200]
Blackjack – 3 Tables [Min stake: £3; Max Stake: £1,000]
3-Card Poker – 1 Table [Min stake: £2; Max Stake: £200]
5-Card Poker – 1 Table [Min stake: £2; Max Stake: £200]
Electronic Roulette – 12 Posts [Min stake: £0.10; Max Stake: £125]
If gamers want to raise the maximum stake, they can do so by requesting it directly from management.

In addition to the above games, there are also various bonus blackjack side bets that are available, Mega Jackpot, Major Jackpot, and Mini Jackpot. To stand a chance to win one of these jackpots all you have to do is place a £1 side bet when playing Blackjack and wait for the lucky combination. Currently, the Mega Jackpot payout is over £400,000.
GENTING CASINO – BRISTOL DRESS CODE
Smart Casual is the required dress code at Genting Casino Bristol. All Genting Casinos in The UK require the same dress code. As long as you look presentable, you are unlikely to be denied entry, but there are a few items that have been prohibited, including sportswear and headwear. Any vulgar/offensive clothing or tattoos should also be covered up to ensure that everyone enjoys their casino experience.
FOOD & BEVERAGES
The Late Bar is your only option at Genting Casino Bristol but they offer a collection of both food and drinks. The food is a new addition to Genting Casinos and offers a wide variety of light meals and snacks to be enjoyed at the bar or ordered at your table. Their main speciality is their drinks, with different ciders, beers, sparkling wines, and spirits to choose from.
If you're visiting the Late Bar make sure to check out their latest food and drink specials so that you never miss out. On Fridays, they have 'Friday Fizz Nights' where customers can buy a bottle of high-quality Bottega Prosecco for only £15. If you prefer gin, then their 'build-your-own-gin' special is perfect for you – allowing you to pick the gin, tonic, and garnish.
SPECIAL EVENTS
Genting Casino Bristol offers its guests a variety of special events throughout the year. These events differ between gaming tournaments, bonus spins, food/drink specials, and access to exclusive members-only events. The Summer Sensational Slots special is a new event that entitles players to match play offers on all Slot Machines. They also host promotional events on public holidays, like the Bank Holiday Weekend in August, which enhances players odds with a Super Boost Chip for roulette and blackjack.
If you're new to UK casinos and are unsure of how to play certain games, you can also enjoy the Genting Nights packages which are available in Roulette, Blackjack, and Slots. These Genting Night packages ensure that you know what you're doing before spending your hard-earned money. Customers pay a small package fee of either £13.95, for the Big Deal Package, or £17.95, for the Jackpot Package. Both packages offer you a welcome drink, a game tutorial, and a private table/slot machine to practice. The Jackpot Package also entitles you to a delicious snack from their Jackpot Menu.
GENTING CASINO – BRISTOL MEMBERSHIP INFO
The Genting Casino chain has an optional membership for both its online and brick-and-mortar casinos. These two memberships are separate so depending on what you're looking for you'll have to make a choice. The standard Genting Casino membership is not required to enter any Genting Casino, but it does offer customers a host of benefits including access to the casino exclusive promotions and discounts/specials for the bar.
If you want to sign up you can do so by registering online or directly from the casino. Guests must be over the age of 18 and if you look to be under the age of 25 you will be required to provide valid proof of identity.
ACCOMMODATION & TRANSPORTATION
Depending on your starting location, there are plenty of ways to drive to Bristol City. If you're coming from Wales or Northern England then the M5 will be your road of choice, whereas people coming from the East or South of England will use the M4 and A371 roads respectively.
Once in Bristol, you'll need to head to the centre of the city to find Genting Casino Bristol. There are bus stops that stop directly in front of the casino throughout the day and there is a bus shelter with seating available. If you plan on driving yourself you must know that there isn't any private parking at the casino so you will need to organise a taxi, bus, or drop off. Customers travelling with Blue Badges will be able to park opposite the casino at the council parking lot on Phippen Street.
Bristol is a large city that is filled with different accommodation options. Depending on your price range you have a few choices near to the casino. The closest, and most moderately priced, option is the Travelodge Bristol on Mitchell Lane. If you're looking for something a bit fancier you can choose between The Bristol Hotel and the DoubleTree by Hilton Hotel – both of which are less than a 5-minute drive from the casino.
LOCAL ATTRACTIONS
Bristol is a unique English city with a lot of unique activities to keep guests entertained while visiting Genting Casino. Whether you'd prefer a visit to the Western Coast of England, a drive through the English Countryside, or just a stroll through the various cultural attractions in the city itself – this city has something for everyone. The most popular tourist attractions in Bristol are:
Bristol Harbour
St. Mary Redcliffe Parish Church
Bristol Cathedral
Brunel's SS Great Britain
Llandoger Trow
Clifton Suspension Bridge
NEARBY CASINOS
Bristol is a large enough city to have more than one casino. You'll be able to find 6 casinos within the Bristol City limits. These casinos range in size and Genting Casino Bristol is one of the more well-known chains. Other than Genting Casino, you can also visit another popular UK casino chain, Grosvenor Casinos. The Grosvenor Casino Bristol is one of the largest ones in the city and comes fully-equipped with casino games, a food menu, and a drinks bar.
Be Lucky Casino
Grosvenor Casino Bristol
Rainbow Casino Bristol
Casino Slots
Admiral Casino Bristol
GENTING ONLINE CASINO GAMES
Genting Online Casino is another top-quality casino brought to you by Genting Casino. Their online casino is modernly designed and very straightforward. As soon as you get to the website you will have the option to register and make your first deposit. Any new gamers are welcomed to the casino with a New Player Welcome Bonus of a 100% match bonus of up to £100.
Just because it's an online casino doesn't mean Genting Online Casino is short of popular casino games. Here you will find a collection of slot machines, table games, and even live casino games. The online slots section has over 300 games to choose from, while the table games and live casino games only have 20 games in total, with the most popular of these being roulette, blackjack, baccarat, and video poker.
GENTING OONLINE CASINO LIVE GAMES
The Live Casino games available at Genting Casino Online allow gamers to play directly with UK dealers from the comfort of their home. These dealers know what they're doing and the high-quality games ensure that you are always entertained. The different live casino game categories are:
Live Roulette
Live Blackjack
Live Baccarat
CASINO RATING
Genting Casino, Bristol - Rating
Summary
Bristol is a popular tourist location in Western England and Genting Casino Bristol definitely adds to the excitement. Guests in the city looking for a high-quality casino with a combination of electronic and table games will be spoiled for choice. The food, bar, and nearby tourist attractions all make for great opportunities to relax. The Genting Casino chain is one that is known for its quality games and high level of customer satisfaction – definitely worth the stop while visiting Bristol.
Pros
Very friendly and helpful staff
Easy membership application
Plenty of tables
Nice food
BASIC INFORMATION
Casino Name: Genting Casino – Bristol
Location: Bristol, UK
Address: 1-2 Portwall Ln, Bristol BS1 6NB, UK
Phone: +44 117 926 2753
Opening Hours: 1pm – 6am
Table Games: Yes
Slots: Yes
Dress Code: Smart Casual
Genting Casino Licensee: Genting Casinos UK Limited Limited is licensed and regulated by the UK Gambling Commission (See licensee).
THE GENTING CASINO IN BRISTOL ON A MAP