Genting Casino – Brighton Review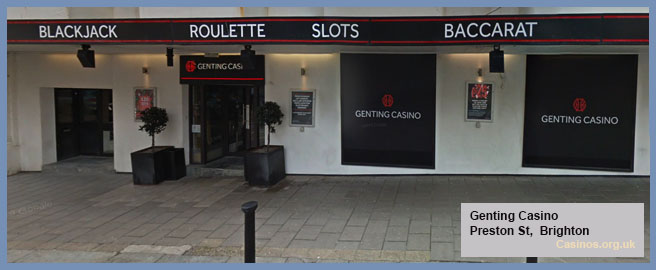 Genting Casino Brighton is located in the centre of Brighton on Preston Street. This casino is open every day from 12 pm until 5 am and is one of the premium gaming locations in the city. Brighton is in the South of England along one of the most famous areas of coastline in the UK.
You'll find a wide variety of entertainment at this casino, with table games, slot machines, and their signature Late Bar which has HD sports viewing available. Genting Casino Brighton is also not the only way to enjoy Genting Casinos while in the area. You also have the choice of the Genting Online Casino which is a great way to enjoy all the latest casino comes at home.
GENTING CASINO – BRIGHTON GAMES
Genting Casino is a boutique-style casino and one of the most popular gaming locations in the city. There are other casinos to enjoy, but when you're looking for a place with table games, slot machines, food and drinks, and a wide range of specials – you won't need to go any further.
The casino floor is divided into different areas based on the types of games. As you enter the gaming area you will be met with the roulette tables and a small collection of slot machines. This is also where the Cash Desk is located. Once you turn the corner you'll be able to enjoy the full-collection of Genting Casino Brighton's games – including blackjack, poker, baccarat, and electronic roulette/baccarat posts.
In addition to the above games, Genting Casino Brighton has a special addition of Genting e-Tables. These e-Tables allow players to enjoy a wide range of games all from the same machine, including roulette, blackjack, baccarat, and more. These tables come equipped with large 26'' HD displayers and a full history tracker of previous games so that you'll never lose track of important information.
CASINO GAMING OPTIONS:
American Roulette – 4 Tables [£1 – £200]
Blackjack – 2 Tables [£3 – £300]
3-Card Poker – 1 Table [£5 – £100]
5-Card Poker – 1 Table [£5 – £100]
Baccarat – 1 Table [£10 – £3,000]
Electronic Roulette – 12 Posts [£0.10 – £100]
Electronic Baccarat – 4 Posts [£1 – £250]

Genting Casino Brighton sets these maximum limits as a standard, but guests wishing to go past this limit may do so once they have received approval from the casino management.
GENTING CASINO – BRIGHTON DRESS CODE
Genting Casino Brighton complies with the same dress code rules as the rest of the Genting Casino chain. This means you won't have to dress formally, but you will be required to wear smart-casual clothes. This means that smart jeans, trainers, and shorts are acceptable, but there is a list of items that are prohibited:
Offensive Tops/Jumpers [offensive tattoos should be covered up]
Tracksuits
Muscle/vest tops
Gym Wear
Work Wear
Flip flops
Sunglasses
Hats/caps
FOOD & BEVERAGES
Genting Casino Brighton welcomes guests to use their Late Bar for all their food and beverage needs. This bar is open from 12 pm until 4 am every day. Their all-day food menu is a new addition to the bar and allows gamers to enjoy different light snacks to accompany their drinks – however larger meals are unavailable. Guests looking for a drink can choose from their wine list, selection of beers/ciders, or from their various spirits.
SPECIAL EVENTS
The Weekly Slot Tournament is the main event at Genting Casino Brighton. By entering, you will have a chance to win a grand prize of £100, with second and third place earning £50 and £25 respectively. The tournament starts every week on Monday at 9 pm and the full list of rules is available on their website or from reception. In addition to the Weekly Slot Tournament, a new Weekly Electronic Roulette Tournament has also become quite popular. The prizes are the same, but this time you will be competing using the Electronic Roulette posts.
Genting Nights are another special event hosted every night by all Genting Casino chains in The UK. These events allow new gamers to experience different casino games in a less competitive environment. This is a great gift for a new casino goer and comes with a welcome drink, game training, and a private table where you can practice before you are ready. Genting Nights Roulette, Blackjack, and Slots are available.
GENTING CASINO – BRIGHTON MEMBERSHIP INFO
The membership at Genting Casino Brighton is the same as at other Genting Casinos throughout The UK. If you have already registered to be a member at another Genting Casino then you do not need to register again. Registration is free and can be completed on-premises or online. The membership is beneficial to regular gamers because it allows gamers to earn Loyalty Points and allows them to access the latest special events and promotions.
ACCOMMODATION & TRANSPORTATION
Brighton is along the English South Coast and can be accessed via the A23 or A26 roads. Genting Casino Brighton is located 1 street away from the beach, a 5-minute drive from the Brighton Palace Pier. The casino does not have its own parking, but opposite the casino are over 20 public parking spaces that can be used. If the parking here is full, you can park one street further at Regency Square Brighton – which is less than a 10-minute walk from the casino.
Looking for somewhere to stay? Brighton is a popular tourist destination and, therefore, has a number of accommodation options throughout the city. The hotels closest to the casino are:
Hotel 360 [4-star Hotel]
Hotel Pelirocco [3-star Hotel]
Prince Regent Hotel [3-star Hotel]
Beach Hotel [2-star Hotel]
LOCAL ATTRACTIONS
Golden sandy beaches are by far the number one reason that people flock to Brighton in the summer, but it's not the only local attraction. Guests visiting Brighton will be able to enjoy the various archaeological sites, cultural locations, and entertainment on offer. Brighton is one of the towns with the oldest archaeological evidence that can be dated back to the Anglo-Saxon period, Roman period, and even the Bronze Age.
The town was once starting to decline before transportation routes between France and London were improved. As well as being an important link between London and France, tourism in Brighton improved because of its sea-bathing resorts – which use seawater as a means to cure various illnesses. The Royal Pavilion, built during the Regency Era, is also a magnificent attraction constructed under the orders of King George IV.
British Airways i360
Royal Pavilion
Seven Sisters & South Downs Day Tours
Helicopter Rides
Brighton Pier
Regency Square Brighton
NEARBY CASINOS
6 casinos are located in Brighton, all within a 10km radius of one another. Genting Casino Brighton is one of three casino chains located in the city but is the only Genting Casino. The other casino chains located in Brighton are Admiral Casinos and Grosvenor Casinos. You can't go wrong with any of these three casino chains as they are all well-known with many casinos throughout the UK. Apart from these most popular casinos, visitors can also choose from the remaining 2 casinos: Jewel Fun Casino and Lady Luxe Casino.
GENTING ONLINE CASINO GAMES
The Genting Casino chain takes its casino experience one step further by offering an online casino. Genting Online Casino is a top-class online casino that is based in the UK. The games, promotions, and membership rewards are all reasons why people like using this online casino. Table games, slot machines, and even live casino games are available. If it's your first time using their online casino make sure to claim your 100% match bonus of up to £100. Genting Online Casino is available on desktop and mobile devices thanks to the latest Genting Online Casino App. You can use the app to make deposits, withdrawal funds, subscribe to promotions, and to play all their gaming titles – including their live casino games. The following online game categories are available:
Online Slot Machines
Roulette
Blackjack
Video Poker
Baccarat
Live Casino
GENTING LIVE CASINO GAMES
The live casino games available at Genting Online Casino are some of the most popular games available. These games allow you to play with real-life dealers that are actively involved in your game. Most of these live games take place in separate locations but there are a few live casino games that are taking place live from various Genting Casinos. For example, the Roulette Live from Manchester, Birmingham, and Edinburgh are all hosted directly from the Genting Casinos in those cities.
CASINO RATING
Genting Casino, Brighton - Rating
Summary
This wonderful holiday city was made even better when Genting Casino Brighton opened its doors. This casino has everything you'll need to satisfy your casino hunger while on holiday, visiting the area, or if you're a local. The casino is well-organized and professional, with more than enough games to keep you entertained. Be sure to check out their Genting Casino Membership to keep up to date with the latest gaming trends.
Pros
Very honest dealers
Cozy atmosphere
Friendly staff
Cons
Small casino with a few tables
A fair walk for the center
BASIC INFORMATION
Casino Name: Genting Casino – Brighton
Location: Brighton, UK
Address: 6-8 Preston St, Brighton BN1 2HN, UK
Phone: +44 127 372 5101
Opening Hours: 12pm – 5am
Table Games: Yes
Slots: Yes
Dress Code: Smart Casual
Genting Casino Licensee:Genting Casinos UK Limited is licensed and regulated by the UK Gambling Commission (See licensee).
THE GENTING CASINO IN BRIGHTON ON A MAP