Grosvenor Casino – Bournemouth Review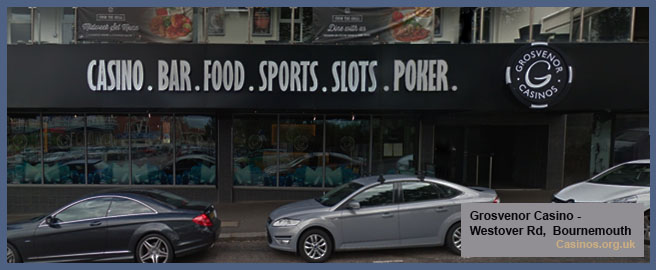 Grosvenor Casinos are one of the leading casino brands in the UK. They have 52 casinos located through The UK. Grosvenor Casino Bournemouth is the only Grosvenor casino located in the city, but you'll find their collection of games, food & drinks, and entertainment to be a perfect balance.
Grosvenor Casino Bournemouth has recently undergone renovations, turning the casino into the modern and stylish facility you see today. Their premises are divided into two floors, with the reception and Sports Bar on the first floor and the gaming premises on the second floor. Slot games, poker, electronic roulette, and a variety of special promotions means there's something for everyone at Grosvenor Casino Bournemouth.
GROSVENOR CASINO – BOURNEMOUTH GAMES
After going upstairs to the gaming area, you'll find a neatly organized area filled with all your favourite games. The gaming area is divided into the electronic gaming section, filled with the electronic roulette tables and all the casino's slot machines, and the table gaming section which houses the blackjack, American Roulette, and poker tables. In addition to this gaming area, the exclusive poker room is available for up to 100 guests and is filled with different poker varieties.
CASINO GAMING OPTIONS:
Electronic Roulette
Casino Stud Poker
Jackpot Stud Poker
Card Poker
5-Card Draw Poker
American Roulette

GROSVENOR CASINO – BOURNEMOUTH DRESS CODE
Grosvenor Casino Bournemouth does not have a set dress code, but smart casual is preferred. Although there isn't a set dress code, there are a few prohibited items that can't be worn in the casino. No headwear that covers your face from the CCTV is allowed, no open-toed shoes for men, and no sportswear (including football jerseys). Apart from these items, you're not allowed to wear (including tattoos) anything that is offensive. If you have tattoos that some may consider offensive, you will need to cover them up before entering the casino. This is to ensure that everyone has a pleasant experience at all Grosvenor Casinos throughout the UK.
FOOD & BEVERAGES
Food and drinks are available at Grosvenor Casino's Sports Bar and Restaurant on the first floor of their premises. This sports bar is a great place to relax and enjoy a light meal, something to drink or to catch up on the latest sporting events with their HD TVs.
If you're looking for food, you'll have a choice between the six different menus categories available at all Grosvenor Casinos. Absurd Bird, Field & Fin, Barrel & Stone, The Real Grill, Kitchen Bites, and The Good Pud are the different categories – each specializing in a different food group. You'll find fish, chicken, burgers, light snacks, pizzas, and delicious desserts.
Drinks are always available and you have a choice between beers, spirits, and handpicked wines which have all been specially selected from around the world.
SPECIAL EVENTS
Grosvenor Casino Bournemouth is regularly updating their promotions page with the latest events. Most of these events are limited to specific days, but some occur throughout the year. 'Refer a Friend' and 'Amazing Cinema Meal Deal' are the two special events that can be enjoyed on any day. If you refer a friend you receive a stamp card which can be used for a 2-1 drink offer. Once you have filled your stamp card you will be entitled to a complimentary bar meal. If you'd like a break from the casino, Grosvenor Casino Bournemouth offers you a £25 special for a drink, 2-course meal, an Odeon cinema ticket, and a lucky number bet & cinema goodie bag.
Apart from these two, there are also food and drink specials available on different days. On Mondays, you'll receive a free small place with any main course burger, steak, or pie. The rest of the week is also filled with food and drink specials including, 'Buy two glasses of wine, get the rest of the bottle free' special; a free dessert with any meal ordered; 2 steaks and a bottle of wine for just £25; and a bottle of Prosecco for only £15.
GROSVENOR CASINO – BOURNEMOUTH MEMBERSHIP INFO
Grosvenor Casino Bournemouth has its own membership available to new and existing customers. Grosvenor One is a membership available to customers playing in their brick-and-mortar casinos as well as their online casino. This one-size-fits-all membership is perfect for gamers who enjoy both traditional and online casino games.
Registering is easy but can only be done in one of your local casinos. No deposit is required and you will get a free £30 bonus when you complete your activation. To complete your membership activation you simply need to log in to the online website and claim your offer.
The Grosvenor One membership not only allows you to earn points, which can be redeemed for discounts and prizes, but you also gain the Grosvenor One Wallet which allows you to manage all your funds on one wallet – both for the online and local casinos. You can deposit or withdrawal from the wallet using their supported online payment methods or directly from your local casino.
ACCOMMODATION & TRANSPORTATION
Bournemouth is a medium-sized city that is very popular during the summer season. Traveling here during summer will mean the roads and public transport are a bit slower than usual, but the ample amount of taxis, buses, and trains make it easy to get around. Getting to Bournemouth is quite easy as they have a train station and a domestic airport for guests traveling from further away. If you're driving you'll want to get on to the A338 which will take you directly into the city from either the Easterly or Westerly direction. Once in the city, the casino is located on Westover Road, a 10-minute walk from the Bournemouth Pier and golden sandy beaches.
Bournemouth is a tourist hotspot and it has plenty of places to stay. Grosvenor Casino Bournemouth is located close to the beach and the majority of accommodation in the city. The following options are within 5-minute driving distance from the casino:
Royal Bath Hotel
Russel Court Hotel
Marsham Court Hotel
Hermitage Hotel
LOCAL ATTRACTIONS
Bournemouth's main attraction is its golden sandy beaches. There are 7 miles of uninterrupted sandy beaches. Not only can you go to the beach, but the nearby Bournemouth Pier is a popular stop. If you're looking for something else, you can choose between a local tour to Christchurch Castle & Normal House or a stop at the Bournemouth Gardens which is home to various recreational activities like Golf, Putt-putt, tennis, and more. The local Oceanarium is also a great place to see various aquatic animals and get an opportunity to feed them.
Bournemouth Pier
Bournemouth Beaches
Bournemouth Gardens & Recreational Activities
Christchurch Castle & Normal House
Bournemouth Aviation Museum
Oceanarium
NEARBY CASINOS
Bournemouth has a few casinos scattered throughout the area. Three of these casinos are located in the heart of Bournemouth and are a short drive away from each other. Of these casinos, Grosvenor Casino Bournemouth is one of the largest, with the other large casino being Genting Casino Bournemouth.
If you travel a little bit further to the outskirts of Bournemouth you'll be able to visit:
Viva Las Vegas Fun Casino
Absolute Fun Casino
Bournemouth Fun Casino
Admiral Casino Biscombe
Admiral Casino Poole
GROSVENOR ONLINE CASINO GAMES
Grosvenor Casino chain also has its own online casino for customers to enjoy. Members at Grosvenor Casino can automatically sign-up for both the online and brick-and-mortar casinos. The website is easy-to-navigate and the different gaming categories can be clearly viewed at the top of the page.
Live Casino
Slots & Games
Progressive Jackpots
Table & Card Games
Poker
Sport
The majority of the games are slot games, with the most popular titles being:
Well of Wishes
Lucky Lady's Charm Deluxe
Dolphin's Pearl Deluxe
Reel King Mega
Rainbow Riches Megaways
Return of Kong Megaways
Spirits of the Valkyrie
Not only are their electronic games, but the table games available are more than enough to keep you entertained, including:
American Roulette
European Roulette
Blackjack
Poker
Baccarat
LIVE CASINO GAMES AT GROSVENOR ONLINE CASINO
This UK online casino comes fully-equipped with live casino games hosted by UK dealers. These games are popular because of their realistic gaming experience and high-quality games. The following games are available in the live casino section:
Monopoly Live
Roulette Live
Blackjack Live
Deal or No Deal Live
Baccarat Live
CASINO RATING
Grosvenor Casino, Bournemouth - Rating
Summary
The Grosvenor Casino chain is one that is well-known throughout the UK because of its wide variety of games and entertainment. Grosvenor Casino Bournemouth is another great casino and it is located in the picturesque city of Bournemouth. This summer tourist hotspot is a great place to enjoy a holiday while never missing out on the casino action. Enjoy the games at their Bournemouth casino or from the comfort of your own home on their online casino.
Pros
Plenty of tables
Good, friendly and understanding staff
Good food and drinks
Good interior
Cons
Lack of staff in the bar
Cash withdraw machine charge a fee per withdraw
BASIC INFORMATION
Casino Name: Grosvenor Casino – Bournemouth
Location: Bournemouth, UK
Address: 48 Westover Rd, Bournemouth BH1 2BZ, UK
Phone: +44 120 255 3790
Opening Hours: 24/7
Table Games: Yes
Slots: Yes
Dress Code: Smart Casual
Grosvenor Casino Licensee: Grosvenor Casinos Limited is licensed and regulated by the UK Gambling Commission (See licensee).
THE GROSVENOR CASINO IN BOURNEMOUTH ON A MAP