Genting Casino – Bournemouth Review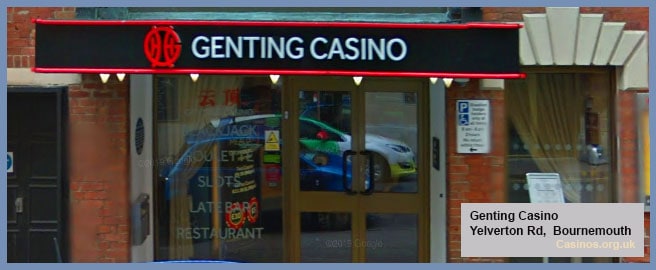 Genting Casino Bournemouth is one of a few casinos in this coastal city. It's one of the two largest casinos in the city and is part of the Genting Casino chain. Genting Casinos are located throughout the United Kingdom as well as having an online casino.
This is a casino that offers a wide range of entertainment, with a large selection of games, a restaurant and bar, and various special events that take place – including gaming tournaments and food & drink specials. Whether you're travelling to Bournemouth for the summer beach season or you prefer Bournemouth when it's quieter, this casino is available all year round and is open 24/7 – with the exception of public holidays.
GENTING CASINO – BOURNEMOUTH GAMES
Genting Casino Bournemouth is a medium-sized casino that houses plenty of slot games and various table games. You'll find their collection of electronic games to be the most impressive, with the latest IGT Multi Games, IGT Slots, Novomatic Super V+ Gaminators, and Novomatic Dominators. If you're looking for something more diverse then the Spielo Diversity slots have a wide selection of games on them categorized into different suites, including Classic Games, Progressive Jackpots, and more. All Genting Casinos are also linked to their Link Progressive Jackpots which offer grand prizes of up to £20,000.
CASINO GAMING OPTIONS:
American Roulette
Electronic Roulette
Blackjack
Three Card Poker
Electronic Roulette
Genting e-Tables

GENTING CASINO – BOURNEMOUTH DRESS CODE
The Genting Casino chain aspired to keep customers happy while creating a positive gaming environment. To do so, they ask all customers to dress smart-casual. This doesn't mean you have to wear a suit and tie, rather that you should leave the shorts, sportswear, and sandals at home. Shorts and jeans are allowed, but unfortunately no headgear.
FOOD & BEVERAGES
You have a choice between the restaurant and the Late Bar. The restaurant is the perfect choice for a proper meal, serving a variety of meals from the balcony, and is open every day from 7 pm until 1 am – reservations are encouraged.
If you're looking for something light or for a drink while gaming, then the late bar is the perfect choice for you. It's open 24/7 and is located on the casino floor. The all-day menu has a list of delicious snacks and their drinks menu is fully stocked with ciders, cocktails, sparkling wine, liquor, and more.
SPECIAL EVENTS
Special events are plentiful at Genting Casino Bournemouth. The specials are all listed on their website if you want to stay ahead of schedule and include their special events, promotions, and Genting Nights. These special events aren't only limited to gaming, with various food specials available to make your night a bit betting.
The Genting Nights packages are available all-year-round and are the perfect special event to start off your casino experience. By paying a small fee you can choose between the roulette, blackjack, or slots experience which comes complete with a free drink, coaching, and your own private table to practice.
The Slots Tournament takes place on the first Wednesday of every month and there are three cash prizes to be won with first place walking home with £800. There's also a monthly prize draw, a Strikeout Genting e-Tables tournament every Friday, and a bunch of different promotions that are regularly updated with sparkling wine & cocktail specials, double spin & slots bonuses, and stamp cards. Keep up to date to make the most out of your time at Genting Casino Bournemouth.
GENTING CASINO – BOURNEMOUTH MEMBERSHIP INFO
Genting Casino has two optional memberships available, the Genting Casino Membership and the Genting Online Casino membership. Joining the Genting Casino Membership is free and can be done by registering for it online before or after your first visit. However, if you register before your first visit you'll be able to skip the queue and get straight to the action.
Joining the Genting Casino membership will also entitle you to prior notice about any upcoming events or specials and will allow you to benefit from various members-only specials that occur throughout the year. Considering the potential benefits this is a free membership that is worth your while.
ACCOMMODATION & TRANSPORTATION
Travelling to Bournemouth is easy and can be done via road, train, bus, or aeroplane. Bournemouth Airport can handle domestic flights and is a popular choice for visitors from further reaches of The UK. If you're travelling by train, you will arrive at the station which is a mere 10-minute drive away from Genting Casino Bournemouth. The casino does not have private parking but there is parking available on the street in front of it and in adjacent roads.
Accommodation is plentiful in this holiday city. If you want to stay close to the casino you have the choice between The Norfolk Royale Hotel, which is rated 4-stars, or the Prime Backpackers Bournemouth rated 2-stars. However, if you want to stay closer to the beach, you'll be spoiled for choice, with differently priced options available, including:
Marsham Court Hotel
Hotel Miramar
Hermitage Hotel
LOCAL ATTRACTIONS
Bournemouth has a few casinos to choose from but the main attraction is the beaches. The famous 7 miles of golden sandy beaches are what bring many tourists there in the summer season. Apart from the beaches, you'll also have your choice of various art, food, and cultural attractions – including the beautiful Bournemouth Gardens which are listed as a Grade II English Heritage Site. In the gardens you'll also be able to find a range of facilities including tennis, putting, mini-golf, and the town's famous tethered balloon.
Golden Sandy Beaches
Warwick Castle Tours
Bournemouth Pier
Russel-Cotes Art Gallery & Museum
Bournemouth Gardens & Facilities
NEARBY CASINOS
Bournemouth isn't famous for its casinos but the seven resident casinos have more than enough to keep even the most avid gamer entertained. Three of these casinos are located in central Bournemouth, while the rest will require a short drive to the neighbouring communities.
Genting Casino Bournemouth is one of the casinos located in the heart of Bournemouth and the two closest casinos are:
Grosvenor Casino Bournemouth
Viva Las Vegas Fun Casino
By travelling 10 minutes by car you'll also be able to visit:
Bournemouth Fun Casino
Absolute Fun Casino
Admiral Casino Boscombe
Admiral Casino Poole
GENTING ONLINE CASINO GAMES
Genting Casino has a lot to offer to casino gamers, with both brick-and-mortar casinos and an online casino. If you prefer gaming online, you'll be happy with the quality of Genting Online Casino. They offer all the many famous online casino games, including live casino games. By accessing the Genting Online Casino you'll be able to register and play regardless if you're a member of Genting Casinos.
Genting Casino is easy to use and once on the homepage, you'll find the different gaming categories easily accessible. Gamers can choose between the Most Played, Live Casino, Table Games, Slots, and Progressive Jackpot categories. The majority of their games are slots, with over 300 titles to choose from, but they also offer roulette and blackjack table games. The most popular of these games are:
Live Roulette
Return of Kong Megaways
Monopoly Live
Ozwin's Jackpots
Holmes and the Stolen Stones
Wolf Hunters
Raging Rhino
Spina Colada
GENTING ONLINE CASINO LIVE GAMES
The live casino games available at Genting Casino are very popular and often make the top 10 most played games on the website. These games allow you to play with real UK dealers 24/7, taking the online casino to the next level.
By accessing the Live Casino tab from the homepage you'll be able to choose between:
Live Crockfords Roulette
Side Bet City
Lightning Dice Live
Free Bet Blackjack
Mayfair Live Roulette
Deal or No Deal Live
Monopoly Live
Sic Bo Live
Arabic Roulette Live
Dream Catcher
CASINO RATING
Genting Casino, Bournemouth - Rating
Summary
Located in the summer hotspot of Bournemouth, Genting Casino is not only successful during summer but can be enjoyed throughout the year. This casino is fully equipped with the latest in electronic gaming as well as having numerous classic table games. Their restaurant and bar offer everything you'll need and there are plenty of local attractions – including the pristine beaches – to keep you entertained when you're not at the casino.
Pros
Very friendly, helpful and polite staff
Very good food
Clean and friendly atmosphere
Selection of screens to watch sport events
Cons
Slow response to the online players
BASIC INFORMATION
Casino Name: Genting Casino – Bournemouth
Location: Bournemouth, UK
Address: 9 Yelverton Rd, Bournemouth BH1 1DA, UK
Phone: +44 120 229 3188
Opening Hours: 24/7
Table Games: Yes
Slots: Yes
Dress Code: Smart Casual
Genting Casino Licensee: Genting Casinos UK Limited is licensed and regulated by the UK Gambling Commission (See licensee).
THE GENTING CASINO IN BOURNEMOUTH ON A MAP