Try Wheel of Fortune On Tour The New Slot From IGT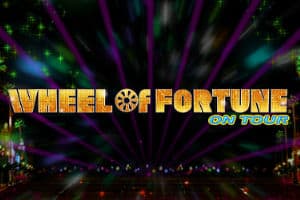 Wheel of Fortune is probably the most popular name among online video slot games. Younger generations will associate the name with the world famous NetEnt slot game Mega Fortune, but not many players know that the name origin goes many years back.
Wheel of Fortune was the name of a mega popular and cult TV show, which aired in America back in 1975. According to many the slot games we play today with a similar name originate from this very show.
IGT is one of the many software providers which decided to exploit this name and theme to create and launch a new video slot game on the market. Instead of following the standard slot game design, IGT decided to go a step further and create a multilevel, progressive slot game.
Progressives are usually associated with Jackpots, but you won't find any attached on Wheel of Fortune On Tour. Instead you can take a ride on the Wheel of Fortune Tour Bus, in its recognizable yellow color, and work your way up the levels unlocking extra bonus features along the way.
What We love
The diversity of extra bonus features has an impact on the bet level as well so instead of the expected $0.30 minimum bet per spin, due to the 30 active pay lines, you will need to wager $0.50 on each spin. This may look high but is worth the risk as the returns in the unlocked bonus rounds can be very rewarding.
There are a total of 6 extra bonus features to be unlocked, across 150 levels and each level requires 10 collected bonus symbols to unlock it. Needless to say that going after all the features will take a lot of patience, free time and a decent bankroll.
But the bonus symbols land very often so progress across the levels is fast. Once 3 bonus symbols land on reels 1, 3 and 5 you will have a spin on the Wheel of Fortune, where you can win coin prizes or trigger one of the extra bonus features.
You can also trigger the random Wheelmobile bonus during base play, where 1-4 different symbols and all the spaces they take up on the reels in the triggering spin will be turned wild. With a lot of luck, 4 random symbols chosen and a full screen of those symbols on the reels, you can win a great payout of 2,500 x total bet.
What we Do not Like
Everything about Wheel of Fortune on Tour is great, starting from the game concept to the bonus features which can be unlocked. We would also like to see a random progressive Jackpot attached to really boost the excitement as the reels spin.
Worth Playing?
Oh yes, Wheel of Fortune on Tour is a video slot game worth playing, thanks to the great work the designer team at IGT accomplished. They paid a great deal of attention on every part of the game.
The visual appearance is decent with a nostalgic visual design; the pay table is also decent keeping your balance from dropping fast during base play and the bonus features choice is massive.
If you like long sessions, Wheel of Fortune on Tour will definitely keep you occupied and with some luck on your side award great payouts as well.
>> Play This Slot Now & With $/£/€ 200 Bonus +10 Free Spins <<