Try Platoon Wild The New Slot From iSoftBet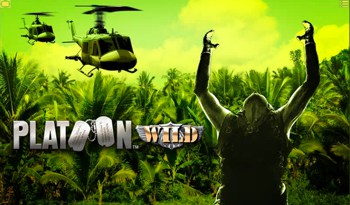 Many war movie fans are thrilled and excited to see the new video slot game, Platoon Wild go live across the iSoftBet gaming network. Based on one of the greatest Vietnam War movies in world history, Platoon, this game is sure to attract a very big number of players to its reels.
It looks like this provider managed to get their five minutes of glory thanks to this game alone, as Platoon Wild is the object of many discussions among the online gambling community nowadays.
The designers hit dead center when they decided to create a branded slot game based on a legendary War movie and that is one of the main reasons why many players were eager to try the game for real play.
Also iSoftBet released a great promo video where the main features of the game could be seen. We have to admit the free spins bonus round and the Jackpots attached caught our attention as well, so we were also eager to test the game for real play.
It was also surprising to see that iSoftBet also launched a Mobile version of Platoon Wild, which was very much different from the instant play version. This is most likely the first time we get to see two same, but overall different games for two separate platforms by one provider.
Anyway once Platoon Wild went live on the iSoftBet network we were happy with what we could see on the reels. The visual effects are decent with great symbol details and perfect background music.
Playing the game is like watching parts of the movie all over again. The design is simple and clear with 20 fixed pay lines that stretch over 5 reels and 3 rows.
It's great that the bet levels start with $0.20 and end with only $10 per spin, which is a reasonable maximum bet per spin value for mid or high roller players.
What We love
The first detail that we like on Platoon Wild is the game theme, along with the visual effects, background music and symbols. We like the fact that the designers didn't make Platoon Wild a flashy and over colorful slot, but went with a veteran hardcore look.
This adds to the theme originality along with the game symbols which are exact pictures of the actors in the Platoon movie.
We like this detail very much and we are sure we're not the only ones. As in every slot game we love the free spins bonus feature and the Jackpots, which can produce big payouts.
What we Do not Like
We can always try and find some details we would like to improve on Platoon Wild as a stronger pay table, bigger maximum Jackpot payout or a higher free spins multiplier.
Still if you look at the game in general, you can't change anything which wouldn't affect the entire game concept. We love Platoon Wild the way it is and don't think any changes are needed.
Worth Playing?
Sure, Platoon Wild is a video slot game that is well worth playing, especially if you like the original inspiration movie, Platoon.
You will get to see all of your favorite characters, get the chance to win some money during the free spins feature and possibly trigger the Jackpot, increasing your bankroll for 2,500 x total bet.
>> Play This Slot Now & With $/£/€ 200 Bonus +10 Free Spins <<